Review
MP3 Player Roundup—Part 3
This third part of the MP3 roundup concludes the series—for now, at least. It is quite likely that there will be a follow-up some time in the future, given the still-explosive activity in MP3 software. Right now, I'll take a look at some more interesting MP3 programs currently available, and give you a list of those that didn't make it into the roundups. At the end are my conclusions about which programs to choose. Also, take a look at our Update section for an update on Macster.
beHere 1.0
Company: Everyday Software
Web: http://www.public.iastate.edu/%7Ecosy/
Price: free
Requirements: Power Mac with Mac OS 8.5 or above,1 MB available RAM, Audion or SoundJam MP.


beHere doesn't do much—and that's a good thing. It's designed as a front-end to both Audion and SoundJam. What that means is that it lets you control Audion or SoundJam from the beHere application. What's the deal? beHere is just a small floating window that contains the most common commands. Due to its floating nature, it's always in front of all other windows. That allows you to control Audion while you are working in Photoshop or some other program simply by clicking on the small buttons in beHere's window. No need to switch applications.
The buttons available are back, stop, play, pause, next, new playlist, open file, open URL, and equalizer (in SoundJam) or CD mode (in Audion). If you control-click on the beHere window, the contextual menu allows you to switch to your MP3 player or quit it. That's all beHere does, but it does it efficiently, cleanly, and for free. It's very useful for those of us with small screens and lots of open applications. Oh, and it supports skins, too.
BladeEnc 1.2
Author: Petteri Kamppuri
Web: http://www.helsinki.fi/%7Epkamppur/bladeencmac.html
Price: free
Requirements: Power Mac with System 7.5.3 or later, 1.7 MB of free RAM.


Sometimes we are envious of the nice tools available on other computing platforms—until a benevolent soul decides to port them to Macintosh. This is exactly what Petteri Kamppuri did. He ported the famous BladeEnc MP3 encoder to the Mac. As with most ports, you have to put up with a somewhat crude interface, but at least the important parts have been Macified, so you can enjoy the encoder without resorting to command line interfaces and configuration files.
As you can see from the preferences dialog, it supports most options that you would want, including bit rates from 32 to 320 Kbps (but no variable bit rates). As a bonus, the source code is freely available. BladeEnc takes WAV, AIFF or RAW sound files as input. If you want to create MP3s from a CD, you will have to use QuickTime first to convert the tracks to AIFF files, and then use BladeEnc to create the desired MP3s. This may be a bit cumbersome, but at least it is free. Go for Proteron's N2MP3 (or a similar commercial encoder like SoundJam) if you have the money and do lots of MP3 encoding, especially on a G4 (where they take advantage of Velocity Engine acceleration) or on very slow machines (where you don't want to go through AIFF before creating the MP3).
iStream 1.2
Company: Arctic Software
Web: http://www.arcticsw.com/istream/
Price: free for 1–20 listeners; $15 for 30 listeners; $29.99 for 60 listeners.
Requirements: Mac OS 8.1 or above, QuickTime 4


Did you ever feel like the radio stations were all playing trash? Well, now you have a chance to take matters into your own hands and start your own Internet radio station right on your Mac! I have to admit that after reviewing tons of MP3 players in a row, I am glad for something a bit different. Setting up your 'radio station' is fairly easy. Just copy the desired MP3s into the 'Music' folder, start the program, enter the name of your radio station, and hit 'Start Streaming'. It worked pretty well, but was not without problems. I used another computer to listen to my stream, but once I disconnected, I couldn't reconnect.
Also, it is recommended that you downsample your MP3s in order to reduce the bandwidth strain on your server and the listeners. You can specify a welcome MP3 that will be played only once when someone connects. Unfortunately my server didn't show up in the regular streaming guide listings of Audion or MacAST, so you have to rely on other means of getting an audience. A free version is available for up to 20 listeners. If you want more listeners at once or want to manage your playlist, you will need to register the program. Happy broadcasting!
MacAST Lite 2.1
Company: @soft
Web: http://www.macast.com/lite/
Price: $14.95 (30-day demo available)
Requirements: Power Mac with Mac OS 8.5 or later, at least 1 MB of available RAM.


@soft has been neglecting their MacAST MP3 player quite a bit recently, and has instead devoted its attention to the Lite version. It shows. It is a lot more polished and refined than its big brother. Similar in style and spirit to beHere (see above), but with lots more features, it may be the program of choice for those who want features but an unobtrusive player.
Instead of the usual large playlist, all elements of the program are contained within a small floating "strip" that you can move across the sides of the startup screen (multiple displays are not supported yet), similar to the control strip. They are a bit too serious about it, though, and have even moved the preferences to the strip. I think that this is something that they could have left in the menu. Instead, the menu is barren except for the quit command, a few URLs, the register command and the statistics. The statistics just show you how many songs you have played, for how long, average song length, etc.

MacAST Lite supports roughly the same formats as MacAST, including streaming servers. Of course, there are the obligatory skins, and some are actually quite nice. The strip can be collapsed, just like the control strip, for seamless music enjoyment. The playlist is hierarchical, i.e. it supports subfolders, and has crude support for editing. As we are used to from its big brother, sound quality is very good. At $14.95 it's a little bit cheaper than the beHere/Audion combo, but you don't get a full client. On the other hand, the strip is quite a bit better than beHere's. Try both alternatives and see which you prefer.
MPEG Audio Player 1.74
Author: Oliver Dreer
Web: http://www3.pair.com/odreer/mpeg.html
Price: free
Requirements: Power Mac with virtual memory off.


Ok, at first MPEG Audio Player looks just like every other MP3 player. But it has some nice touches that lift it over the free player with a playlist crowd. For one, it has a very decent, Mac-like interface. It offers limited ID tag information and editing and even a setting for changing the playback speed. Higher speeds make the songs sound much higher, and the reverse is true for slower playback. As such, it is very similar to a pitch control (in fact, many programs implement pitch through playback speed).
Another interesting feature is an oscilloscope output for both channels. This is not really useful, but nevertheless neat, and it can be disabled if you want. One serious shortcoming is the lack of drag and drop in the playlist. For history buffs, the program is from the maker of MP3 Audio Creator (now part of Audio Catalyst).
SoundJam MP Plus/Free 2.0.2
Company: Casady & Greene
Price: Free for free version, $39.95 for Plus version.
Requirements: Power Mac with a 100 MHz 603 or faster, Mac OS 7.6.1 or later.


I just reviewed SoundJam 1.6 two issues ago, but it seems that Casady & Greene is trying to keep me busy. It's a good sign that they are still trying hard to make such an excellent program even better; too often companies lose the edge once they get to the top. I covered the basics of the program in the last review, so I will only talk about the changes here. Most likely you won't even notice most of the changes directly. The encoding is faster and of better quality. There are many small under-the-hood changes that make it more convenient and efficient to use. Karaoke is now supported; like in Audion, it fades out vocals from the general music. As with Audion, the success varies depending on the music.
SoundJam has expanded its options for file conversion, now including AIFF, WAV, MOD, QuickTime, NVF, and standard Mac sound files and resources. Also noteworthy is the ability to work directly with the tunes from your Mac's sound input line. This is very convenient if you want to create MP3s from old records or audio cassettes. Also new are customized EQ settings for individual songs, improved ID3 tag support, and a playlist composer. The play list composer lets you automatically create play lists based on your specifications. SoundJam will search your entire hard disk for MP3s to create the playlist you likely want to listen to.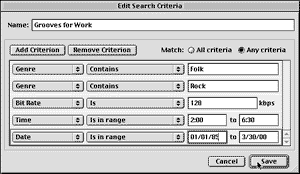 Like Audion, SoundJam now has an alarm clock, but it's much more powerful and flexible, and it even lets you invoke AppleScripts. In general, AppleScript support was improved over previous versions. There's also a handy sleep timer that lets you automatically quit the program, or even shut down the computer after a predetermined time interval. Another new feature lets you add entries to the CDDB, an online database that contains information about CDs. This is useful to correct errors in the database or to add CDs that are not generally well known.
Older versions already supported the Rio 500 and iJam hardware player. Now the Nomad II has joined the ranks. Users of portable computers will rejoice that songs can now be pre-loaded into memory to help conserve battery life.
For many, one piece of news will probably overshadow all the new features: there are two flavors of SoundJam MP. A Plus version, which contains all the wonderful functions described above, and a 'Free' version which is a bit toned down but—as its name implies—is free. The free version will even give you a 14-day glimpse at the power of the full version, in an attempt to win you over and make you upgrade. The free version is bound to be a great success and will make life hard for many of the other free players out there, which simply do not stack up against SoundJam.
the MP3 Alarm Clock 1.2
Author: Mike Margolis
Web: http://mike.axisproductions.com/clock/
Price: free (author asks to get him at job at Apple though)
Requirements: Power Mac with QuickTime 4


There are many alarm clocks around already, but the MP3 Alarm Clock is different in two regards. First, you can choose a variety of media to alarm you: MP3s, WAVs, MIDIs, and AIFFs are all supported. Second, you can have more than one alarm. Actually, you can have up to 14! It also supports a large, customizable, digital clock with different, you guessed it, skins.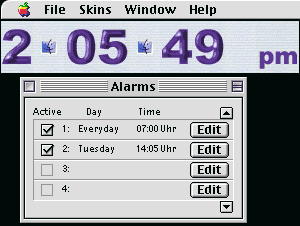 Especially aimed at college students, this is a great alternative to that old, dirty alarm clock next to your bed. Just don't forget to keep your computer and the program running, or you'll miss your 8 o'clock class! The interface is easy to use and uncomplicated. One annoying detail is that it didn't accept my Audion MP3s. I had to "convert" them with SoundJam first for the alarm clock to recognize them.
Some Others
I hope this roundup gave you some idea of all the MP3 programs out there. There are a few programs we did not review that I at least want to mention:
AmpCaster 2.0
Web: http://www.vfxWeb.com/rsx/ampcaster.html

AmpCaster tracks streaming music servers and directs them to your player. Stay away from it. It's buggy, and for $5 it doesn't add much value to your player. Most of the major MP3 players support streaming directly anyway, and if you want a good tracker, go for AMP Radio.
AudioCatalyst 2.0.1
Web: http://www.xingtech.com/mp3/audiocatalyst/
Requirements: Power Mac with System 7.5.5, Open Transport 1.1.1 for CDDB access.

AudioCatalyst is a professional MP3 encoder for the Mac and PC, on par with N2MP3 and SoundJam. At $29.95, it is priced fairly reasonably in comparison to N2MP3, but SoundJam beats both in price. Unfortunately, there is no Mac demo version to test the program before you buy. It also appears that the company's priorities have shifted towards the Windows version.
MacP3 1.5
Requirements: Macintosh with System 7.5 or greater, about 4 MB of available RAM.

MacP3 is very similar to MP3 Rage, but not quite as powerful. It has one interesting feature though: "PCfy', which prepares your MP3 files for transport to a friend's PC by making sure they are named correctly, removing the Mac's resource fork, and generally preparing the file so it will be quickly recognized by Windows.
MegPeg 1.0
Web: http://megpeg.jdstudios.com/
Requirements: 120 MHz or faster Power Mac, 4 MB of available RAM.

MegPeg is a very simple, free, and glamorless player. It features a playlist with Play, Pause, and Stop. That's about it. Oh, and it has a very compact Music Strip mode, too. Version 2.0 is in the works and promises to add many more features and the ubiquitous skins, while still remaining free. We'll let you know when it's done.
MPegger 1.1.1
Web: http://www.proteron.com/mpegger/
Requirements: Power Mac.

MPegger has been around on the Mac for some time. @soft sold it to Proteron a while ago, and it was supposed to be integrated with N2MP3. So far, however, it's still sold separately for $24.95. It's a very decent program and a cheaper alternative to N2MP3. Its interface isn't quite as nice as N2MP3's, but it doesn't lack in terms of functionality. Once the two are combined, Proteron will have a real power tool in its hands.
QDesign MPV 1.1
Requirements: Power Mac with 100 MHz 603 or faster, Mac OS 7.5.3 or later, QuickTime 4.0.

MPV is a nice player with a neat interface. By the makers of the famous QuickTime 4 audio compression codec, it features many functions that you'd want: playlists, encoding (with three different encoders), CD support (including CDDB lookups), and much more. However, it isn't quite as nice as the other commercial players. However, its price is unclear is the price. There is a 30-day trial after which you need to register at the Web site. But the Web site has no information at all about pricing and registration. A version 1.2 is in the works. Watch out for this one: if QDesign puts some more work into it, MPV might become a real contender for the mighty three (SoundJam, Audion, and MacAST).
QuickAmp
Web: http://homepage.mac.com/gtijerino/index.html
Requirements: Power Mac with Sound Manager 3.0 and 6 MB of available RAM.

QuickAmp isn't a bad program, but boy is its interface confusing. It's quite powerful for a free program, maybe too much so in the beginning. But those who will be satisfied with its features will probably be scared away by the interface and want to go straight for one of the more commercial options, like Audion. A major new version is in the works though; let's hope that it will be more usable because the program definitely has potential.
SoundSpinner MP3 1.0
Web: http://www.optima-system.com/soundspinner/
Requirements: Power Mac with QuickTime 4.

SoundSpinner is a small MP3 player and album manager. For $8.95, it doesn't do a convincing job as either. If you want a real album manager, try mp3voodoo. Nice touches are the intro scan feature (similar to a CD player, where it just plays the beginning of songs to give you an overview) and the ability to export sounds in compressed QuickTime 4 formats.
Blindplayer 0.79
Web: http://www.dream-box.net/blindplayer/

Blindplayer is an awkward-to-use front end to SoundApp. Use at your own risk. It comes with code, so it might be interesting for programmers. The interesting part is that it allows you to control SoundApp remotely, i.e. from another computer or without a display connected to the computer (hence the name Blindplayer).
Easy MP3 Player 3.0
Web: http://user.tninet.se/%7Elwj846a/

A simple player with a hierarchical playlist and the ability to put a picture into the playlist background. Well, it's free so what can you say...
Which Program to Choose?
It is tough to single out a few programs. Many are very similar, both in features and price. Nevertheless, let me give you some opinions:
SoundJam MP Plus is a wonderful complete package. You cannot go wrong with it. Its strength is also its weakness, as it tends to be overburdened with features. However, at $39.95, it is well priced for all it does.
If you want something more nimble, go for Audion. If you want to create MP3 files, add Proteron's N2MP3 to the mix. If you want an even lighter interface, combine it with beHere. At $34.95, N2MP3 is pretty expensive, though. Let's hope Proteron will lower the price a bit. You can always combine it with BladeEnc for free encoding.
If you want pure lightness, go for MacAST Lite. Stay away from its big brother, MacAST, until @soft puts more work into it. MacAST Lite has most functions of a full player in a very compact interface.
For DJ work, use Tactile. I would stay away from the streaming server programs. They don't add much functionality that you won't find in the commercial players anyway—and given Audion's or MacAST Lite's prices, there really is no excuse to get something worse.
If you want to go free, use BladeEnc to encode MP3s and SoundJam MP Free 2.0.2 for your playback needs.
I hope this mini-series helped you sort the jungle of MP3 programs. I welcome comments from both readers and programmers of the mentioned (and forgotten) programs. The MP3 world is very dynamic, and programs evolve, so we will keep you posted on major changes in the Update section of ATPM.