Review: Quicken Deluxe 2000 Version 9—R3

Company: Intuit, Inc.
Street Price: $60

Quicken Deluxe for Macintosh allows you to organize and manage nearly all of your household or small business financial tasks. For many people, that would be a fairly simple task. But for some, the task is complex. Quicken Deluxe works for both types of users.
Unlike previous versions, Quicken Deluxe 2000 does not come with a printed manual. The installation CD contains the application, help files (in Apple Guide format), and a 600-page PDF user's guide. Installation proceeds simply from a standard Installer VISE application. If you have a previous version of Quicken, the installer will make copies of your existing files and automatically upgrade your data files to work with Quicken 2000. The CD also contains installers for America Online 4.0, Microsoft Internet Explorer 4.5, and Acrobat Reader 4.0.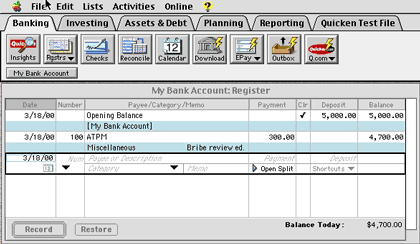 Quicken Deluxe consists of numerous modules organized on a special desktop. The Quicken desktop (see above) consists of a menu bar, a series of tabs for different types of accounts or activities, a context-sensitive row of button icons for various Quicken actions or features (the icons vary depending on which tab you are using), a row of buttons for each of your accounts, and an area for windows that display account lists, bank registers, stock portfolios, reports, graphs, etc. I found most of the tabs and button icons to be intuitive (pun intended). Icons with a yellow lightning bolt represent online actions. Clicking them will do one of the following: display a dialog box requesting information and action (such as typing a PIN to access your bank account), connect to a source of information without leaving Quicken (such as getting stock quotes), or launch your browser to go to one of Intuit's Web sites.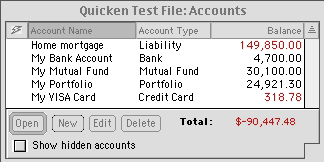 The most common task for Quicken is to manage checking and savings accounts. Quicken should make this very easy, but doesn't. A thorough inspection of all the menu items, tabs, and button icons fails to reveal any direct choice for "New Account." Instead, you must choose "Accounts" from the "List" menu. The window that appears on your Quicken desktop (see above) contains a "New" button. Click that and a "Set Up Account" window appears with a list of account types. You click the radio button beside "Bank" and then type in the account name (e.g. My Checking) and an optional description.
Two checkboxes display options to hide this account (default is off) and to add the account to the toolbar as a text button (default is on). The buttons at the bottom of the window let you cancel account creation, add notes about the account, create the account (default choice), or enable online banking (if your bank supports it and you have online access).
When you create the account, a register window appears. This window looks just like the little paper registers given out by banks when you open an account. The first item is always "Opening Balance." Each register item can be selected by clicking with the mouse. You can then use tab and shift-tab to move from field to field, or you can use the mouse to select a field.
There are three ways to enter a date. The most obvious is to type the date in "m/d/yy" format. You can omit the year if the date you want is in the current year. You can change the existing date by clicking or holding down the + or - key. Finally, the date field includes a small calendar icon. Click it and a small calendar pops up. You can then click on a date in the current month or click on the arrows to change the month.
The number field is for recording either check number (the + and—keys work here, too) or transaction type (DEP for deposit, TXFR for transfer, ATM for an ATM transaction, SND for electronic check, WITHD for withdrawal, etc.). The payee field indicates whom a check is made out to or describes other types of transactions.
Quicken can use a feature called QuickFill to speed entry. If you enable QuickFill to work automatically, Quicken memorizes every transaction. When you start to type a new payee, QuickFill will use this memorized list to try and complete the entry. I strongly urge you to turn this feature off (Edit menu, Preferences, Register icon, "add new transactions to the QuickFill list"). The past four Macintosh versions of Quicken were prone to develop corrupted QuickFill lists that caused program instabilities (lots of crashes). You can use QuickFill manually by selecting transactions you wish to have memorized. When you wish to make a similar entry, Command-T will display a list of QuickFill transactions for you to choose from.
Quicken's bank accounts can do more than track deposits, withdrawals, and checks. Quicken allows you to print checks. Most printers are supported. You will need to buy special checks depending on whether your printer is pin-feed or sheet-feed. Quicken also supports three check styles: standard, voucher, and wallet. You will have to do a significant amount of tweaking to get the checks to print perfectly. Quicken includes guide templates for pin-feed printers. I recommend cutting plain paper to the size of your check sheets to adjust text placement on sheet-feed printers.
Of course, if you don't want to fiddle with written or printed checks, Quicken supports electronic checks. If you have set up electronic banking, clicking the EPay icon gives a list of options: Enter Payment, Send Payments..., Cancel Payment..., Online Payees, View Payment Status, Payment Query, and Payment Log. The Online Payees choice shows a list of check recipients. New recipients can be added via that list or by typing a new entry into the payee field of the electronic check.
Online payees is one area where Quicken needs improvement. The online payees are a separate database. QuickFill does not work when entering information, even if the payee was already listed in the QuickFill database. Quicken also has an annoying habit of changing the information for online payees without informing you. It does this after making an electronic payment and getting feedback from the payee. Quicken uses an outside company to process electronic checks. What you will discover is that many times the company simply issues a paper check to your payees. If the payee is widely used by other electronic bankers, or if you've sent many payments to the payee, then the company will set-up true electronic fund transfers. Your checking account therefore can have four types of payments: checks you write, checks printed by the online company, electronic checks, and automatic payments you set up with payees who accept them.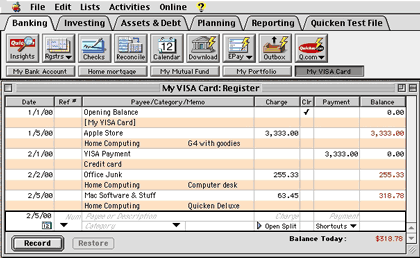 Quicken allows you to manage many different types of financial accounts including cash, credit cards (see above), stock and fund portfolios (see below), mortgages, loans, and assets. Cash accounts are the simplest. Portfolios are more difficult to set up and use, but can handle many investments such as stocks, mutual funds, bonds, money market accounts, annuities, Certificates of Deposit, etc.
Quicken can go online and obtain stock and fund quotes. You can graph stock and fund prices and trading volumes. You can even do this with stocks you don't own via Quicken's WatchList. Portfolios are more complicated to set up than bank accounts. You also have to differentiate between buying and selling shares and moving shares in or out of your portfolio. Portfolios can contain mixtures of security types: stocks, bonds, annuities, mutual funds, cash, money market accounts, and other investments. When you set up each security, you can enter trading symbols and other information such as a mutual fund's investment type (growth, income, high or low risk, college fund). Quicken has simple one-click button links to obtain either recent quotes or historical quotes (as far back as five years) from the Quicken Web site.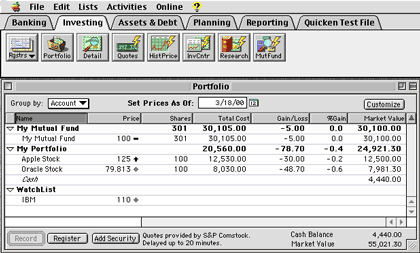 Quicken mortgage and loan accounts allow you to track the status of these liabilities. Both accounts can be linked to your bank accounts. If everything is set up correctly (not an easy task, especially for adjustable rate mortgages), the payments from your bank account will be automatically split between interest, principal, and other payments (escrow, insurance, taxes).
Quicken automatically applies the principal payment to the mortgage or loan account. I experienced major problems with mortgage accounts in Quicken Deluxe 1999. Setup information sometimes disappeared, and payment split calculations became incorrect. I gave up on Quicken and used a spreadsheet to calculate principal and interest on each payment. I do not know if Quicken Deluxe 2000 has fixed the problems with mortgage accounts.
Quicken Deluxe 2000 offers an extensive choice of reports and graphs for all types of accounts and activities. Quicken also offers budgeting features and reports. Reports can be generated easily if you select QuickReport from the Activities menu or Reporting desktop toolbar. If you wish to customize reports and graphs, Quicken presents dialog windows that allow you many choices: account names, security names, payees, income vs. expense, date ranges, categories, etc. Once the report is generated, you can adjust fonts, page breaks, column visibility and other items using the icon buttons above the report. Column widths are adjusted by dragging diamonds between column headings.
Quicken's reports work well. Quicken's graphs are not customizable beyond data selection and overall size. You can not change axis limits, column spacing, colors, position of legend or labels, etc. If you want to customize a graph, you will have to generate the equivalent report and export it. You can then import the report into a spreadsheet or charting application and generate a customized graph.
Quicken has another very useful feature: the ability to export tax-related data directly to MacInTax (and indirectly to other tax software). However, this provides value only if you set up your accounts and categories correctly and apply the categories diligently to all tax-related transactions such as depositing your paycheck. For example, a paycheck would be split into multiple categories: salary, tax withholdings (federal, state, local, Medicare, and Social Security), pretax medical and dental insurance, and pretax pension contributions. Each mortgage payment would have to show its tax deductible interest component. I recommend printing and carefully reviewing a Quicken tax report before exporting your tax data.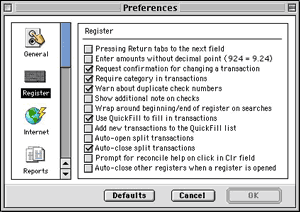 Quicken allows you to set a number of preferences that cover the general functioning of the program as well as default settings for registers, reports, graphs, check printing, Web connection, backups, "Billminder" (transaction reminder program), stock and fund quotes, passwords, etc. (see above). You should examine all the preferences and carefully choose your options. Unfortunately, the Apple Guide-based Quicken Help has little detail on preferences, and the User's Guide scatters preferences information throughout its chapters (and sometimes simply tells you to use Quicken Help).
Intuit's technical support for Quicken is terrible. There is no e-mail or snail mail support. There used to be no Web-based support other than an outdated listing of frequently asked questions. Intuit recently added the ability to submit questions via a Web page form. However, you will not get a reply. If the question is deemed worthwhile, Quicken staff may add it to their online "KnowledgeBase." Quicken offers automated fax or telephone support if you don't have Internet access. You dial a toll-free number, work your way through many menus, and choose an option that you hope will address your problem. Live telephone support costs $1.95 per minute, except for installation problems. I do not know the quality of Quicken's live phone support. Besides Quicken's KnowledgeBase, I recommend looking at the following reports for user-described problems, work-arounds, and solutions.
The Bottom Line
Quicken Deluxe 2000 is a bargain. For about $60 (typical street price) you get a program that can help you organize all your personal or small business finances. Weaknesses include excessive difficulties in setting-up accounts, overuse of dialog boxes, lack of a printed manual, insufficient and poorly organized online manual, and expensive live technical support.