How To Become a Network Guru in 10 Easy Steps
Part 8—Macs & PCs Sharing the Same Internet Connection
Last month, in ATPM 6.04, I illustrated how to put Macs and Windows PCs on the same network using software that helped one computer speak the other computer's language. While this method is useful for sharing files and printers on a mixed Mac/PC network, sharing an Internet connection between the two is a very different process. Since sharing files and sharing an Internet connection are different processes, you can generally run both simultaneously on the same network.
Before you begin, you must have your computers connected to the same network before attempting to share an Internet connection. To simplify things, I will assume you're using an Ethernet network, although this method will also work over LocalTalk. First, purchase an Ethernet hub (or switch) and an Ethernet adapter for any Mac or PC that lacks one; then connect each computer to the hub using a length of twisted-pair Ethernet cable.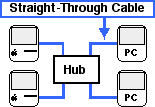 If you only need to connect two computers together, you can simply use a single crossover Ethernet cable in place of the hub. The crossover cable is different from the "straight-through" Ethernet cable used in a hub-based network and will be packaged as such.
TCP/IP and the Internet In Brief
Macs and PCs can both use TCP/IP, the data transfer method that forms the basis of the World Wide Web and the Internet in general. Sharing an Internet connection involves changing each computer's TCP/IP settings. Before this can be done, you'll first need to locate the TCP/IP controls on each computer. Macs utilize the "TCP/IP" control panel, located in the Control Panels folder within the System Folder. Under Windows 95 or later, go into the Start menu and select "Control Panel" from the Settings sub-menu. The TCP/IP settings are located in the "Network" control panel. The instructions that follow list the changes that need to be made.
Setting Up the Internet Connection
Sharing an Internet connection requires the use of a hardware- or software-based "router" that allows more than one network computer to concurrently use the incoming Internet signal. Hardware routers typically connect directly to a DSL or cable modem connection and many incorporate a hub in a single unit. Hardware routers automatically create Internet identities for networked computers, requiring you to do little more than turn them on.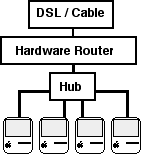 Hardware routers are generally easier to use than software routers, but they are also more expensive. If you use a dial-up modem connection, however, a software router is your only option. A software router is a software application that runs on an Internet-connected Mac. In this article, I'll refer to the Internet-connected Mac as the "server" and the other computers as "clients."
If you have a DSL or cable Internet connection and plan to use a software router, it's important to ensure your network remains secure. For more information on network security and precautions, see ATPM 5.11.
To use a software router with DSL or cable Internet, I highly recommend adding a second Ethernet interface to the "server" Mac. You then connect one interface to the incoming signal and the second interface to the network. This keeps the network and Internet signals separate and secure. It therefore makes sense to choose a Mac with available expansion slots as the "server."
Setting Up the Server Mac
I should state that although Sustainable Softworks' IPNetRouter is a sponsor of my own Threemacs.com Web site, that it was not my exclusive reason for picking it as an example software router. IPNetRouter's primary advantages include service for an unlimited number of "client" computers and regular (often weekly) software updates.
IPNetRouter includes browser-friendly, easy-to-follow setup instructions. The first time I used the program, it took me approximately three minutes (including reading time) to get it running. If your "server" Mac uses the recommended two Ethernet interfaces, your IPNetRouter should look similar to the figure below, with one IP address for the Internet connection and one for your network.
Setting Up a Client Macintosh
IPNetRouter functions as a DHCP server, common to other software routers, which "creates" Internet connections on demand for network computers. To use this, open the client Mac's TCP/IP control panel and set "Connect via" to DHCP. The client should shortly receive IP and router addresses.
If you decide to set an IP address manually, you should pick an address beginning with "192.168." (for example, 192.168.0.1), as these addresses are specifically set aside for private networks. Also make sure each computer on the network has a unique IP address. Set the subnet mask to "255.255.255.0" and the DNS router to the server Mac's IP address or your Internet Service Provider's DNS router's address.
Setting Up a Client PC
Configuring a Windows 95/98 PC client is similar to the Mac. You can choose DHCP as your connection method, although it may also help to know how to connect manually. To do so, highlight the TCP/IP protocol connected to your network interface and click on "Properties." Select the "IP Address" tab and enter the IP address (again in the 192.168 group) and subnet mask (255.255.255.0). Enter and add the server Mac's IP address in the Gateway tab. Select the DNS Configuration tab and enter your ISP's DNS router address. You may also need to enter the server's host name if the IP address alone doesn't work. Close the Network control panel and restart your PC.
Testing the Connection
Once the client computer receives a valid IP address from the Mac server, you should be able to use any Internet application as if you were directly connected to the Internet. If the connection isn't working correctly, start by double-checking the software router's setup instructions to make sure the router is functioning properly.
If the router works for some client computers, but not for others, there may be a problem with the client's network connection. Try sharing files to or from the problem computer. If you are unable to share files, you should reinstall the client's Ethernet software and check the Ethernet adapter's connection lights to make sure the physical side is working.
Things to Consider
It's worth noting that Vicom makes the Macintosh software routers SurfDoubler and Internet Gateway. See their Web site for features and pricing. Hardware routers are coming down in price, some dropping below $100 including rebate. Search Dealmac using the keyword "router" to check on current deals.
Some DSL or cable modem ISPs don't account for AppleTalk (file sharing) network traffic, which can cause problems with shared files on your home network when your Internet connection is active. Not all of these problems have solutions yet, but you should at least contact your ISP and ask about it if you experience that kind of problem.