GUI Junkie
Kill Your Desktop
Last month we examined icons as one of the components of your overall Finder experience. In this issue's GUI Junkie, we'll take on the other aspect of the Finder: the desktop itself.
Since nearly the beginning of the Macintosh experience, users have been able to change the appearance of the desktop background. In earlier versions of the Mac OS, this was facilitated through the Desktop portion of the Control Panel. Users were limited to simple variations of black and white, then grayscale—but the patterns sure beat a plain gray desktop.
System 7.5 was a great leap forward for desktop changing, as it offered a separate control panel designed solely for changing the desktop pattern. It was also around this time that two shareware utilities arrived that allowed the user to set not just a desktop pattern, but a desktop picture as well. These were Décor, by François Pottier, and DeskPicture, by Pierce Software. Both utilities are still available today and are the best way for pre-Mac OS 8 users to gain the ability to display a picture on their desktop.
The Modern Mac Desktop
For users of the latest versions of the Mac OS Apple has provided a new way to change the desktop background. Under OS 8 and 8.1, there was a Desktop Pictures control panel. Now, the functions of that bit of software have been rolled into the Appearance control panel under the Desktop tab, as shown below. As you can see, I currently have a nice pastoral scene from bonnie Scotland as my desktop. If I wanted to change it, I would simply click on the Remove Picture button. This button would then change to Place Picture, and the picture would disappear from the preview window, as shown below.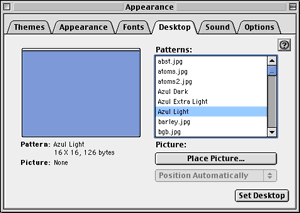 Now you want to select your new desktop by clicking on Place Picture. This should open up the folder called Desktop Pictures, which is most often inside the Appearance folder inside your System Folder. However, you can relocate the Desktop Pictures folder anywhere you like on your hard drive.
I think I'm going to select a picture (courtesy of the National Weather Service) of a joint American civilian/military expedition to Antarctica during the late 1940s. Once you make your selection, your control panel should appear similar to this.
From here, all you have to do is click Set Desktop and close the control panel, and your new desktop is in place!
Not much has changed since my first screenshot of my G3's desktop in the first GUI Junkie, though I am utilizing iMacolor, highlighted last month in this column. In case you couldn't tell, blue is a favorite color of mine!
There are all sorts of places to look for new desktop pictures for your Macintosh. ResExcellence has updates every Monday, Wednesday, and Friday, and provides the latest news on desktop projects. MacDesktops features new desktop pictures every Wednesday. In addition, Customize.org, while mainly a site for the PC GUI, has excellent desktop picture material. It appears that Customize.org updates Monday, Wednesday, and Friday as well. All these sites are good jumping-off points for exploring the Web for more desktops. Last but not least, there is ATPM's own desktop picture collection.
A word of warning, however, when dealing with desktop pictures. If you delete the desktop picture file that is currently selected in the Appearance control panel from your hard drive, you will notice your Mac is extremely sluggish in responding, especially when in the Finder. You may get errors on start-up as well. This is because the Macintosh is looking for the desktop picture you told it you wanted it to display. The solution is to go back into your Appearance control panel, click on the Remove Picture button, then Set Desktop. This will clear the error.
Have fun personalizing your desktop background, and happy hunting for new desktop pictures!