Review
MP3 Player Roundup—Part 2
I hope you found the first part of this series helpful. Although there is an unbelievable number of programs on the Mac that play back MP3s in some way, I tried to concentrate on some of the major representatives from each category in the first part. This time, I'll introduce you to some of the more exotic MP3 programs. Of course, I have to draw a line somewhere. I will skip programs like the new FTP client Hefty FTP, whose 'Bored?' menu lets you play MP3s while downloading. In the last part of this series, next month, I'll wrap up the odds and ends, review the last bunch of major players, and list all the programs that I did not review but that are nevertheless around.
BayTex Party! PRO 2.0.2
Company: BayTex Producciones, Chile
Price: $60 shareware
Requirements: 132 MHz PowerPC 604 or faster, QuickTime 4.0 (for MP3s).

Ever wanted to hear how N'Sync sounds a few octaves higher? Then BayTex Party! is for you. It's a DJ tool that lets you mix songs together, change their pitches, add jingles, and much more. Compared to some of the other programs out there, it actually has a somewhat tolerable user interface. As you can see from its name, it is mostly geared at DJs and party crowds. I have to admit that I got a kick out of hearing N'Sync at 175% pitch, which makes them sound like a bunch of little smurfs. If you prefer, you can listen to them at 65% pitch, which makes them sound like they're in their mid-40s. The program is well designed, with keyboard shortcuts for most important commands so that DJs don't have to struggle with mouse, menus and icons, but can simply hit a key in the dark of the club. Or you can prepare your mix beforehand and enjoy the party. Besides MP3s, it also plays WAV and MIDI files. It is somewhat pricey at $60, though.
There is also a Lite version (currently in beta) for $15, which lacks some features but might be more appropriate for casual users. The Lite version also supports CD playback and collapses to a small floating window if you want. Demos are available and are limited to 10 minutes until you register.
Tactile12000 2.0
Company: Tactile Pictures
Web: http://www.tactile12000.com/
Price: $29.95 shareware
Requirements: Power Macintosh with Mac OS 7.5.3 or later, QuickTime, Sound Manager. QuickTime 4.0 required for MP3 playback.


Okay, I promised myself to stop reviewing DJ software, but I'll make one more exception. Tactile12000 just caught my eye. At first, it seems rather unusual. The main part of its interface is quite unlike most Mac applications. Instead, it simulates a virtual turntable and mixer right on your desktop.
That confused me immensely in the beginning. However, once you shed your Macintosh interface prejudices and imagine sitting in front of a 'real' turntable, it actually becomes quite simple and powerful to use. Still, you'd better read the manual to learn about the large number of powerful features such as cueing with headphones, keyboard controls for most functions, precise control of the mixer and records, pitch bending and cue points, cross fading, and backspinning, to name just a few. The autoMix feature can do most of the work for you and mix your playlist together automatically, if you desire. The sound formats supported are: MP3, AIFF, WAV, and other sound formats supported through QuickTime.
Besides its interesting approach to the 3D user interface, what I like about Tactile is the price. It is actually reasonable for what the program offers. A 30-day, unlimited demo is available for those interested. After that, the program's functions become limited until you register.
Future plans for the product include: support for 4-channel sound cards (to use the rear channels for cue), support for streaming audio (both downloading and broadcasting), enhanced playlist support, playback of CDs, level meters, and the ability to save mixing information.
AMP Radio 1.5
Company: Subband Software, Inc.
Web: http://www.subband.com/ampr/
Price: $10
Requirements: Power Macintosh with Mac OS 7.5 and 3500K devoted to AMP Radio, Internet connection to listen to Internet streams.

Why would you want to listen to a regular radio station when you could listen to the 'radio' on your computer over the Internet? Well, ok, maybe there are some very good reasons for listening to a regular radio station, but Internet radio stations are nevertheless pretty interesting. Most don't have annoying advertisements, for example.
AMP Radio is your 'virtual' radio in this world of virtual music. Through support for Internet Streaming Audio, you can connect to a multitude of different streaming servers, each catering to a different musical taste. The programs interface is—as with most of the players—mimicked after the original, in this case a radio. And obligatorily, you can change the colors of the radio front. AMP Radio itself has quite a number of features, including the ability to record from a server and advanced playlists. Unfortunately, it does not display the name of the currently playing song, but that is most likely a limitation of the servers, not the radio software. While Audion and other MP3 players feature steaming server support as well, only AMP Radio classifies them nicely by category and allows recording of the songs.
For the fans of graphical effects, Subband has included a copy of their other software, Entheogen 1.0.1, which creates graphical effects to match the music. Currently, Entheogen seems to work just with AMP Radio, but it will probably support other players in the future.
AMP Radio is a solid application with a good interface, and its functions are well explained in the manual. As usual, a demo is available. I have tried several 'stations' on my DSL connection, and most servers worked flawlessly. Your mileage my vary with slower connections, or from overseas. However, the money is probably better spent on a 'real' MP3 player like Audion or SoundJam first. Then, if you still have some left, get AMP Radio.
Macster PR 3.5
Company: Blackhole Media
Price: Free (preview version)
Requirements: Power Macintosh running Mac OS 8.1 or later with Navigation Services.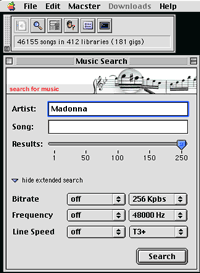 I have been struggling with myself for a while whether or not I should review Macster. Macster is the Mac client for Napster, a PC program that allows users to share MP3s over the Internet and that is very popular with college students. Such sharing is often illegal, and ATPM does not in any way support or tolerate such copyright violations. However, there are legitimate uses for Macster, such as downloading songs that are legally freely available. The most legitimate use that I could think of would be downloading a song that you already own onto your PowerBook while you are travelling. That would be pretty much the same as creating MP3s off a CD you bought and taking those with you. Please try to respect copyright laws.
Macster Preview 3.5 is not a final product—which is supposed to be released in a few months—but it is relatively stable and most basic functions (most importantly downloading and searching for songs) are already implemented.
Macster's functions are simple. After creating an account with a Napster server, you log into a server and can search for any song by artist name or song name, and even filter by bit rate, recording quality, and line speed of the file server. The line speed is important if you want to download a file quickly. If you are in a rush, avoid 56K hosts and go straight for T3+, T1, DSL, or Cable hosts.
The result of the search is shown in a result window that displays the name of the song, file size in MB, bit rate, length of the song, the user who originated the file, the line speed of the host, and its ping time (how quickly the server responds). Pings that are 'timed out' mean that the host (and the song) is currently unavailable. You can freely sort by any column in the result window by simply clicking its heading. When you find the song you want, just double-click it to initiate the download process. A window similar to the Finder's copy window will pop up and inform you about speed, time remaining, and download status.
Later versions will also support chat and many refinements on the download theme. I already mentioned that the program is quite stable, but remember that it's just a preview version and it has shown some problems from time to time. It is noteworthy that there are two other Napster clients for the Mac: Rapster (currently in beta 4) and MacStar (in developer release 12). However neither of the two is nearly as stable and nice to use as Macster.
SoundApp 2.6.1
Company: Norman Franke
Web: http://www-cs-students.stanford.edu/%7Efranke/SoundApp/
Price: free
Requirements:SoundApp requires at least System 7.0 and Sound Manager 3.1 or greater (part of System 7.5.3).

SoundApp has been around since 1993. It did not start out as an MP3 player, but instead as a general sound playback and conversion utility, in a time when no one even knew what MP3 meant. It currently supports 28 sound formats, some of them rather obscure. A quite complete description of the formats can be found here.
Like most decent MP3 players, SoundApp features a simple play list (which can harbor different file formats at once transparently). Absent are any fancy features, but the conversion option can be quite useful to some users. Nice is the Get Info feature which has a Show Original button that takes you to the file in the Finder. It also shows complete file tag information about the selected song. At least the play list supports random play, or 'shuffle.'
SoundApp is glamorless, but it does what it is supposed to do cheaply, efficiently, and with a good, consistent interface.