About This Particular Web Site
The Internet sure has grown! It may still be swamped with pet hamster sites and other ego-stroking nonsense, but it's not looking so much like the ugly stepchild it once did. Some really talented people have created niches for themselves on the net. Artistic ability combined with technology has created innovative sites that hold our attention in ways that television and print media cannot.
This month's selections reflect how far the net has come. There's only one absolute in the Internet's future—the need for more speed! I hope you enjoy this month's selections. Of course, if you know of any interesting Web sites, e-mail the addresses to me at dspencer@atpm.com!
Note: the Web sites mentioned here are not endorsed by ATPM; they are simply suggestions for your own browsing endeavors.
Digital Blasphemy
Web Address: http://www.digitalblasphemy.com
Audience: Anyone interested in 3-D artwork
Once you check out Digital Blasphemy, your desktop may never look the same again! At this site you can download a wealth of desktop images that range from flying dragons, to lush landscapes, to alien planets. There are no B-rate pictures here—the author spends a lot of time on each image. They are professionally rendered in programs like Bryce and Poser by Ryan Bliss. You can pay to become a member, or you can just download many images for free. Purchasing a membership will grant you full access to the entire archive plus many other goodies, including 1600 x 1200 versions of selected images. The pictures come in a variety of sizes ranging from 640 x 480 up to 1600 x 1200, and can be previewed at their full sizes before downloading.
Who Wants to be a Millionaire?
Web Address: http://abc.go.com/primetime/millionaire/mill_home.html
Audience: Anyone who wants to be a millionaire
Most of us will never be smart (or lucky) enough to make it onto ABC's television show "Who Wants to be a Millionaire." So, for those of us who aren't good enough to play face-to-face with Regis, ABC has created an Internet version of the popular game show. You can actually play the trivia game—lifelines and all! It plays very much like the television program, with one catch: there is no prize money to be won. In fact, there are no prizes at all. Even with that fact, everyone in my office has played the game at least twice! If you want to play for prize money, check out this next site...
Uproar
Web Address: http://www.uproar.com
Audience: Anyone wanting to play games for prizes
So you're a trivia whiz and want to play for actual cash? Try Uproar—a site made exclusively for trivia buffs. Here, you're actually playing for cash prizes that are awarded on an hourly basis. The better you do in individual games, the better your chances are to win prize money. Many of the trivia questions on Uproar are like the $500,000 and $1,000,000 questions on Regis' game. Uproar doesn't have the fancy interface that "Millionaire" does, but its questions are tougher and it is more fast-paced. Good luck!
mp3.com
Web Address: http://www.mp3.com
Audience: Music Lovers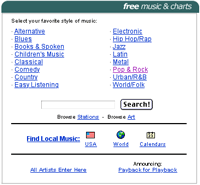 With RealPlayer installed on your machine, mp3.com puts you in touch with virtually every genre of music that's out there. Best of all, it's free! At mp3.com, there's a searchable database of music that you can listen to immediately. You can search by genre, artist, title, and even geographic location of the band. I was able to search for local rock bands from a particular area of my home town. (Interestingly enough, I found an old friend's band!) When you find that perfect song, you can purchase it online.
Sputnik7
Web Address: http://www.sputnik7.com
Audience: MTV Lovers
Once you have RealPlayer and Flash 3 (or better) installed, you can enter Sputnik7—a truly interactive music experience. To view this site you need Netscape—Internet Explorer is not supported. Once inside, (by the way, the entire site is free) you can view music videos and listen to music. There are some big-name artists on the site as well. What makes this place interesting are the Internet polls that take place while viewing or listening to music. Polls come up during videos and results are compiled immediately. You can rate what you see, and purchase links are always available.
A word of caution: It helps to have a powerful computer and a fast Internet connection. The site is wonderful with my cable modem, but I shudder to think how a 56K modem would stand up under the pressure.
News Index
Web Address: http://www.newsindex.com
Audience: News Junkies
Want to check out one of the favorite Internet sources that journalists use? Try News Index. You can spend all day rummaging through USA Today or The Wall Street Journal, or watching MSNBC until your brain explodes. News Index compiles these sources, and hundreds of others, in one location. It lacks the glitz of many other sites, but if you're into serious news gathering, this is a definite bookmark.
The Onion
Web Address: http://www.theonion.com
Audience: Less than serious news junkies
This is a humorous version of your everyday national newspaper. While the newspaper looks legitimate and credible enough, don't let first impressions get the better of you. The articles are half-truths at best, and many of them are totally fabricated. But they sure are funny! A definite must-see.
The Register
Web Address: http://www.theregister.co.uk
Audience: Seekers of computer-related news
Having an unbiased opinion is supposed to be the goal of many news agencies. This is not so with The Register. They take pride in having their own biased spins on computer related issues, which is usually in favor of PC's. But, if you look past that, there's some decent stuff on their site. While there is the usual news from major players like Intel, Apple, Microsoft, etc., they present computer news that you may not find in many other places. Sometimes funny and sometimes serious, The Register should be viewed with a grain of salt.