Art Department
The Beauty of Black and White
For this issue, I wanted a section that suited the topic of our cover. Moreover, it had to be brief, for the simple reason that most of you are celebrating. However, it turned out to be a much tougher task than expected, as nothing can really go with the joyful spirit of this season. I finally decided upon black & white. In all it's irony, black would symbolize a not-so-distant past, whereas the white would symbolize a brighter, snowy future. Enjoy...
Black & white are the two most underestimated colors in the whole color scheme. In this article, I will explain one effect achieved with black & white, which in my profession is usually called "mezzo."
Here are the four steps for creating Mezzo using Adobe Photoshop:
Step 1
Convert your main image to grayscale. Select "Grayscale" from the Mode menu to convert your image to grayscale.
Step 2
Set your pattern. Make a selection of the pattern you wish to use as your texture for the main image by choosing "Define pattern" from the Edit menu.
Step 3
Convert your main image to Bitmap using the Custom mode. Select "Bitmap" from the Mode menu and make sure you click on the Custom pattern check box.
Step 4
Convert your main image back to grayscale. Select "Grayscale" from the Mode menu. A 1:1 ratio should be just fine.
Before and After
Presto, you are done! to achieve even more startling effects, try colorizing the final image or reducing the size of the original pattern. Be aware that different resolutions yield different results.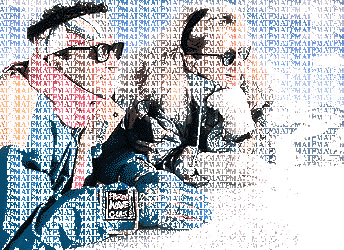 Enough design, where is the turkey? Season's greetings!

Copyright © 1997 Jamal Ghandour, <jghandour@atpm.com>. Jamal Ghandour, is a "Senior Graphic Designer" and "Computer Section Manager" at CSS & GREY(Kuwait). He also works as "Creative Art Director" at Swiftel international communications.