Review: QuicKeys X2 2.1

Developer: CE Software, Inc.
Price: $100; $20 (upgrade from 1.5); $35 (upgrade from 1.0); $70 (upgrade from older version).
Requirements: Mac OS 10.2.3, G3 processor, 128 MB RAM
Recommended: Mac OS 10.2.4, G4 processor, Internet connection
Trial: Fully-featured (30 days)
Overview
QuicKeys X2 is a productivity enhancing application for Mac OS X. QuicKeys creates shortcuts to simplify tasks. The shortcuts can be simple, one-step key commands, multi-step macros, or complex mini-programs. QuicKeys also supports toolbars (palettes) for one- or two-click access to saved shortcuts. Shortcuts and toolbars can be global or linked to specific applications. QuicKeys can launch an AppleScript or be invoked from an AppleScript. QuicKeys also can send Terminal commands.
Installation
QuicKeys X2 requires that the OS X Accessibility preference (Allow Universal Access Shortcuts) be turned on. After confirming that Universal Access System Preference, installation consists solely of dragging the QuicKeys application icon from the CD or mounted disk image to the Applications folder. You may also copy QuicKeys-related documents to your hard drive. QuicKeys places a folder in your user Library.
QuicKeys X History
CE Software completely rewrote QuicKeys to work with OS X. QuicKeys X 1.0 was missing much of the functionality of its very nice OS 9 counterpart QuicKeys 5.0. Each successive version of QuicKeys X brought it closer to the functionality of QuicKeys 5.0. QuicKeys X2 2.1 nearly matches its predecessor's functionality.
Using QuicKeys X2
Unlike QuicKeys for OS 9 and earlier, QuicKeys X2 is an application that can be run as a regular application or as a background application. (The ability to run QuicKeys X as an application is its biggest advantage over QuicKeys 5.) The QuicKeys Editor window is present when QuicKeys is the frontmost foreground application. The Editor window is where you view, create, and edit QuicKeys shortcuts. The Editor window displays a list of scopes (translation: applications associated with QuicKeys shortcuts) and associated Shortcuts.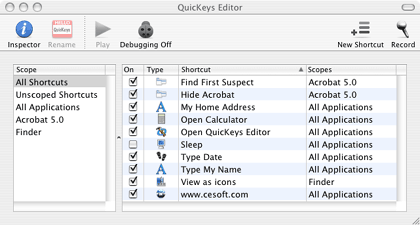 QuicKeys Editor Window
For each shortcut, the Editor window has a checkbox for turning the Shortcut on or off, a Type column displaying an icon for the type of Shortcut, and a Scopes column indicating the applications that can use the Shortcut. You can sort by any column by clicking its heading. Clicking again inverts the sort order.
Shortcuts can be created manually by clicking the New Shortcut button or by selecting an item from the Create menu. This works well with single-step or very simple Shortcuts. Shortcuts also can be created by recording a series of actions by clicking the Record button or by selecting Start Recording Me from the Create menu.
QuicKeys Create Menu Choices
A QuicKeys Recording window lets you end or cancel the recording. The recording method usually works well for creating moderately complex Shortcuts. However, recorded Shortcuts sometimes will require editing to work correctly.

After clicking the End Recording button, QuicKeys returns to Editor mode and displays the Shortcut window with a Steps drawer on whichever side has the most space. Double-clicking a step pops up the Inspector window with Step Results choices. For each step you can choose how to handle failure or success (Example: Display a message after failure, jump to a particular step after success).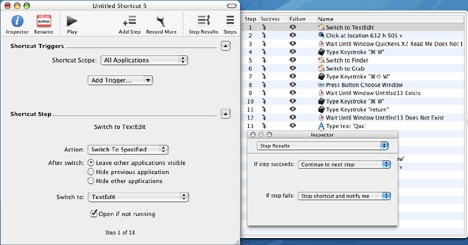 Recorded Shortcut window with Steps drawer and Inspector window.
The appearance of the Shortcut Step portion of the Shortcut window depends on what type of step is selected. For example, selecting a "Type text" step results in the appearance of a text entry/editing box, a Check Spelling button, and radio buttons for inserting or typing text.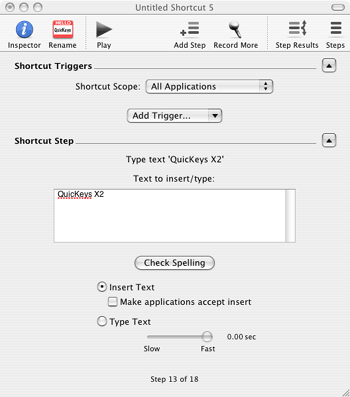 Shortcut Window for a "Type text" step.
The Shortcut Triggers portion of the window lets you select the scope of the shortcut and how the shortcut will be triggered. Simple triggers are Hot Keys or QuicKeys Menu items. Advanced triggers include "After Open" (activate a specified time after launching an associated application), "Day and Time" (activate at specified days and times), and "Repeat" (repeat a specified number of times after triggering). Multiple triggers can be used. (Example: A Shortcut could be activated by a Hot Key, a QuicKeys Menu, 30 seconds after a scoped application launches, and at 7:00 AM every Friday.)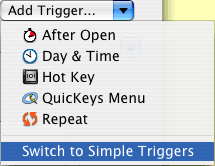 Add Trigger Menu
QuicKeys provides debugging assistance via the Inspector (you can have comments displayed after a failed step and jump past other steps) and by using its debugging mode. In debugging mode, the Shortcut is run one step at a time, with information about each step displayed in a small window. If a step fails, an alert window appears.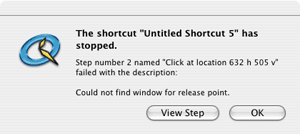 Alert message after Shortcut failure in debugging mode.
Toolbars let you organize your Shortcuts. Toolbars can be standard or docked and can be oriented horizontally or vertically. Toolbars can behave like normal windows or they can always be the top (frontmost) window. Unfortunately, useful QuicKeys 5 options such as Click-N-Go, Pop Out, and semi-hidden Docked Toolbars are unavailable in QuicKeys X2. Only a single row or column of Shortcut buttons is allowed.

Toolbar Example
Toolbars with many Shortcut buttons can make use of tabs to organize Shortcut buttons. Clicking a Toolbar tab button displays only the Shortcuts assigned to that tab. However, the same Shortcut can be placed on more than one Toolbar tab.
What About QuicKeys Icons (Applets)?
Earlier versions of QuicKeys allowed you to save a Shortcut as an "Icon" or applet. This could be launched like any other application. QuicKeys X2 2.1 still lacks direct support for Icons. The workaround is to create an AppleScript that calls the QuicKey Shortcut and save it as a run-only application.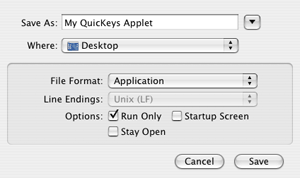 AppleScript Save As sheet with options for saving a run-only applet on the Desktop.
What About Voice Control?
QuicKeys X2 2.1 still lacks support for voice triggers. It also lacks Speak Ease, the QuicKeys 5 tool for using Speech on text files. The workaround is to create a Speakable Item that will launch an AppleScript that calls a QuicKeys Shortcut.
Documentation
QuicKeys comes with a 7.5" x 9", 155-page, soft-cover printed manual. The same manual is also included as a PDF file. The printed manual is monotone (black, white, and grays), but the PDF manual is in color. The manual contains many screen images that look better in color. The manual adequately covers the use of QuicKeys X2, but it was written for version 2.0. The changes in version 2.1 (Inspector window instead of Info window, ability to jump to a particular step in Step Results mode, etc.) are not described, although some are listed in the "QuicKeys X2 Read Me" document.
Technical Support
CE Software offers free live technical support by telephone (515-221-1803) Monday through Friday 8 AM to 5 PM U. S. Central Time. Support also is available by fax (515-221-1806), e-mail, and the Web. CE Software also supports a QuicKeys Community forum.
Summary
QuicKeys X2 2.1 adds many features beloved by power users of QuicKeys 4 and 5. However, QuicKeys X2 still lacks useful features such as popup Toolbars, hidden dock Toolbars, QuicKeys Icons (applets), and Speech support. Users with previous QuicKeys experience or with the perseverance needed to master QuicKeys X2 can greatly enhance their productivity. Inexperienced users can benefit from QuicKeys' ability to record Shortcuts that usually work without editing. However, users who need only a few simple Shortcuts (such as hot keys for nested menu items or inserting boilerplate text) may do better with a simpler macro-generating application.