Review: Mariner Write 3.6

Developer: Mariner Software
Price: $80 (boxed); $70 (download)
Requirements: G3-based Mac with Mac OS 8.6 or Mac OS X
Trial: Fully-featured (30 days)
When I first started using Mac OS X, I couldn't find a satisfactory word processor. I had been using Nisus Writer on OS 9, but Nisus Writer Express 1.0, when it finally arrived, proved a terrible disappointment. The obvious choice, Microsoft Word, was painfully bloated and complicated to use. While I'm sure it's chock full o' features, the most important feature for any program is that it not get in the way of whatever work I'm trying to do. I eventually found myself doing all my writing in BBEdit and pasting the document into another application to add formatting later, if necessary. Not pleasant, but it seemed the best I could do.
Mariner's answer to Excel, a spreadsheet program called Calc, got me out of a messy situation once before, when for some reason, which I no longer remember, I needed to work with more columns than Excel could handle. I don't have a lot of familiarity with spreadsheet programs, but Calc let me do what I needed to do with a minimum of fuss. So when I heard about Mariner Write 3.6, I decided to give it a shot.
Basics
Mariner Write, as a word processor, does what you'd expect a word processor to do: style sheets, footnotes, thesaurus, WYSIWYG font menu, scalable in-line and floating graphics, multi-column support, insertable tables…just to name a few features. The feature set is well-chosen. The point is to let you do what you'll most likely need to do and not overburden the menus with submenus and options dialogs for things you don't really need.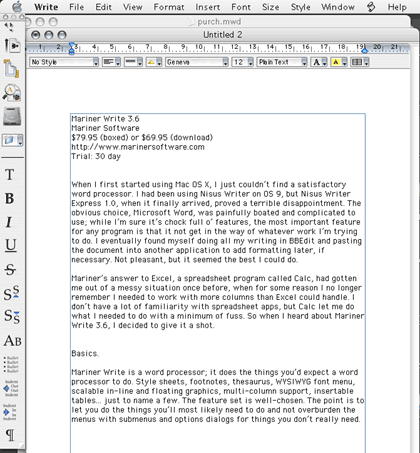 File Formats
In addition to its own proprietary format, Write lets you save documents as standard RTF, MS Word RTF, text, or PDF. The ability to save as PDF is nice: any OS X program can do it, of course, via the Print dialog. But saving a document as PDF through the Save dialog is more straightforward and intuitive. It's this sort of attention to detail that makes Write feel easy to use.
At first, it seemed like Write didn't save any formatting I applied to my documents. Finally, I realized the problem: I'd open a text document, add some formatting, hit Save, and open the document later to find the formatting gone. My own stupid mistake, granted, but if the filename doesn't have an extension, it's an easy error to make. So, I'd have appreciated a warning from Write before closing the document.
Many of us work in a Microsoft-dominated world. That means we need to be able to read files created by Word. Well, Mariner Write can accomplish that for the most part—sort of. Several documents I tried showed up just fine in Mariner Write, but one was kind of a mess: only text on the first page was visible, but Write showed a second, apparently blank page. Select All selected (invisible) text on the second page, and I was able to copy and paste into a new Write document, where all the text showed, but certain formatting elements, including item numbering, were absent. So unfortunately, if you need to be able to reliably read any but the simplest of Word documents, you'll probably need to keep a copy of Word on your Mac.
Interface
The quality of the user interface has a huge effect on whether or not I will actually use a program. Most companies realize that users don't read manuals, and accordingly don't include printed manuals with their products. But they fail to realize that what users do instead of reading manuals is follow their nose. Here's how I work: I decide I want to apply a particular sort of formatting to a word, paragraph, etc. Then I start searching through the menus for a way to do that. If my first guess is wrong, OK, but if my second guess is wrong, too, I start getting frustrated. The program's getting in my way.

Mariner Write's menu system is well designed. My first guess is usually right, and if it's not, my second guess is. Write puts things where you expect to find them. Or at least where I do.
One example: I loathe automatic spell-checking. If I'm writing, I don't want to be interrupted; I'll worry about proofreading later. It took more or less forever to turn off that option in Word. Write, on the other hand, makes it an option in the Edit > Spelling submenu. Of course, it's also in Preferences, but the point is, it's Spelling, so doesn't it make sense to put it in the Spelling submenu?
Now, say you want new documents to use a particular style by default: your choice of font, page numbering, a pleasing background color, etc. It's as simple as creating a blank document with the features you want and selecting Save as Default File from the File menu. New files will use that default file. Now, what if you want a plain old ordinary new file? Pick New Empty File from the File menu. It's all quite intuitive.
One more feature I really love: there's an option to automatically open documents from the previous session when you start up Write. It doesn't sound like a big deal, but it's great to have my documents right there for me when I'm ready to work.
Oops
Write is not without its flaws, even though they're mostly pretty minor.
Say you want the page number in the footer on every page. Simple enough. But now you want a header that appears just on the first page. Suddenly, the first page's page number footer has disappeared. The problem is, there's only one "different first page" option in the header/footer dialog box, and it applies to both the header and the footer. It's easy enough to get around this by duplicating your footer separately for the first page, but then if you want to change it you have to change it in two places, etc. Messy.
You can specify a background color for your documents if you want to see how something will look on colored paper, or if, like me, you find light gray easier on your eyes than bright white. Unfortunately, the default is to print this background color. Considering that most printers can't do edge printing, I can't imagine ever wanting that behavior. The option to turn off background color printing is uncharacteristically hard to find—it's in the Mariner Write section of the Print dialog box.
Mariner Write's rectangular selection (it calls this "discontiguous") is buggy. Hold down the Command key and you can select, say, one column of tab-delimited text. Handy. However, in some cases, copying that text produces strange results when pasted into another application. It always looks OK if you paste the text into Write, but if you then Undo your Paste, some text is left behind. So, rectangular selection definitely needs some attention.
Find and Replace
I'd been working with Write for a while when I found I had to do a Find and Replace. But when I hit Command-F, I was astonished by what I found, or rather by what I didn't find. Maybe I'm spoiled by Nisus Writer and BBEdit, but egads, I can't understand how anyone can do any serious writing in an application that doesn't have something like regular expressions. It's something I've come to take for granted, right or wrong, and I was taken aback when I found there was no way to include a portion of my search string in my replace string. I ended up copying my document out of the word processor and back into my old friend BBEdit and continuing to work from there. It seems I've come full circle.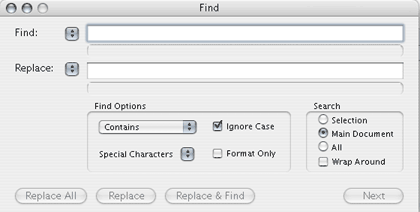 I can't hold it against Mariner Write that it doesn't offer regular expressions in its Find and Replace dialog; that feature doesn't seem to be standard word processor fare. But it's a feature I'd love to see in a future version.
Conclusion
Those who often have to work with complicated Word documents should probably stick with Microsoft's product for the time being, but if you just want a solid, easy-to-use word processing tool to help you get the job done, you won't go wrong with Mariner Write.