Review: GameRanger 1.0b5

Contact: Scott Kevill
E-Mail: info@GameRanger.com
Web: http://www.gameranger.com/
Download: http://www.gameranger.com/download/ (~514K)
Price: preview versions are free; later releases will eventually be shareware
Requirements: Power Macintosh, Open Transport, and System 7.5 or later, Internet connection and e-mail address (for account creation)
The steady increases in Internet proliferation and the multitude of new multiplayer games available for the Macintosh provide avid gamers with plenty of opportunities to engage in their favorite time-wasting activity—if they can find other gamers to play with. Many games, such as Civilization II Gold, do not contain any player finding features, so unless you know someone who wants to play at the same time you do, you're out of luck.
Scott Kevill's new GameRanger addresses this issue and more. Scott might be known to some of us for his QuakeFinder and UnrealFinder software. He continues the tradition of game finding, but on a much grander scale. GameRanger is basically a giant game finder for many games (currently 19 and many more are being added), plus chat features and some nice extras. It works like this:
You sign up for an account by starting the GameRanger application and entering your e-mail address. An e-mail will be sent to you with your account ID and password. Once you have registered for an account, you can start using the program. You set up a user-profile consisting of an icon (a little graphic representation of your self), a nickname (the one you will be known by), and your real name. If you wish, you can change the e-mail address or password at any time.
The main window is organized by two tabs on the top left. The "chat" tab is the main feature for finding fellow Mac gamers. It divides the window into four areas. The top left lists the available rooms:
Main Lobby (for general chat etc.)
Action/Arcade (for action games like Quake or Unreal)
Puzzle/Board/Card (for such games)
Simulation (for simulation games)
Sports (well, for sports games)
Strategy (for strategy games such as Civilization II Gold)

This organization is meant to help players find the right games but is not mandatory. It is possible to start a Civilization game in the Action/Arcade room, but why would you want to? You can find a list of all currently supported and planned games at http://www.gameranger.com/games/.
The bottom left displays the available games in the current room by name, game type, number of players currently playing, and maximum number of players. If you can join the game, double-clicking the game's name will open another window. Here you can chat with the players in that game and join the game by clicking on the "Join" button. GameRanger will automatically start the game application and join the server. If it cannot find the program, GameRanger will ask you for its location on your hard disk.
For those who like to be in control, you can start your own game by choosing "Gather Game..." from the "Chat" menu. GameRanger will ask you for a name, the maximum number of players allowed, an optional password (if you just want to play with some friends who know it), and the game you want to play. Very important is the "Allow late joiners" checkbox. It will allow more players to join the game after it has started. Clicking OK will open up a chat window similar to the one you get when joining a game, but instead of "Join", the button is now called "Start". After all the players have joined the game, you can start it. With "Allow late joiners" on, you can start it right away and wait for them to join later (though this might not work well with some games).
The big area in the middle of the main window is the chat area. Here you see system messages (like new games being started and closed) and the current chatter going on in the room. On the right is the player list, displaying all players in the room by nickname and icon. If a player has a green dot right next to his/her name, (s)he is currently in a game. Creativity is key when choosing your nickname because you will compete with the likes of "Garlic", "Wood elf" and "ZzzUtterer[.com]<MW>".
The second tab on the top left, "servers", only works for some games (currently QuakeWorld, Quake 2, Quake 3 and Unreal) and has no room distinction but rather a game distinction.
GameRanger's functionality is very similar to that of QuakeFinder. It lists the available game servers on the Internet and their information (such as name, number of players, map, game, ping, and IP address, and you can turn on more through the List menu, such as version number, the number of times you joined that particular server, and the last time you joined it).
You can sort the list by clicking on any column name. You can also organize the servers by putting some into the favorites "folder." A few of the games come preorganized by game type to help you find the right game faster without taking away your ability to see all servers at once. To join a game, select its name from the list and choose "Join..." from the "Servers" menu. (Double-clicking doesn't do anything, which Scott should fix in future versions.)
As if this were not enough, GameRanger allows you to do even more. The preferences dialog lets you customize many features of the chat interface (such as sounds, colors, and message), configure voice chat, and specify the location of your games. Yes, you can chat by voice using your Mac's built-in microphone—and it works pretty well, even over a modem.
You can also set the program to ignore annoying people. The newest beta also claims to have support for special chat rooms with moderation features. Unfortunately, I was unable to find this feature. Even as it is, GameRanger rivals many of the simpler chat clients. GameRanger is fast, sleek, and simple, and the interface is uncluttered, though it needs a little getting used to so you are not overwhelmed by the many things you can do with it. Once you get the hang of things, it's a breeze to use.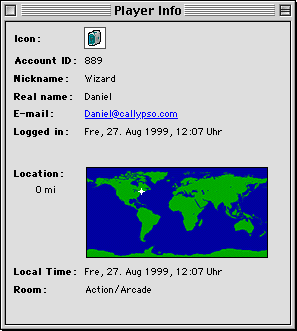 There is a private chat feature, but no one ever answered my requests for a chat. I assume this is because there is no efficient notification when someone wants to talk to you privately. This is something that needs to be fixed as well. You can search for other players by account ID, e-mail address, or nickname. You can get instant information on any player, including account ID, nickname, real name, e-mail address, last log in, how long the player was idle if applicable, location (shown as a little white cross on a world map, very neat), distance from your location (which is important for some games where lag might be a problem), the player's local time, and the room (s)he is in. You don't have to enter location information; instead I assume GameRanger gets this information from the Date & Time control panel.
GameRanger is a must-have for every serious multi-player. Even the betas are more stable than some shipping commercial programs. Non-gamers might just use it as a chat client because of its elegance, power, and simplicity. Scott is actively developing the program, with a new beta released roughly every two weeks. One of the planned additions is a "buddy-list" so you can find your friends more easily. I cannot wait to see what surprises future versions will hold.