About This Particular Web Site
The World Wide Web has brought us a maze of information and entertainment. Most people and companies have Websites nowadays, ranging from the helpful to the obscure and useless and sometimes downright annoying. Most major Websites are well known, such as Yahoo! or Amazon.com, but there are many smaller, unknown Websites that are no less invaluable or entertaining. The problem is finding them. This is where this column comes in: I will try to introduce some interesting or funny Websites regularly, i.e. whenever I feel like it. And because many eyes are better than just two, I am open to Website suggestions from you, yes you! Whenever you come across a site that you think would be interesting to our other readers, feel free to send the URL and short description to web@atpm.com. Please notice that the reference to a Website does not constitute endorsement, but simply a suggestion for your future Web surfing adventures.
Well, let's get started. The first Website I would like to introduce has, naturally, to do with Star Wars . Even if you are tired of the blockbuster movie, you might find this amusing. See the new 'Weird Al' Yankovic music video, 'The Saga Begins.' Al's ode to Star Wars is set to the tune of the classic 'American Pie' for a galactic amusement. May the Force be with you!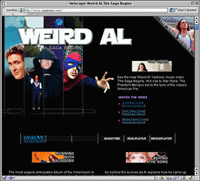 If you prefer art that is really cool, take a look at "Ice Art." Ice art is a different from of art where the artists create fascinating translucent sculptures from crystal clear ice. The World Ice Art Championships are held each year in Fairbanks, Alaska, the source of the world's clearest ice. If you want to know more about this chilling art form and see some of the sculptures yourself, point your browser to http://www.icealaska.com.
Did you always have the feeling that your neighbor is richer than he admits? Now you can find out. Forbes publishes an annual report about the world's richest people. Number 1, of course, is our dear friend Billy Gates. You can search by name, wealth, location and other criteria. Maybe you will even find your neighbor there. ;-)
Do you need a feeling of security? SecureMac is there for you. The Website provides extensive reports about security flaws in networks and programs as well as the tools and methods to fix them as they relate to your Macintosh.
Of interest to our German readers might be this Website: Macverleih.de. If you need a Mac just for a limited time or want to test-drive it before you decide on a purchase, you can simply borrow one from Macverleih. They offer weekly and monthly rates. You can rent an iMac for DM 249 per month (about $ 131) or even a G3/350 with a 20" color display, although you will have to empty your pockets a bit more for that one. You can pick up the computer in Munich or have it sent to you for a fee.
Heard all the fuzz about Unix? Want to install it on your Mac? Another variation of Unix made it to the PowerPC: NetBSD. If you are interested in it, go here. Proceed at your own risk, as installing such a complicated operating system without the proper computer knowledge can destroy your data.
Do you feel alienated as a Mac user by your current Internet service provider, or did you not choose one because they are all too "PC-ish"? Well, now there is a Mac-only ISP here for you. From Mac users for Mac users and run entirely on Macs, this service tries to give you the Mac-like Internet experience. Their Website is nicely done and deserves a visit even if you already have an ISP. Their price is $18.99 per month for 3 e-mail addresses, 15 MB or Web space, real 24-hour Mac tech support and more.
Can't decide which e-mail client to use? Polytrope Solutions has a comparative and very detailed review of the four major e-mail clients for the Mac. Set some time aside for this one, it's quite long.
Last but not least, a site that you might hate if your better half finds it. De Beers' "A Diamond Is Forever" Website has a new section where you can design your own engagement ring. By answering a few simple questions, the site presents you with a few styles that you might like and then lets you view similar styles. You can print out the information about the ring of your dreams so you can bring it right to your jeweler, even if it is to get a fake copy of that ring.
That's it for this month. If you enjoyed any of the Websites or have a special site that you would like to share with us, please send an e-mail to web@atpm.com.