Software Review
Smashing Tennis

Developer: MacGames.org
Price: $10
Requirements: Mac OS X 10.4. Universal.
Trial: Feature-limited (no tournament mode).
I wanted to like this game. Years ago, I played loads of on-court tennis, and I've enjoyed the Wii Sports version in my living room. But I did not like Smashing Tennis, though I am allowing that other folks will.
I have not played a game in a long time that was about hitting the spacebar over and over. It feels funny and, with my clicky-loud keyboard, it is loud. The visuals are OK, a little simplistic, but that's fine. I didn't want much clutter. The game took over my screen when I played it, and my attempts to get a screenshot were unsuccessful. I couldn't tab among applications, and I couldn't use Grab. Points off for the game taking everything over like that. Editor's Note: we were able to get a few shots with Snapz Pro X.
You type in your name and select a player. Though there were players of several ethnicities and clothing available, they are all male—unless the two players with hats are female, but I don't think so. I nearly turned off the game when I realized this. I want gender not to matter in a lot of ways, but to assume we are all male is inexcusable.
The default music is peppy enough, like what you hear on a workout program.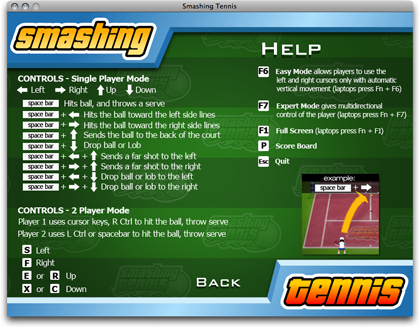 Game play consists of hitting the spacebar to toss the ball up, again to serve, and again to hit the ball. You use the left and right arrows to move along the baseline, and a red dot shows you where the ball is going to land so you can run to that side. But if you wait for that red dot, you'll be too late, just like in real tennis. You have to anticipate what the other player will do, and most of the time you are best off just returning to the center.
You can use the up and down arrow keys to go to the net and baseline, or just stay in the F6 mode and stay on the baseline. The game will send you to the net if it is necessary.
You can adjust your power, speed, and control, and those of your opponent. So start off really good and make your opponent weak. But that seems tacky.
The instructions and tips promise you will improve with time, and will learn to hit lobs and drop shots with combinations of keys. It just made me want to turn on the Wii, to be honest, and get moving for real rather than sitting at a monitor. Or heaven help us, go outside and serve a bucket of balls.
Recommendations: it's worth the download to try the free version, and the full version is only ten bucks if you like it. Even for free, I won't be playing it again.
I would say it's a good game for kids, but they are the ones who should be outside playing for real. Also, I would not recommend it until there are more players to choose from, because I would not want kids to think only boys can play sports. Grrr.