Software Review
Posterino 1.5.1

I love to take pictures, and at gatherings am usually the one with the camera. With the many photos in my collection, I made monthly calendars, stitched panorama, photomosaics, and more. When I learned about Posterino's Life Poster feature, I knew I had to check it out.
Posters and More
Although my primary interest with Posterino is poster-making, the software offers more than posters. At its heart, Posterino is simply a collection of templates that work nicely with iPhoto, Aperture, Photoshop Lightroom, or from folders in the Finder. Choose a template, then select a source of photos—be it an iPhoto album, the entire iPhoto library, the Pictures folder in Finder, etc.—then drag and drop photos into the templates. By default, Posterino only loads the photos in iPhoto library and a few standard locations in Finder, like the Pictures folder. You can add more folders of your own. Posterino comes with templates for make photo frames, postcards, and posters.
The simplest templates are the Photo Frames, which involve just a few pictures. As the name suggests, the dimension of the picture is that of a picture frame, with slots for you to insert a few choice photos. You can resize the photos, move them within the frames, and rotate them. You can make use of the included text or add your own. If you don't find these templates impressive, then I agree wholeheartedly with you. You probably can even use the free office suite NeoOffice to make a little photo frame of your own. It may take a little extra time, but it is feasible. Photo frames are not too impressive.
The postcard template is the next step up from the Photo Frames. You still really work with a simple mask that lets you insert photos, but now you can also have your own photo in the shape of a postage stamp. Postcards can be sent as a picture attachment via e-mail. In this respect, Posterino postcards are not much different from what is offered in MobileMe.
You can print out postcards and have your local post office handle the delivery the old-fashioned way. However, there is a big problem with that. I am old enough to actually use real paper postcards myself. These postcards have a picture on one side, say, featuring some famous landmark of the place I vacationed in. On the other side, the right half is where the recipient address is written, and the upper right is where you affix a stamp. The left half of this back side is where you write a brief note about your trip.
With Posterino, you end up with a piece of paper with photo, message, and "stamp," all on one side, and the other side is blank. I suppose you would write the addresses for sender and recipient on the blank side. For all the fun factor with the stamp, you still need to affix a real stamp where it is expected. Maybe I am just a purist, but a Posterino postcard just doesn't behave like a real postcard. There is a template with a photo taking up the entire page of the postcard, but then instead of using that template in Posterino, why don't you just print straight from your iPhoto onto a piece of paper of the proper size? Not quite your typical real-world postcard, with a picture entirely taking up one side of the piece of paper.
One interesting feature of Posterino is the use of Swiss Post International to send real postcards. You first buy some credits somehow or use credit card at the time of using the service. Design your postcard from within Posterino as usual, then choose Mail ‣ Send As Postcard. In addition to the text you already entered, you can add another message. Posterino works with Address Book to pull in the name and address. I have not made use of the service, so I can only wonder if the postcard would be postmarked in Switzerland. Wouldn't it be odd if that were the case, and the sender went on vacation in some other part of the world, say, Peru? It does not matter much because Swiss Post International will discontinue the service in July 2009 for small businesses. Posterino is already patched to stop offering the service when the time rolls around. Zykloid is looking for other interesting services to integrate with Posterino.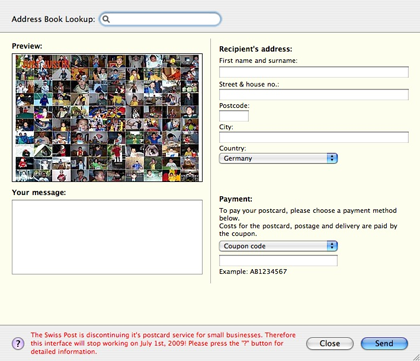 Interesting integration with Swiss Post International, but alas service will be discontinued in a few months.
Fun With Life Posters
The fun starts when you use the Life Poster templates. The routine is still the same—load pictures, adjust their sizes and positions, etc.—but now quantity makes all the difference. We are talking on average about 60 photos, so the Fill and Fill At Random features now come in handy. Also useful now is Posterino's zooming capability. Pretty much anyone with a digital camera has a decent photo collection that Posterino would gladly grab from to fill in a Life Poster. You may be quick to point out that with some tweaking, iPhoto too can generate something akin to the Life Poster. However, recall that with Posterino you have the ability to rotate, enlarge or shrink, and shift the photos within their frames. You can also, on the fly, move photos already in the template around or replace them with other photos from the sources. Zoom in to adjust the photos to your liking.
You can pick and choose from within Posterino, but its interface is not made for switching around, so jumping from albums and folders can get very tedious quickly. Just do your arrangement in iPhoto or the Finder, then pour the info into Posterino's templates. So far, I created a Life Poster featuring over 60 pictures of my son. I plan to make posters showing off Apple products or faces from the extended family tree I maintain, or perhaps one featuring my collection of obsolete hardware. The possibilities are endless. Just Justin.
Poster Print
A poster is made to be viewed on paper. Computer screens can be only so large. Zykloid Software decided not to get into the printing business and instead provides the option to export the poster to disk, Flickr, or iPhoto. From there, you are supposed to have the poster professionally printed and mailed back to you. In the case of disk, you can bring the file on a flash drive to a local print shop, like Staples, to get it printed.
I wish Zykloid would include in its documentation links to programs like the open-source PosteRazor or Axamblis' Imprint Studio. Zykloid should at least suggest that the Posterino user search for "poster print" in his favorite search engine. It is true that assembling the pages printed via PosteRazor or Imprint Studio is tedious, but I think it is necessary to have a draft view of the poster before spending money on professional service. Chances are that out of the hundreds of photos used, one or two should be rotated, shifted, or re-sized in a better way.
At my local Staples, a 24″ × 36″ print would cost about $40. Printing with Apple via iPhoto or with Flickr probably cost about the same, plus shipping. I am not financially rich enough to readily spend $40 without first seeing a draft copy. What's more, not everyone lives near a print shop, so waiting a few days for the poster to arrive in the mail is not a satisfying experience. I am sure for an extra fee, the poster could be sent via some faster method, but again, the frugal person in me would never go with that option. Personally, I find the "posters" I made with Imprint Studio and my HP Color LaserJet CP1518ni very usable for non-business purposes.
Conclusion
If you have a decent photo collection and want to make something out of it, Posterino is a Very Nice program to have. Posterino's Life Poster is most useful, but its postcard feature can be fun to use, also. Posterino provides convenient export for printing by professional services. However, you will fare better if you first generate a draft copy with poster printing software like PosteRazor or Imprint Studio, a suggestion I think Zykloid Software should include in the Posterino documentation.