Review: StuffIt Deluxe 7.0.1

Developer: Aladdin Systems
Price: $79.99; $49.99 (upgrade)
Requirements: PowerPC-based Mac with Mac OS 8.6 or Mac OS X
Trial: None, but you can try StuffIt Standard Edition.
StuffIt—Yesterday and Today
Today, Aladdin Systems, the maker of StuffIt, desires to be the cross-platform leader in what the company calls "Access Management" solutions. Aladdin started in business as a maker of niche software and utility products for the Macintosh market.
Years ago, when the "sneaker net" was the most common way for computer users to transfer files, there were many major limitations on the ability of people to share digital information. Back then, personal computer users didn't carry iPods or Zip disks; we carried a cache of floppy disks from computer to computer and from office to home.
The small amount of storage space available on solutions such as 800K floppy disks made finding a way to put more data on the disks a paramount concern for computer users and software makers. Those of us who can remember what it was like to install a software application via a series of twenty or more floppy disks knew even then that the tedious process was only made possible by software compression technology.
The name that served the compression needs of Mac users in the era of the sneaker net is the same name that serves the compression needs of Mac users in the age of the Internet. That name is StuffIt, the data compression solution developed and marketed by Aladdin Systems. ATPM has previously reviewed StuffIt versions 4.0, 4.5, 5.1.2, 6.0, and 6.5.
StuffIt Deluxe 7
StuffIt Deluxe 7, the most recent iteration of most popular Macintosh file-shrinking tool, is available at the retail price of $79.99. Registered owners of previous versions of StuffIt Deluxe can upgrade to the newest version for $49.99. StuffIt Deluxe 7 comes in Mac OS X and OS 9 varieties. Aladdin also offers Windows, Linux, and Sun Solaris versions of StuffIt, providing users with the most compatible compression tool for all of the major PC platforms.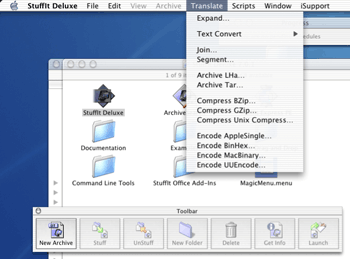 New and Enhanced Features
What does a Mac user get for his or her investment in the latest version of Aladdin's flagship product? According to Aladdin, StuffIt Deluxe 7 includes the following new or expanded features:
The ability to browse StuffIt and Zip file archives.
Integration with Microsoft Word.
A new StuffIt X file format, which supports better compression and long filenames.
512-bit encryption for serious security.
Secure Delete for the removal of sensitive files.
After working with StuffIt Deluxe 7 for the past few weeks, it's my view that for investing in the cost of StuffIt Deluxe 7, users get an evolutionary upgrade to this well-known Macintosh product. The new StuffIt X format offers stronger encryption and error correction features that help with file corruption issues and offer unlimited sizes for compressed files. StuffIt Deluxe 7 also provides more advanced Mac users with a command-line feature, allowing users to bypass the Mac's graphic user interface and work directly from the Unix terminal window. Mac users who are less ambitious in their pursuits may find the updated tools and features useful for more mundane tasks. However, users who are happy with their current version of StuffIt Deluxe may not have a compelling reason to purchase the upgrade to StuffIt Deluxe 7.
Global Market, Real World Results
I've been a user of StuffIt since the first Aladdin release of its compression product based on the algorithm developed by Raymond Lau. In the years since I first used StuffIt, my compression needs have grown along with the sophistication of my work. In reviewing this product, I looked for the same benefit to my computing life in the era of gigabytes that I found in the era when compression needs were measured in kilobytes.
Over the years I've worked in the technology field in a variety ways. The revitalization of Apple Computer and the Macintosh platform has led to the installation of Macs in places where Macs had previously not been used or where Macs have reemerged as the computer of choice following several years of dormancy.
In schools, offices, and design shops, the newfound popularity of Macs demands cross-platform solutions. Aladdin's focus on cross-platform digital asset management is evident in StuffIt Deluxe 7. StuffIt not only compresses files to the Mac standard .sit format, but it also encodes files for MacBinary, BinHex, and several Unix standards. The Zip compression abilities of StuffIt Deluxe 7 allow Mac users to share compressed files with Windows users and provides common tools in the age of the Internet for compressing files so that they are usable on both sides of the great OS divide.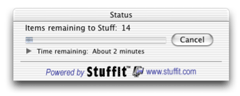 As a professional Web designer and home moviemaker, I was impressed by the stronger encryption available in the StuffIt X format but was decidedly underwhelmed by StuffIt Deluxe 7's performance on large media files. StuffIt Deluxe 7 repeatedly quit when attempting to compress files over one gigabyte in size. In fairness, other users may achieve different results than what I experienced on my dual-processor G4 running Mac OS X 10.2.3.
Conclusion
In all, StuffIt Deluxe 7 offers users slightly better compression than previous versions of the product and greater integration with the Unix-based Mac OS X. Mac users new to the platform will find StuffIt Deluxe 7 helpful for file management and for the transfer of files to both Mac and Windows users via the Internet. Registered owners of pre-OS X versions of StuffIt Deluxe may find OS X native StuffIt Deluxe 7 a convenience, but the latest version of Aladdin's flagship product offers little in the way of breakthrough features that might otherwise compel registered users of previous versions to rush out and purchase this upgrade to the product.
Strengths
Stronger encryption.
More cross-platform compatibility.
Mac OS X native.
Weaknesses
Instability with large files on test system.