My Apple Wedge
Organized Mobility—Mobile Connectivity—Connected Organizer
Biting the Bullet
Inspired by Evan Trent's recent review of Kyocera's Smartphone in last month's issue of ATPM, I bit the bullet and bought what many view as the competitor to the Smartphone: The Handspring VisorPhone. My new job is a lot easier to accomplish with this mobile connectivity solution for my organizer. Now I am usually instantly available for clients when they want to reach me, and that means a lot in terms of quality customer service in these times of endless holding loops or voice-mail systems.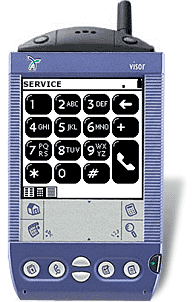 The VisorPhone in action: phone and Web.
Comparison Shopping
There were several features that attracted me to Handspring's solution:
The Visor is Mac-compatible out of the box, the hook for this article in the first place.
I already own a Handspring Visor Platinum.
The Kyocera Smartphone costs US $500, activation is US $35, and it comes with only 20 included minutes.
Handspring is running a promotion on the VisorPhone for US $49, activation costs US $20, and it comes with 60 included minutes.
It is based on the global GSM standard, so I can use it in Europe when I visit family and friends.
You can have the same functionality of the Smartphone (except for voice dialing and speakerphone) by buying a Handspring Visor for US $200 and you will still come out ahead. In the end, with the Handspring, you have a complete computer solution that sports virtually unlimited expandability through the Springboard slot, which is what attracted me to the Visor in the first place. Besides the formfactor as an obvious definite plus, check Evan's article for other advantages of the Smartphone.
Vienna Calling©
The calling plan that comes with the Smartphone is limited to SprintPCS, and data minutes are subtracted from your calling plan minutes. For the VisorPhone, you can choose among providers, but you have to purchase a separate data plan for US $30, which includes 1500 minutes.
Size Matters
I know, I know, don't go there. What I like about the VisorPhone is that it adds only about five-eighths of an inch to the Visor's overall length, but on the other hand (and more importantly), seven-sixteenths of an inch to its thickness, and almost 3 ounces to its weight, which makes it more than what the founders of the Palm intended it to be: a shirt pocket computer.

The VisorPhone adds bulk to your Visor: it is about as thick as the Visor itself.
Still, I don't really mind the additional size and weight as I don't put my Visor in my shirt pocket, but rather on my belt in Targus' leather belt pouch. I think the Visor is too bulky to put in a shirt pocket, which I don't always have available anyway. It still fits in my hand just fine, and I prefer the bigger screen compared to Kyocera's Smartphone.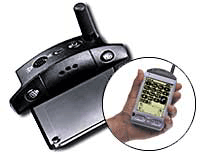 Complete and still handy: The VisorPhone Springboard module.
Ease of Use
When it comes to using the VisorPhone, it is truly plug-and-play. This is what makes it endearing to a Mac user in general, of course, and to me in particular.
Plug it into the Springboard slot.
The VisorPhone application autostarts like any other Springboard application.

Turn on the phone.

Wait for service to be confirmed.
Now it's your call. Literally. Use a speed dial button. Or the keypad. Or tap a number from your address book. And you will by accident, when you actually want to edit an entry in your address book. You just have to get used to tapping on the name of the address book list entry instead of the entry's phone number. Quick access buttons on top of the VisorPhone.
Other than that, there is nothing in particular (that I can think of) that makes this product more specific to the Mac platform. If anything, to me it's another product that helps me just get the job done and even have some fun along the way without having to worry about .dll files. Pardon? You don't know what they are? No wonder, you're a Mac user, and you shouldn't have to. In some respects, they are Windows files similar to system extensions under the Classic Mac OS, but their management defies description and invites headache by their mere presence.
Speed Dial
Using speed dial is the same as using the speed dial on your regular phone. You can program ten speed dial buttons by writing the desired phone numbers in the silk screen area with your stylus.
| | |
| --- | --- |
| | |
| Sending SMS messages with the VisorPhone. | Speed dial 10 numbers on the VisorPhone. |
SMS
I'm just getting into this now: I'm asking all my friends if they can receive SMS messages—might as well use my built-in messaging capability to spend some of my plan-minutes.
Wireless Internet
The VisorPhone Wireless Suite is found on the CD enclosed with the VisorPhone. Be prepared for Internet Explorer to start automatically when you insert the CD. Unfortunately, all Microsoft applications I happen to have on my hard drives cause my machine to crash sooner or later (I only keep them for those instances when someone sends me a document that requires editing of specially formatted documents). Everything else I run hardly ever crashes, the exception being Netscape Communicator, but only once in a while and only whenever it runs into a badly designed Web site. So, I had to restart my machine and just opened the HTML autostart document in Netscape Communicator, since it didn't autostart when the CD was in the drive at startup.
The applications that let you use the Internet wirelessly all require you to install one or more relatively small .prc files by HotSyncing your Visor. This is the usual procedure when installing applications on your Visor. Handspring has incorporated this feature into the User Guide on the CD enclosed with the VisorPhone: in the user guide Web page, simply click on the installation link of the wireless Internet application you would like to install, and it is automatically downloaded off the CD onto your hard drive, after which the Palm OS's HotSync Manager starts and shows the file to be uploaded onto your Visor next time you HotSync. Easy enough.
Saddling Blazer?
Handspring provides their own optimized Web browser in the VisorPhone package. Be prepared to deal with Web sites that don't cater to the handheld computer clientele. On a good note, Blazer is compatible with HTML, cHTML, and WAP standards.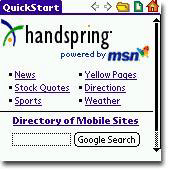 Wireless Internet with Handspring's Blazer Web browser.
One-Touch Mail
JPMobile's mail application features all the functionality you're used to from your desktop e-mail application: it sorts, filters and files messages, reports message status, allows access to up to six e-mail addresses, creates custom "canned" messages that can be copied into an e-mail message, sends messages to a defined group, delivers messages to any pager or any Internet e-mail address, and most importantly, it uses your existing Palm address book for it. I have to say, though, at this point, I expect nothing less.
E-mail with JPMobile's e-mail client.
Yahoo! Messenger
Personally, I use AOL's Instant Messenger on my desktop machine, just out of convenience since it comes with Netscape's Communicator package and hasn't caused any problems with anything else I have on my hard drives. Unfortunately, none of the instant messaging applications use the same protocol, so Yahoo's Instant Messenger users can only send instant messages to other Yahoo's Instant Messenger users, and not to AOL's Instant Messenger users. Just something to keep in mind. AOL also has a messenger application for the Palm platform; check Palmtracker, just to name one other.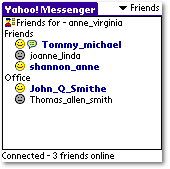 Instant messaging with Yahoo's Instant Messenger.
BugMe! Messenger
Electric Pocket's BugMe! Messenger has the additional appeal of enabling users of Palm-based devices to send handwritten, text, and graphic notes—and even photographs to other BugMe! Messenger users.
Now this is something I am itching to try sometime: upload a favorite photograph (maybe taken with your digital camera—see my last article for some hinters as to what's possible), add a note on top of it, and send it to your buddy.
Write sophisticated notes with BugMe! Messenger.
Accessorize, Accessorize!
Thankfully, the VisorPhone comes with all the necessary accessories: besides the VisorPhone Springboard module with the Lithium-ion battery, the VisorPhone comes with a headset for complete hands-free operation and a travel charger. The headset is your common earphone that plugs into the eighth-inch connector on the side of the VisorPhone. The travel charger plugs into the bottom of your Visor which normally plugs into your cradle. Now if only there was a travel charger to charge the Visor itself! I've heard of home-made chargers, but nothing commercial—what's up with that? Feel free to send me an e-mail and enlighten me on the latest developments in this area.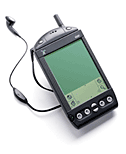 VisorPhone headset for hands-free operation while driving etc.
At Last (Homage to Etta James)
So, before you decide to buy, make sure you know what functions you require from your connected organizer or organizer phone. Make sure, however, that it has one function that I have already found very useful for evaluating how much time I have spent on my VisorPhone: Call History. The VisorPhone keeps track of all your calls, including the time spent on each call. If you spent so many minutes over your plan last month, well, you can't say you didn't know how many minutes you already spent—it's all right there, at the touch of a button.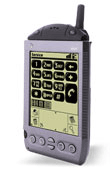 The complete package: VisorPhone in the Visor, ready to talk.
Now, as one of my colleagues at ATPM says in his e-mail signature: Hang up and drive!