Review: TurboTax Deluxe

Developer: Intuit
Price: $39.95
Requirements: Mac OS 7.6, 45 MB hard disk space (more if state forms are downloaded).
Recommended: Monitor with millions of colors, printer, Internet access.
Trial: None
Overview
TurboTax (formerly MacInTax) helps you prepare your federal and state income tax forms. The program will walk you through all the steps needed to complete and file your tax returns. TurboTax will use information from your previous return to get you started. TurboTax can import financial data from Quicken or other financial programs. TurboTax can also file returns electronically.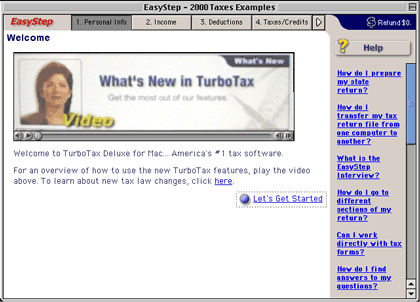 Initial Window of TurboTax
Installation
Intuit recommends disabling virus detection before installation. TurboTax uses a standard Installer VISE installation from the CD. The only installation option is the location for the TurboTax folder.
Using TurboTax
The first time you launch it, TurboTax opens the "EasyStep" window and creates a blank federal income tax document.
In EasyStep mode, TurboTax walks you through all the steps of completing and filing your return.

An EasyStep Data Entry Form
EasyStep includes optional brief video explanations and tutorials. You navigate among screens by clicking on blue text buttons in the EasyStep window. You can jump to another section by clicking on the numbered gray rectangular buttons at the top of the window or by pulling down the EasyStep menu.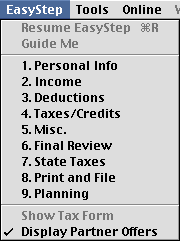 EasyStep Menu Options
EasyStep screens associated with data entry also let you view the associated tax form in the bottom third of the window. You can view just that form by clicking on the Go to Forms button. You can get help or information at any time by clicking the Help button or selecting an option from the Help menu.
TurboTax Help Window
TurboTax's form mode displays forms without the EasyStep wrapper. The icon buttons above the form reveal their function when the mouse pointer touches them. You can enter data into any editable fields of all tax forms. Double-clicking on appropriate cells will automatically open the related form (e.g., double-clicking the taxable interest cell opens Schedule B). TurboTax also helps you document tax information by creating "Supporting Details" fields. These are not sent to the government, but they can be stored and printed.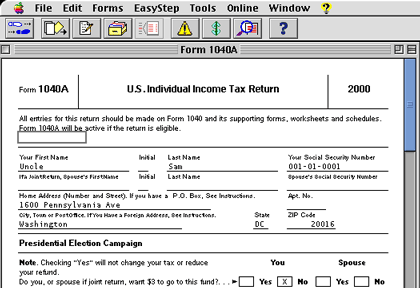 Form Mode in TurboTax
TurboTax gives you numerous printing options. TurboTax supports nearly all printers, including dot matrix printers.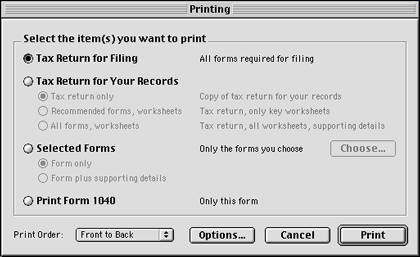 Printing Dialog Box
Documentation
TurboTax does not have printed documentation. Except for brief "Read Me…" files, all information is accessed within TurboTax through the Help menu or Help window. Online documents include "Program Help" for help with TurboTax, "FAQs" with answers to frequently asked tax questions, "Tax Help" for advice on completing the active form, "Gov't Instructions" as issued by the IRS or the state's income tax bureau, and "Data Source" which has direct links to the appropriate sections of your forms. Other online resources in the Deluxe edition include IRS publications, Money Magazine's Income Tax Handbook, and a Video Library with explanatory and tutorial videos.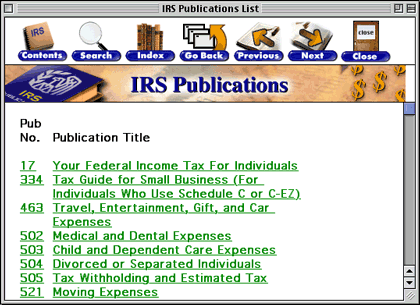 QuickView Access to IRS Publications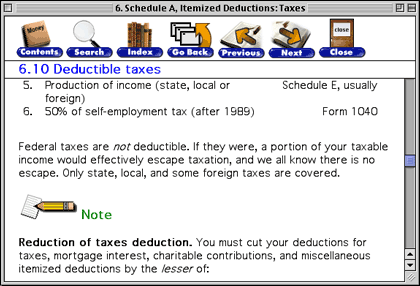 QuickView Access to Money Magazine's Income Tax Handbook
Technical Support, Updates, and Expert Tax Advice
Technical support is available from the TurboTax Web site. Free program updates are also available here. You can go directly to these sites using the Online menu.
Online Menu Options
TurboTax offers automated technical support by toll-free phone or fax. This entails going through the usual series of menu options to get a canned response. You can speak with a technical support representative for the cost of the phone call during normal business hours (7 AM to 5 PM PST). From January 12 through April 16, Intuit offers extended hours technical support on Monday through Friday from 5 AM to 7 AM and from 5 PM to 8 PM PST and on Saturday and Sunday from 8 AM to 5 PM PST. The cost of extended hours live technical support is $1.95 per minute.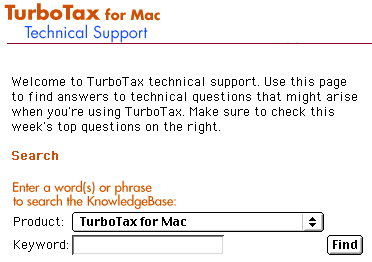 Part of the TurboTax Technical Support Web Site
TurboTax also includes a link to a Web site listing tax advisors. This Web site is run in conjunction with EXP. Advisors are organized by categories such as families, small business, retirement, etc. Advisors are listed by customer satisfaction rank. Most contact is via e-mail, but some advisors work by telephone. Rates are given for each advisor and range from $0.33 to $2.95 per minute.
Strengths
Comprehensive program helps you accurately prepare tax returns.
Deluxe version includes one free state tax program, a credit for electronic filing, and extra information in the form of online books and videos.
Designed to let you add supplemental information for documentation.
Extensive online, Web, phone, and live technical support.
Includes tax planning options with advice on reducing taxes.
Weaknesses
EasyStep can be painfully slow for simple tax returns or experienced users.

Numerous data entries require immediate recalculation that can take minutes, even on a G4 Macintosh.

The Sometimes Dreaded Calculations Progress Bar
Summary
I strongly recommend TurboTax to everyone who needs to complete more than the 1040 EZ Federal income tax form. With TurboTax, you will save time, minimize your chances of making mistakes, and possibly save money by learning about deductions you may have overlooked. Even people who go to tax preparers can benefit from TurboTax, because it will tell you what documentation you will need. Having all documentation ready on the first visit may lead to faster preparation and lower fees. I have used TurboTax (or its MacInTax predecessor) for the past twelve years.