Review: Inspiration 6.0b

Developer: Inspiration Software, Inc.
Price: $69 (list); $40 (upgrade); volume and educational discounts available.
Requirements: System 7.0, 640 x 480 display with 16 colors.
Recommended: Mac OS 7.6, 30 MB hard disk space, Web browser, printer.
Trial: Fully-featured (30 days)
Inspiration can best be described as a visual aid for outlining, conceptualizing, and planning. You use Inspiration to create flow charts, brainstorming diagrams, concept maps, and text outlines.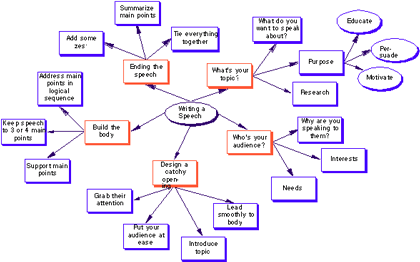 Brainstorming
To install you must turn off anti-virus software, insert the CD-ROM, and double-click the Inspiration 6 Install icon. Upon quitting the installer launches Inspiration, ready to use.
Using Inspiration
Inspiration has two main views: Diagram and Outline. You can switch between these views by clicking the icon in the upper left, by choosing the first item in the View menu, or by pressing Command-T. (Commonly used functions use all three access mechanisms. Less frequently used functions can be accessed using keyboard shortcuts or menu choices, and rarely used functions have only menu choices.) You can start with a blank document, or you can use a template. Inspiration 6 comes pre-installed with 27 templates, and you can edit existing templates or create your own.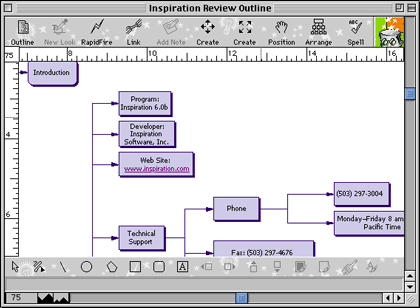 Diagram View
If you begin in diagram view, your first task is to choose a "look." Inspiration comes with 75 symbol libraries, ranging from standard boxes and ovals, to numbered boxes, to pictures of plants, animals, flags, etc. You can also choose your link type: standard (straight lines), auto-90 (only vertical and horizontal lines), and curved (with three or four Bézier-type handles). A diagram can contain any number of symbol and link styles. You can use the marquee selector to highlight any diagram elements. The Symbol menu has options to align, space, arrange, and group diagram symbols. The Link menu lets you select arrowhead size and style, link style, link direction, etc. The Edit menu lets you select all elements, just symbols, just links, just draw objects, just subtopics, and just one level of topics. You can then clean up your drawing by aligning symbols, straightening links, making all symbols the same size, etc.
Outline view converts your diagram into a Harvard-style outline. You can work entirely within the outline view, or you can switch between outline and diagram views. As you add topics and subtopics, Inspiration automatically adds the corresponding diagram objects using the graphic and link styles you selected (or the default diagram style if you didn't choose a different one). You can rearrange topics and sub-topics by clicking and dragging; you can also promote or demote topics by selecting them and clicking on the Left or Right buttons (or by pressing shift-left arrow or shift-right arrow).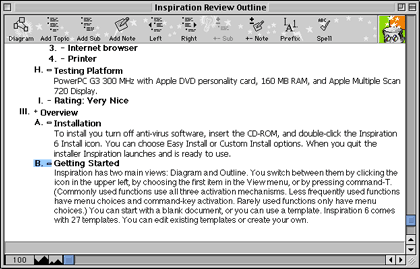 Outline
A new feature of Inspiration is the ability to add URL links within the outline view. Links can point to a Web site or to a file on your computer or local network, and clicking the link opens the file in your Web browser. The easiest way to insert a link is to view the file or Web site in your Web browser, then copy the URL into the URL Hyperlink dialog box.

Hyperlink Dialog Box
Examples of diagrams and charts created with Inspiration can be viewed on Inspiration Software's Web site. Examples include a story Web, a concept map, and government and mathematical flow charts.
Documentation
Inspiration ships with a 123-page "Getting Started" manual. The manual gives installation instructions, a brief overview of Inspiration, and a tutorial. The appendices show all the pre-built templates and describe the benefits of each.
The "Getting Started" manual, the 231-page "Inspiration User's Manual" and a 26-page "Symbol Libraries" document are all included as Adobe Acrobat PDF documents. The user manual describes in detail all of Inspiration's menus and commands. Online help uses the QuickHelp application.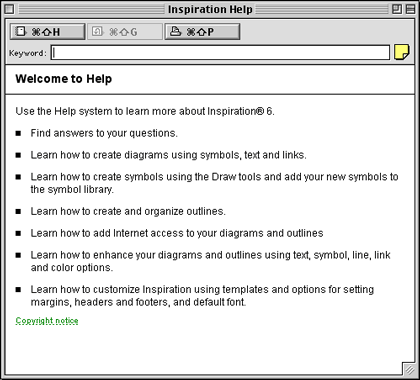 Online Help
Strengths
Flexible diagramming from formal flow charts to freeform concept maps.
Able to work in either diagram or outline mode.
Wide variety of prebuilt templates and ability to create custom templates.
Rapid-fire mode that lets you add diagram elements and topics on the fly.
Hyperlinks to Web sites and local Web browser documents.
Can paste pictures and graphics into diagrams.
Weaknesses
Editing and cleaning-up diagrams can be time-consuming.
Only one outline style.
Cannot drag and drop files to create hyperlinks.
Can only link to documents viewable in Web browsers.
No drawing tools.
The Bottom Line
Inspiration remains the best product for creating visual aids to thinking or planning. New users can readily create simple diagrams and outlines, and experienced users can create elaborate outlines, flow charts, and concept maps. I highly recommend Inspiration to educators. I used it as a teacher at a medical school to prepare lectures and problem-solving sessions, and I also use Inspiration to diagram complex topics for myself. Students can benefit from using Inspiration to help study and to help prepare outlines and written assignments. Inspiration is a great tool for anyone who conducts brainstorming sessions, especially if the diagram-in-progress can be displayed on a whiteboard connected to a computer.