Review: Slithereens

Product Information
Published by:Ambrosia Software, Inc.
Web: http://www.slithereens.com
Shareware Fee: $20
System Requirements
256 Color Screen, 10 MB RAM
68040 or PowerPC recommended
I'm sure all the shareware gamers out there can remember, at one time or another, playing a game involving one snake trying to eat another. Imagine an updated and improved version of that game. Imagine a game called Slithereens.
Slithereens is a part puzzle, part action game in which you try to eat the opposing snake, while avoiding being eaten yourself!
The first impression you get of Slithereens is not entirely favourable. You expect the game to be another second-rate shareware game, just because of its genre; however this is one downside that, quite simply, could not be avoided.
There is no doubt that this game genre's ratings must have shot up tenfold with the release of this game. Before, the graphics were very unprofessional, but that has all changed with Slithereens. Just look at the screen shots. The sound has also improved greatly over other similar games. The comments are hilarious at times. Another improvement over the other games is that you get scores for the games, as well as levels, as opposed to the old games in which you only got levels, and no scores. This feature has added an element of competition to the Tamburrini family! I can't wait to see the top scores on a Website.
Another plus point is the game play. It involves manic twisting and turning, chasing snakes, and being chased. The game is particularly exciting when you are trapped by two oncoming snakes, and the only way to avoid losing a life is to pull off a nifty maneuver. It gives you tremendous satisfaction when you pull off a maneuver like this (if you know what I mean!).
There is a vast number of levels (about 40), so this game isn't going to be the sort that you lose interest in after a while; you will be playing it for months to come!
One thing that is apparent when you are playing the game is the attention that the author has undoubtedly paid to detail. But the place where the game really comes into its own is its pure addictiveness; the only game that I have played that rivals its addictiveness, is Snood. This is definitely a game which you'll be up to the small hours of the morning playing.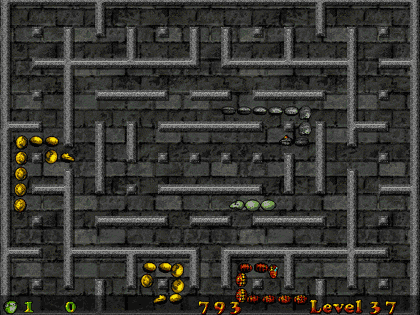 Overall, Slithereens is a game that will be loved by the serious shareware puzzle gamer, and which will get a good reception from the rest of us. Slithereens is well worth its shareware fee.

Francis is 14 and has been an avid Mac fan since the age of 8. A third-year high school student in England, he is basically just an ordinary user who enjoys writing articles. He can be reached at francis@tamburrini.club24.co.uk.