Review: One Click 1.0.3

Product Information
Published by: WestCode Software, Inc.
Web: http://www.westcodesoft.com
List Price: $70
System Requirements
68020 or better
4 MB RAM
System 7.0 or later
One Click promises to make repetitive tasks easier and simplify keyboard and menu commands at the touch of a button—or one click—hence the name.
To install, I simply ran the installer that I downloaded from the WestCode Website, after they sent me a registration code. I also received online copies of the two(!) accompanying manuals, that came in at 240+ pages. Fortunately, I didn't need to read these all the way through to get started. After installing and restarting, an additional pop-up menu appears in the upper right of your screen.
Regular readers of my column may remember that a couple of months ago, I was on the project from hell. To review, approximately 75,000 files that needed their type and creator info rebuilt. One Click brought this in for me a month early, and needless to say, under budget. Myself and one other guy were given the Herculean task, and what we had to work with was Can Opener 3.0, and File Buddy.
Can Opener is a straight forward program, and I couldn't improve on it much with One Click, so I didn't try. However, for someone with bilateral tendonitis bordering on carpal tunnel syndrome, when I put One Click to the task of making File Buddy easier to use, I was amazed at how quickly and easily it was, and I wished I had One Click at the beginning of the project.
What I was able to do for File Buddy, was create a single button for the major file types and creators, instead of having to select from an exhaustive list of two pop-up menus. One Click comes with several prepackaged buttons for the more popular software programs, unfortunately, File Buddy wasn't one of them.
The good news is, this let me give One Click a severe workout. It was a simple matter to create a button with the One Click Editor, that you call up from the One Click menu I spoke of earlier. The first step is to create the button itself.
I had created several buttons at this point, but felt it was time for another for QuarkXPress files. Next, I have to tell the button what to do. A powerful recording feature saved me the trouble of reading the Scripting Guide, and typing the commands manually.
Later, I did delve into the scripting guide to tweak some of the buttons I'd created. Although dense, the manuals are written with the non-programmer in mind. The resulting palette for File Buddy looked like this: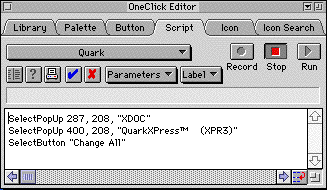 After awhile, looking at the plain words on the buttons got tedious, so I put One Click through its paces again. Using the Icon editor, I created, or rather copied icons from it, as One Click comes pre-packaged with icons for the major software programs I spoke of earlier.
And, if you don't like the way they look, you can even draw your own.
A simple, almost Photoshop-like, interface allows for this.
When I'd finished creating my button masterpieces, I'd turned
I think I did pretty well, considering I don't call myself a graphic designer. Now, I could've assigned keyboard shortcuts to the buttons; however, I felt that defeated the purpose of the software. Things I didn't explore include a Task Bar and a System Bar for the Finder, sorta like Control Strip on steroids.
For those of you familiar with QuicKeys, I think One Click goes one step further. Don't let the size of the manuals put you off, which is the only moderately negative thing I have to say about One Click. Without One Click, I'd probably still be on the project from hell.