Review: SiteWeaver 1.0.1

Product Information
Published by: Miracle Software Inc.
13 Missouri Ave.
Potsdam, NY 13676-1821
Phone: (315) 265-0930
Fax: (315) 265-1162
E-Mail: <Miracle@MiracleInc.com>
Web: <http://www.miracleinc.com>
Price: $109

System Requirements
No minimum system requirements were listed.
It appears to run at acceptable speed on a 68040 Mac.

Web Site Management
The World Wide Web's popularity has resulted in the creation of thousands of large sites, each of which can contain hundreds of pages. Many web sites are little more than a collection of HTML documents from various sources, written in various programs, with a mix of absolute and relative link references. Manual maintenance of web sites has been replaced with site management programs that perform hypertext link checking, traffic analysis, usage billing, version management - you get the idea.

SiteWeaver 1.0.1
As a part-time web administrator looking after 25 sites with a total of about 600 pages, I was looking forward to testing SiteWeaver. SiteWeaver is billed as a "Phenomenal web site management" tool that quickly and easily checks all the links in your web site. To help you edit your site, Web Weaver Lite software is included in the package. Web Weaver has been reviewed by MacWorld (http://www.macworld.com) and will not be reviewed here.

Siteweaver's goal is to be a small and quick little program that checks all the links in your site. In theory, its operation is very simple. You select a folder containing a site, SiteWeaver will launch a site window, which gives an outline view of all files in the folder. Files displayed in red indicate that an invalid link is present.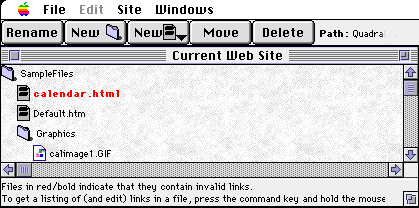 From the site window, editing and correcting links is simple. "Command-click" a file's icon to bring up a list of its links, then select a link for editing and make the desired change. The "Select" button brings up a standard file dialog box that lets you select the destination file. To apply the change to your entire site click the "Update All" button.


Rearranging the structure of your web site is as simple as dragging files or folders to their new location. SiteWeaver automatically updates all links referencing files or folders that are moved during site editing.

SiteWeaver has a reporting function that can generate three very useful reports: Dead Files, Links, and Invalid Links. Dead files are files to which there are no links in your site. Index files (index.html, default.html, etc.) and log files are special "dead files" that normally have no links pointing to them. SiteWeaver allows you to define these as useful "dead files" that should not appear in the Dead Files report. The Links report shows all links within your web site. The Invalid Links report lists only those links which no longer point to valid links within your site.

Real World Use
I had expected SiteWeaver to be a quick and useful tool for validating a web site. Unfortunately, I was unable to fully test the application because I encountered numerous crashes during testing. All attempts to simplify my Mac configuration to the barest minimum set of extensions and control panels did nothing to reduce the frequency of crashes. SiteWeaver also crashed as soon as it scanned any HTML document created by Microsoft FrontPage (PC version).

Aside from the crashing problem, SiteWeaver suffers from other major and minor deficiencies. The slim, nine page manual and the on-line help have numerous spelling and grammatical errors. The site window outline view doesn't allow you to collapse directories, making it very difficult to view a large site. Selecting a file in the site window with the monitor in 256 color mode resulted in a yellowish-black splotch that obscured the file name.

I was most disappointed by the fact that the manual never stated that SiteWeaver only worked with web sites stored on a Mac server. An e-mail to Miracle Software was quickly answered and confirmed my suspicions that the site had to be stored on a Mac volume. After all the crashes I encountered, I decided to download a 230 Mb web site from my Unix server to a local hard drive with the faint hope that my 8600 with 64 Mb RAM could process the site. No such luck. I felt like the silly old ram and the dam in Frank Sinatra's "High Hopes."


Conclusion
All the problems I discovered are typical of those found in a beta version. SiteWeaver 1.0.1 could be a contender in the site management market if the bugs were fixed and the price was right. Even if the bugs were fixed, at $109 I would find it hard to justify purchasing SiteWeaver since the Adobe's PageMill/SiteMill combination is available for $99.

I hope Miracle Software will release SiteWeaver 2.0 with bugs fixed and the additional function of checking sites no matter where they are stored. Version 1.0 has the right idea, just a poor implementation.

I evaluated SiteWeaver 1.0.1 under System 7.5.5 on a Quadra 800, and a PowerMac 8600 running System 8. Web servers used were System 8's Personal Web Share and Apache running on a Sun workstation. WebStar was never tested because of the number of system crashes encountered. The total number of web pages on the two sites tested was over 600.

Copyright © 1997 A. T. Wong, <atwong@xpressnet.com>.