Software Review
You Control: Desktops

Developer: You Software
Price: $30 (special $10 offer for ATPM readers—see below)
Requirements: Mac OS X 10.3.9
Recommended: Mac OS X 10.4 for unique desktop file/folders, Quartz Extreme support for workspace transitions.
Trial: Fully-featured (15 days)
It has been said that an empty desk is the sign of an empty mind. Not surprisingly, some of the most creative Mac users you may come across have a smattering of files and folders littering their computer desktops and application windows in all manners of arrangements.
Even though such people may know exactly where things are on their screens, it's still somewhat undesirable to have such clutter visible when a client or boss shows up to see your work. You Control: Desktops not only provides a quick solution for accessing a pristine desktop, it also fosters a workflow that may help you keep your desktop—make that desktops—better-organized in the first place.
A menu click or, if desired, a single keyboard shortcut, and you're spinning off to a new desktop workspace just as if you were switching to a different user.
So how does it work? Think about Apple's Fast User Switching feature. Now imagine the same concept, but not switching to a different user.
Using Multiple Desktops
There are many workflow possibilities while using You Control: Desktops. One option would be to create a desktop workspace for each task such as a workspace for Final Cut Pro, another for Soundtrack, and another for a script and/or shot list. Alternatively, you could create workspaces intended for where you are using your computer—work, home, vacation, etc.
Workspace Management
You Control: Desktops also offers several methods of getting your desktop icons and windows from one workspace to another. Probably the most useful method is the ability to drag a window to either edge of your screen which can invoke a switch to the next workspace in sequence. Unfortunately, this same metaphor does not work for desktop icons. It should.
The remaining methods for moving items across workspaces involves using the menu bar control. Depending on which options you enable, you can gather all windows or icons to the active workspace or send items to another workspace, choosing whether to send visible items, items belonging to the active application, a single item, etc.
A variety of options are available for window and desktop item management.
You can customize which window and desktop item management commands appear in the menu bar control.
Interface Bugs?
Actually, I should've said that you can theoretically send items to another workspace because some of these commands did not work for me. I can't explain why. I would think that these primary functions would have been tested and working before the software completed beta testing. All I know is that when I selected the Send Desktop Items to [workspace name] option, nothing happened. Similar inactivity occurred with a few of the commands to relocate windows.
However, I'm holding to my Very Nice rating because, in my opinion, the ability to simply create workspaces and open windows in those workspaces is the core function—the "cake," if you will. Improved management of windows and desktop items is the "icing." Yes, these menu items should be working, and I cannot overlook the possibility that something just isn't right on my machine and the functions work fine for other people. If you try out You Control: Desktops, please tell us whether all the management functions work for you.
Menu View vs. Palette View
Note that these menu-based possibilities for managing desktop items and windows are accessible when the menu is set for Menu View. It can, alternatively, be set for Palette View which yields a thumbnail view of all workspaces. Clicking a thumbnail switches to that workspace. You can also drag the thumbnail versions of windows from one workspace to another in the Palette View.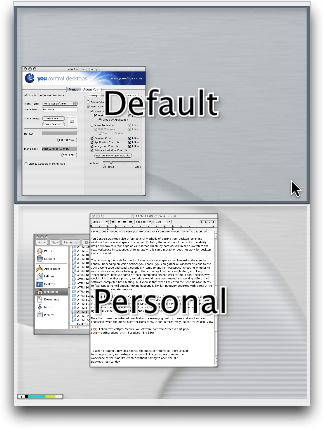 If you can't decide whether to set your menu bar control to Menu or Palette View, not to worry. Set it to the view you feel you'll use more often and hold the Option key before accessing it to temporarily use the opposite view.
Caveats
The "wow" factor of You Control: Desktops and the fact that it seemed completely stable and fairly easy to use nearly garnered the utility my highest marks. Even though a few small quirks prevented an Excellent rating, the aforementioned menu commands not working for me notwithstanding, I can still recommend You Control: Desktops as a viable workspace management tool.
Special Offer for ATPM Readers
The $30 price tag for You Control: Desktops seems appropriate. It's a powerful utility with a lot of potential and worth every cent. But kudos to You Software for making it an even better value. The developer has extended the introductory price of $9.95 to ATPM readers. Enjoy!