About This Particular Outliner
Outliner Features—Part 1
The Story So Far
This is our regular column about outlining on the Mac. Before digging into reviews of individual products and product classes, we'll work through three overviews. Last month's ATPO concerned history. In two months we'll look at the various types of outliner uses. This month and next month, we tackle the core of the problem: outliner features.
Outliner Features
No one has a generally accepted definition of what an outliner is. One could approach a definition by describing what one uses an outliner for, but here we'll take a different tack; we'll provide all the features that exist in certain products that exploit the nesting paradigm. Then, you can compare your needs to this list and match it to the product or workstyle you are evaluating. In the December issue, we'll explore usage patterns.
In the following list we will give an example screenshot from an application with that feature and we will separately list other applications with that feature, in order of robustness of the implementation. If no OS X example exists, we'll use one from another platform in the priority of OS 9, OS X-accessible Unix, Linux, others. We'll also try to list all the OS X applications with that feature.
Some products have nearly all the features we list. But rather than show a screenshot of the same application over and over again, we tried to have as many different applications displayed as possible. That helps broaden your horizons a bit and set the stage for the scope of our review.
(We know that we will overlook many cases and ask you—the reader—to help us out. If you are reading this off-line, send additions or corrections to tgoranson@atpm.com—or visit the article at the ATPM Web site and add a comment. In my experience, the community of outline users on the Mac are to the rest of Mac users as Mac users are to Windows users: extremely generous and helpful.)
Ordinary Nesting, Promote/Demote, Collapsing
This is the absolute basic core of an outliner. Nesting is the simple operation of putting something in or under something else and having that relationship displayed, usually by indenting. Pretty much any outliner allows this to be controlled by the keyboard (except the most common outliner: the Finder). Mac outliners almost always show nesting with a triangle that rotates, while Microsoft Windows and Word products still use DOS-derived plus and minus characters.
The Finder is the basic reference for Mac outliner interfaces. All the products mentioned here have these basic capabilities (excepting VoodooPad and IdeaKnot).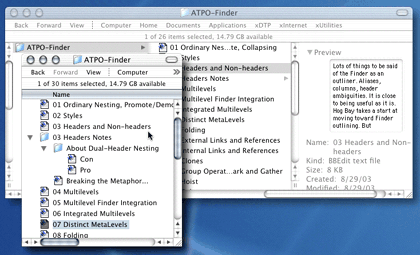 Finder
Styles
Nearly all outlining is primarily text-based. Some outliners provide ways of setting and controlling styles in both the header and paragraph text. The style is reassigned automatically as the entry changes position in the hierarchy.
Word's outliner handles this, albeit awkwardly because headers must be named and styled in a particularly rigid way. But otherwise, it handles named styles as a word processor, except header character styles do not change as the header levels do. The screenshot shows Word. OmniOutliner has rule-based paragraph but not character styles for headers—each level of header can have a style (which carries over to columns), but notes inexplicably cannot. Inspiration has similar capabilities and control over the font for notes. Schedule and NoteBook control similar header-specific paragraph styles.
Word
Headers and Non-headers
Some outliners display every entry as one kind of entity, usually a "header," but it is usually the case that two entities are supported. In the case of the Finder, you have folders and stuff that can be in folders (applications and files); but in the OS X Finder, this is complicated by some applications being packages that can contain other elements. (Also, it is possible to have "disk image" files that contain applications—whew!) Generally, though, you have headers and something different: subservient text as notes or leaves.
Inspiration, jEdit, Word, and AppleWorks place the text (notes) under the headers in a one-pane layout. Inspiration's is most like the traditional outliner. Tinderbox's outline explorer, OmniOutliner, Hog Bay Notebook, SkinkHunt Notes all have two-pane layouts, with headers in one pane and text in another. The screenshot shows Hog Bay Notebook, with a typical two-page-side-by-side layout. (It has other panes but not relevant to this breakdown.) NoteBook and NoteTaker are special cases that divide the two panes on different "pages." Many mail and news applications have three-pane layouts, distributing the headers in two panes.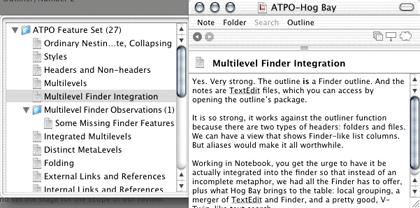 Hog Bay Notebook
Multilevels
The two-level distinction in some outliners is a hard boundary. Much handier is when you have two levels and each level supports outlines, one picking up where the other leaves off. The value is that outlines can be useful for organizing documents consisting of notes, but larger notes also often benefit from outlining within them, perhaps as bullets. This is an extremely useful evolution, basically outlines within outlines.
The screenshot shows two screens of NoteBook where you can see the outline of pages that each has its own outline. Nearly all full outliner operations are supported in the "table of contents" pages. Inspiration can jury-rig something like this because it can link from a note or header to another outline document.
NoteBook
Multilevel Finder Integration
Even better is when you have the higher level outline integrated within the Finder. After all, at some level all outlines are Finder documents.
We don't have a strong collection of applications that support this, but NoteTaker comes pretty close. It has a "library" of outline files. These are not displayed hierarchically, but at least there is some direct connection between the outliner panes and the existence in the Finder. The screenshot shows Eudora, which can be seen as an outliner of e-mail notes. In this case, the top level headers are shown as mailboxes in folders. That's the way they really exist in the Finder.
Eudora
SkinkHunt Notes has true Finder integration in one sense: notes are really individual files, openable in any text editor. Notes serve as a Finder supplement for editing and simple searching. Hog Bay Notebook is similar, but it hides its files in a Finder package.
jEdit is an open-source Java outliner that runs out of the box on OS X, but has a non-Mac interface. It is a terrific example of Finder outline integration. One of its panes is the Finder outline, like in the shot below, but the "note" is an outline. A third pane is the text of the note.
Distinct MetaLevels
The multilevel idea can be taken a step further. Often, you need to have outlines about outlines instead of outlines within outlines, for example if you had a long document in outline form, you may also want to maintain a "to do" list outline that is connected in some way.
Apple's Keynote has this ability, shown in the screenshot, which makes it in some ways the most powerful outliner on the Mac. To fully leverage it, you have to devise a special set of templates. You can also see some of that in the earlier NoteBook shot, but the extra higher level structure adds extra divider pages.
Keynote
Folding
This is the one function whose name is confusing because many products use the term for what we called "collapsing" above. For this article, collapsing is the process of making whole headers and paragraphs invisible, tucking them up under a "parent." Folding is a different kind of tucking under; it works on paragraphs and blocks to reduce them to a single line, hiding the rest. A simple case of folding might involve a long paragraph that is reduced to just the first line—plus some indication that it is folded; this shows that a paragraph is there and something about its content without showing the whole thing.
Folding is most common in single-pane outline displays, and a common use is to fold everything so that every header and paragraph is reduced to a single line. This can show the overall structure of a huge document, including paragraph leaves in a single view. You can use folding and collapsing independently. At one time, folding was one of the basics of text editors, but it has faded somewhat. Now only about half of the full-featured editors employ folding.
One of the most interesting of these is jEdit. It has a very strong implementation of folding, so strong in fact it subsumes outlining. Though intended as a full editor, it can easily be used as an outliner front end to TeX-based systems. jEdit is shown in the example screenshot in both modes. The view on the right shows an outline folded like MORE and NoteBook do it, where the folds correspond to the outline structure. But see on the left we have shifted to "explicit folding" mode where blocks are marked with triple brackets. Then these entire blocks can be folded independent of the outline.
Alas, folding is one area where the Mac is weak, but NoteBook has an implementation that is handy. It is like MORE's was, and is bound to the outline structure, meaning you can only fold headers, not arbitrary blocks. But it has a nice touch: just entering a folded header temporarily expands it.
jEdit
Other Graphical Layouts
Columns are great for many uses. But there is another two-dimensional display that is popular and useful: nested diagrams of different sorts. There are several different philosophies connected to such displays, some reaching religious fervor. What you will prefer is going to be a highly personal decision.
One category of these are diagrams that place headers at nodes, showing the child relationship as a line or arrow. Inspiration is the most flexible of these and is shown in the screenshot. It allows all sorts of graphical control over layout and the graphics assigned to headers. Outlines can be edited and browsed in the diagram view. These are tree diagrams and often look like starbursts or trees or (if they go from top to bottom) like organizational charts. MyMIND does this in a rudimentary way. Some newsreaders show news item threads graphically in this way too, and you could consider them graphical outliners.
One style of tree diagram is the "mind map," a rigid set of graphic conventions that is supposed to expedite brainstorming and has many adherents. If that's what you need, NovaMind is your outliner.
Another approach to displaying trees is to consider them as containers. A parent might be a rectangle that contains another rectangle that is a child. This has a certain economy that then allows for the graphical display of links among elements. That's what Tinderbox does, using tools developed over a decade. Pretty powerful.
OmniOutliner outlines can be imported into its sister product OmniGraffle, a charting application, but the transition is a bit lumpy and only one-way. Greater integration is planned.
Schedule has an amazing variety of views: chart, resource, and calendar views, all relating to its outline.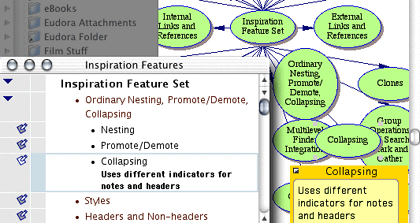 Inspiration
Snipping Input and Drag and Drop
Some outliners are designed to be friendly to capturing a thought by quickly typing and then going back and refining. But others are designed to capture information that pre-exists in digital form, like a snippet manager or scrapbook with organizing features. A key component to this is some sort of snippet or clipping input mechanism. It can be through the Services submenu, contextual menu (Control-click), a specific keystroke, or dragging to a target. It could be automatic, using guided RSS or Google-like search capabilities, which would search a specific area and automatically "snip" items. We'll also include in this capability the ability to import, manually or automatically, information in structured formats, usually the OPML format.
The king of this group is DEVONthink, which is pretty amazing in what it can swallow. It can incorporate in its database pretty much anything directly or by reference. We have many outliners with lesser but still impressive capabilities. The screenshot shows SkinkHunt Notes, a solid example from this group.
Importing will be covered in depth on down the line: those with reasonable or better capabilities (in no particular order) are DEVONthink, Hog Bay Notebook, NoteBook, NoteTaker, and Skinkhunt Notes. The latter is shown in the screenshot. Also, Mailsmith and Portfolio are great if you stretch them into service as outliners—as we'll suggest in a future column.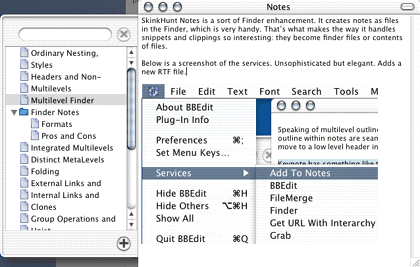 SkinkHunt Notes
Products