Review: Fireworks 1.0

Product Information
Published by: Macromedia, Inc.
Web: http://www.macromedia.com
List Price: $269
Demo Version Available
System Requirements
Power Macintosh with System 7.5.5 or higher
Adobe Type Manager 4 or higher to use Type 1 fonts
CD-ROM drive
640x480 resolution, 256-color monitor required
It is a common belief that since Web graphics are small in file size (relatively speaking), producing them is fast and straightforward. Any seasoned Web artist knows better. Unlike traditional graphics, Web graphics need to be optimized for the best color scheme, format, image mapping, URL linking, Slicing, Animating, JavaScripts, etc. Well, worry no more. Macromedia has thought of the perfect weapon for you.
Fireworks was made specifically for creating Web graphics. It has features that can save hours by simplifying the Web graphics creation workflow. In fact, what makes this application so special is that you can produce optimized Web graphics on the fly in the same application.
Fireworks makes it easy to minimize file size without sacrificing quality, which results in faster Web sites and higher satisfaction among Web site visitors. With Fireworks, switching from tool to tool no longer complicates the designer's creativity, and avoiding repetitive procedures saves valuable time. Fireworks is a single tool that performs all the necessary steps.
To be honest, in the beginning, I was very reluctant to open the application at all. The simple prospect of using a nontraditional working environment seemed almost unethical. Why? Well, Fireworks works in a hybrid environment that is both vector- and bitmap- like (I am not sure that they even invented the word for crossing over of vector and bitmap applications.) By creating editable paths with bitmap attributes, Fireworks ensures that your work is fully editable throughout each stage of the design process. Fireworks' powerful export preview capabilities, integrated with color palette and graphic formatting, offer the designer control over exporting.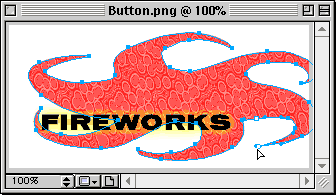 The program worked like a beauty; I grasped the basics within seconds and was instantly hooked. Here are some of the more prominent features of the program:
Animation
Simply set the various key frames and watch you images come to life!
Live effects
Create drop shadows, bevels, glows, and embosses that are fully editable. Watch them update automatically!
Vector Tool Flexibility with an Organic Bitmap Look
Bezier paths and shapes have bitmap brush strokes and textured fills. Apply customizable Live Effects to objects.
Total Text Control
Text control of an illustration tool in an image-editing application. Control kerning, leading, text effects, alignment, and more. Apply Live Effects to text, and best of all, text is always editable, all the time. Change text after applying a Live Effect and watch the effect update automatically.
Export Preview
Directly view the graphic after each adjustment of export settings without switching to your Web browser. Compare up to four alternative files simultaneously to choose the best mix of quality and file-size reduction.
Export Optimization
Simplify file format, palette settings, dithering, and more, to optimize your web graphics. Or use the Export Wizard to optimize automatically.
Batch Processing
Save your optimization and export settings and use them to batch process an entire folder of images.
Image Maps
Create editable, color-coded hotspots on an overlay above the image. Enter a URL link and browser status bar message for each hotspot.
JavaScript Rollovers
Automatically generate code for interactive buttons and other graphics.
Slice Images
Slice images on export. Automatically generate HTML table code to reassemble images and add links.
The morale of this review: if you are a Web artist and can afford this application, buy it. Full stop! I have not seen anything as creative in software since Kai's PowerTools first made its way into the market. A forewarning thought: since Fireworks is optimized for the Web, it will be of little use for creating or modifying images intended for traditional commercial printing. The Fireworks environment is based on the RGB color model, ideally suited for images rendered at screen, rather than print, resolutions. Fireworks is a must-have for all Web artists, amateurs and pros alike.