Software Review
Playback 1.5.1

Function: Media server for PlayStation and Xbox.
Developer: YazSoft
Price: $15 (covers three licenses)
Requirements: Mac OS X 10.5. Universal.
Trial: Fully-featured (seven days).
Playback turns your networked Mac into an iTunes, iPhoto, and movie server for Sony's PlayStation 3, Microsoft's Xbox 360, and other popular TV-connected devices. It's dead simple to set up and use for music and pictures, making it worth $15 just to keep from cramming everyone in front of the office computer. Video is a tougher beast to tame, but works OK if you stick to a short list of formats.
Tech Note: Playback works with the PlayStation 3 and Xbox 360 because they support universal plug-and-play (UPnP). Many other UPnP hardware devices can also use Playback. Find more details and a hardware compatibility list.
How to Start and Use Playback
Once installed, open Playback to see the main Status panel. Media Sharing, which controls pictures, music, and video, is off by default and I turned it on prior to taking this screenshot. The Share options come pre-checked, and I left them as-is to try out each feature.
Playback's status panel.
Now that Media Sharing is running, turn on your PlayStation 3 or Xbox 360 and look in the video, music, or picture library. You should see an entry with the Playback logo and your Mac's name. Select it to browse the list of shared folders, served up from your computer via Playback. My Mac as a PlayStation 3 video option.
My Mac as an Xbox 360 video option.
The Finder on your Mac can switch between pictures, music, and video seamlessly. It knows how to pick the right player when you open a file. That's not the case on the Xbox 360 or PlayStation 3, where each type gets its own library. Picking the music library, for example, only searches for music; it'll ignore pictures and movies.
Sharing Pictures
If you have a large-screen HDTV, photo slideshows can look quite good. (Non-HD TVs do alright with them, but are better suited to video.) Everything shared from iPhoto will be available via the PlayStation or Xbox's pictures library. This screenshot shows the default settings, which include other options such as Aperture, Lightroom, and Photo Booth.
Playback's picture-sharing panel.
Playback's picture panel helps you limit what to share, if desired. Note that checking and unchecking a box makes the change immediately, with no second "save" step. I had no problem sharing iPhoto pictures, but it'd be nice to see a future Playback version add an option for Google's Picasa.
Sharing Music
Playback shares all of your iTunes songs and playlists to the PlayStation or Xbox by default. Choose "Content…" to select a specific playlist, genre, or podcast series. As mentioned above, find your Mac in the music library to see songs; going via photo or video won't show them.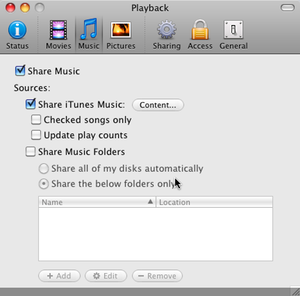 Playback's music-sharing panel.
Sharing music through Playback works best when your TV's connected to a good stereo or itself has decent speakers. If that's not the case, the results might disappoint you. The AirPort Express (and AirTunes) does a much better job of streaming tunes around the house than an average TV-and-game combo.
Sharing Movies
I assume most Playback users will stream video from their Mac to the Xbox and PlayStation, since it's a major type of Internet entertainment and lots of folks create their own movies. The Playback movie panel shares iTunes, iPhoto, EyeTV, and other movie folders by default. As with pictures and music, choose "Share the below folders only" to pick a defined list.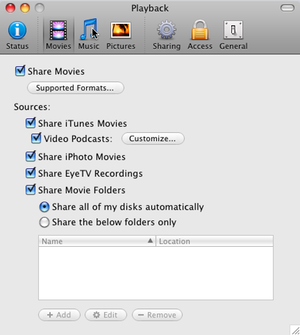 Playback's movies-sharing panel.
It's worth saying upfront: using Playback for video on the Xbox 360 and PlayStation 3 can lead to real frustration, especially for novice users. (It led to evenings worth of frustration for me, and I've been editing video for almost 10 years!) Compared to video, computer-based music and photos use far fewer formats. Almost every song on your Mac is encoded as MP3 and AAC. Some folks use WAV, FLAC, OGG, and others, but Apple's music store relies on AAC, and iTunes can create MP3 versions. Most photos use the JPG or PNG format. Again, some folks deal in RAW, BMP, and GIF, but JPG and PNG dominate. Supporting a small number of formats makes it easier on both the hardware developers and, ultimately, the users.
Internet video, on the other hand, comes in a bunch of formats, including M4V, WMV, MOV, AVI, MPG, Flash, MP4, DivX, MKV, and others. There's so much going on in a movie file (picture size, sound quality, playback speed, subtitles, annotations, etc.) that different formats work better in different situations. Specific formats might use different bit rates and audio/video profiles, further muddying the waters. If you purchased a movie via iTunes, its Digital Right Management (DRM) also figures into the format.
Compared to music and photos, video hardware makers must work considerably harder to support this range of potential options. Thanks to software like QuickTime Player and VLC, your Mac supports a much greater range of video formats than the Xbox and PlayStation. Because of this, you almost certainly have videos that play without complaint on your Mac, but won't work at all via Playback. If (or when) you pick one of these videos from the movie library, an error message pops up.
PlayStation 3 movie playback error.
Read the PlayStation video support and Xbox video support docs in detail to know for sure what will work. (The following links are identical to the "Supported Formats…" link in Playback's movie panel.)
Neither PlayStation 3 nor Xbox 360 play Matroska files (a.k.a., MKV), a popular type of HD video. Fortunately, Playback includes an MKV converter that outputs to MP4, something both systems can play. Find this convertor in Playback's File menu. It can't convert all MKV videos, however, just those encoded by H.264/AVC. (This might change in future versions.) If you get a conversion error message, check the YazSoft MKV support page for help.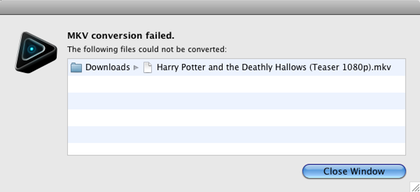 Error message for non-H.264/AVC conversions.
In a sense, these video peccadilloes aren't Playback's problem, since it just shares your Mac's videos and leaves format support up to the hardware maker. However, it is unfortunate that video does not work as easily as photos and music. This leaves it up to the user to decide what to do. Should you accept that the video doesn't play and move on? Should you spend money (and time) on a format converter like ffmpegX and turn it into something friendly to the PlayStation or Xbox? Will you stick to watching DVDs directly on the Xbox or PlayStation?
Hopefully, you won't run into these video problems and have to spend time worrying about answers to those questions. I definitely ran into them, though, and spent more time than I cared to finding workarounds.
Is It Worth the $15?
If you want to show pictures on a big-screen TV, play music through your game system, or watch videos, Playback's a pretty convenient way to do so. Just understand that format support differences can and will hamstring some video use. Until we live in a world where everyone can play any video on any hardware at any time, this is an affordable and useful way to make your Mac and TV work together.