Software Review
Marketplace 1.2.2

Developer: Josh Abernathy
Price: $20; $30 (family license)
Requirements: Mac OS X 10.5. Universal
Trial: Fully-featured (25 days).
The ad behemoth Craigslist presents everything newspaper classifieds can, with a bunch more bits tossed in. You can buy or sell stuff, look for homes, find local events, and carry on discussions. Most users stick to their local area, but nothing stops people in the US from checking a Japanese site and vice versa. Whether or not it's killing daily print media, the usefulness of Craigslist is impossible to ignore.
Marketplace says it presents Craigslist "without the ugly," which I assume means the Web site's text-only (and click-heavy) presentation. Its multi-panel layout looks more like an e-mail client and includes similar organization features.
Installation
Marketplace comes as a single, small download with no extra installation steps. Drop it into your Applications folder and open to start searching.
Feature Exploration
Almost everyone will start using Marketplace with "New Search." I like to do off-season shopping, as people dump their skis in May or sell off extra swimwear in November. This year's wintertime hunt is for a compost bin, which someone in Boston surely needs to part with to save December storage space.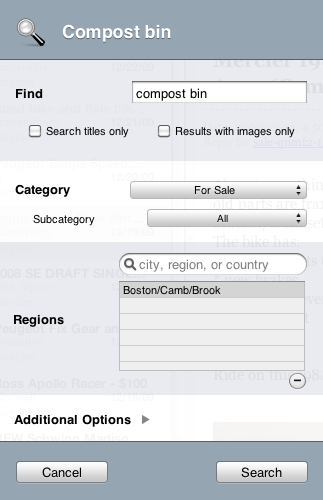 Looking for a bin in my local area.
If you sift through Craigslist regularly for the same stuff, saved searches prove Marketplace's most useful feature. I've been seeking a single-speed bike under $150 for some time and am willing to check a wider area than my immediate neighborhood, so add those details to the search. (This would take three different searches on Craigslist, one per area.)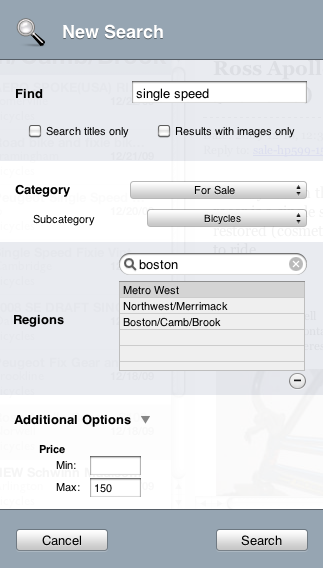 Looking for a bike in three Boston regions.
The result panel looks very similar to Mail, with saved searches on the left, locales in the middle, and ad details on the right. A group of additional functions—change font size, open in Web browser, e-mail listing, and mark "favorite"—lines the window's bottom edge. Switch the results panels from vertical to horizontal by choosing the "list" icon instead of the default "columns."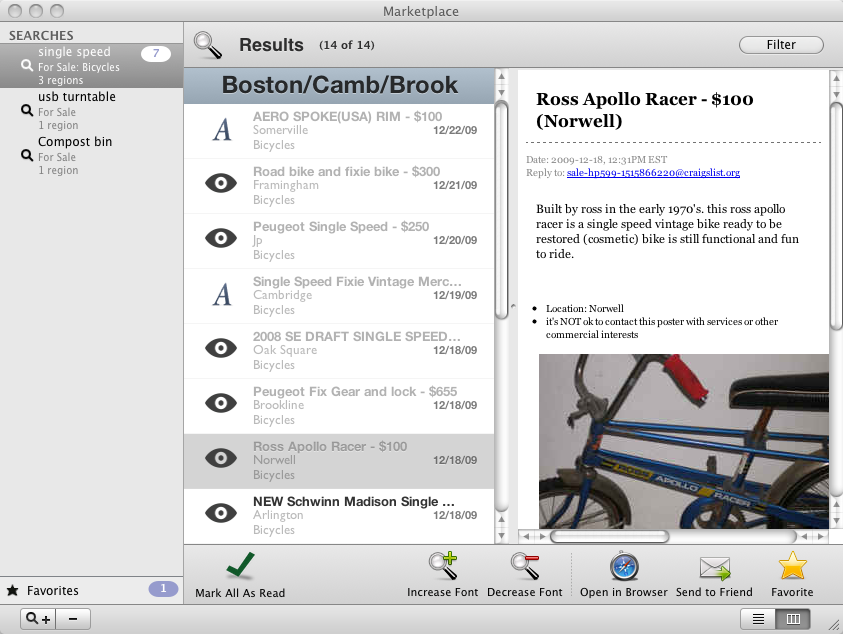 Search results.
Searching isn't just about stuff, of course. There are plenty of jobs, résumés, events, and other subjects to check out.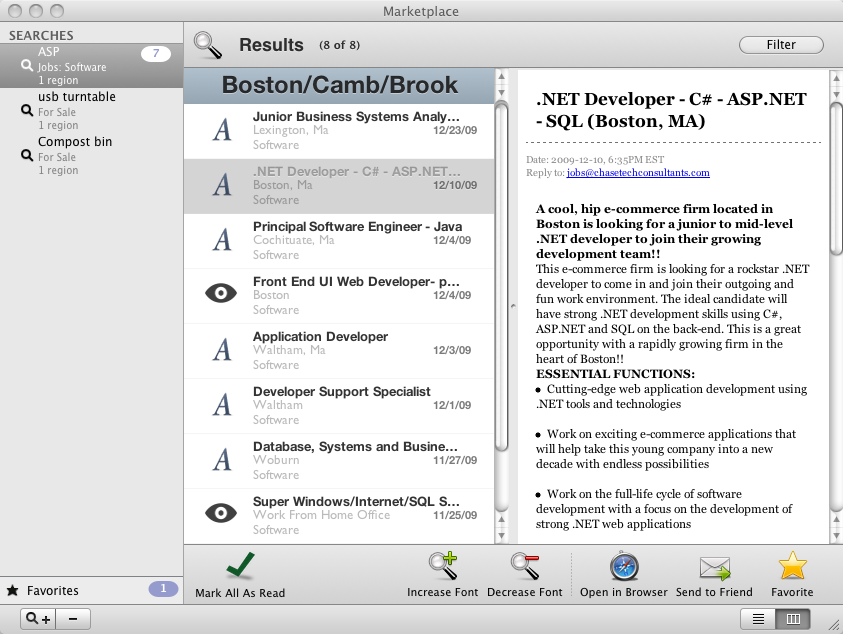 Looking for a "cool and hip" software job?
In Craigslist, you have to bookmark any searches or listings that you want to see again later. To speed this process, Marketplace's "favorite" button automatically adds the selected listing to the lower-left Favorites list, so you can refer back to it later.
If any search returns a truly overwhelming number of ads, use the "filter" button to limit the date range, look for more specific phrases, and so forth. This didn't do much for me, but it is there.
Bugs and Annoyances
One disadvantage, noted on the Marketplace site itself, is that you can't create new Craiglist postings, just read what's already there. People selling stuff, promoting things, or looking for discussion forums need to use the Web interface.
The first Marketplace version I tried crashed on any job résumé search. To the developer's credit, he responded quickly to my e-mail and fixed the problem in version 1.2.2.
Is It Worth the Money When Craigslist Is Free?
The Mail-like interface is smooth and easy, but how much time does it save? Folks looking far and wide for specific items regardless of locale would get the most from it. If you're a regular Craigslist shopper or dislike the site's cluttered look, give Marketplace a try.