About This Particular Outliner
Task Management and Outlining
You are not reading the column originally created for this space. Oh, it was really very good in its way. The idea was to "survey" task managers that use outlining. I worked really hard on it and produced a rather comprehensive, thorough, and even entertaining tour through many products. Then I came back to it after a week for tweaking, as is my custom. I was really distressed after reading it.
What I had produced was a comparative review, of the type you might read in one of the slick dead paper journals—only this was better: more in depth than you get with those guys. But after I read it, I trashed it completely because it wasn't ATPO material.
ATPO
For those new to ATPO, this is a column that supposes outliners are the vanguard of a new breed of desktop applications, a breed in which there is no king—no winner by having the most features. In this new generation, different philosophical approaches to organizing information are pursued by different developers.
Savvy users understand that their own ways of thinking, creating, and organizing aren't the same as everyone else's (or shouldn't be). So a great many approaches will find similarly many different products, and those in turn will support the imagination and work of different types of users. No one will kill the others; no monopoly will emerge. Diversity of cleverness will reign.
Nowhere will this be more apparent than in writing tools, organizing tools, task management tools, and different combinations of the three. "Outlining" isn't definitive; it just happens to be a handy way of clumping tools that are at the cusp of this new generation.
Just as the nature of the applications will change so must "application journalism." It is not enough to write about FreeHand and Illustrator as if they were two different products. They aren't; they just have different user interfaces. What matters is the underlying philosophy of the product. Those two have precisely the same underlying philosophy.
A good journalist will report on the different underlying approaches that are being explored in this new breed of applications. She will indicate new directions and philosophies that could be explored. This person will be read by users who want to control their own creative environments and find (or create) just the right tools. This journalist may even help users express such philosophies in a way that the developer community can respond with experiments.
That, dear readers is what I hope ATPO to be. As a result, the column you will read here and next month is much less thorough and even more unpolished. But I do hope it is ATPO material, the kind you can use to help discover some things about how you work and might want to in the future.
Task Management History
The history of task management goes back as far as civilization, I suppose. But the history of modern task engineering is much simpler, especially if you focus on certain ideas. It is a little hard to swallow, but the industrial revolution doesn't go that far back, and the rise of large modern enterprises is even less old.
It has only been 150 years or so that portable timekeeping devices were available to the average person. In fact, the watch was the paradigm-buster of its age.
Early management of enterprises wasn't very methodical at all: decisions were allocated down the line using the French-invented "bureau" until there were so few tasks that they didn't have to be managed. So instead of managing tasks, you managed the task managers.
That changed with the Panama Canal, which was the first large operation to use the task management invention of an American mechanical engineer. The so-called Gantt chart captured the notion of task dependencies: you've got to bang out the dings in your fender before you paint it. If there is a delay in one task, it ripples through the system to a greater or lesser extent. Some dependencies allow for lots of slack, so they can be delayed and possibly done more cheaply.
Use of the Gantt chart by American canalists was the single element that differentiated them from the spectacular failure of the French on that same project.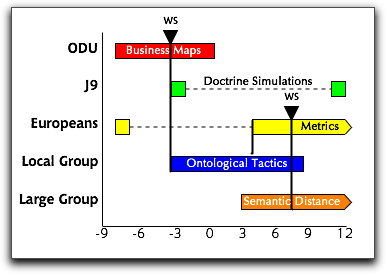 A Typical Gantt Chart
Gantt charts were about the extent of task management tools until World War II. Previous wars had been fought by mobilizing industry and turning them into extensions of the military. And that's how the Europeans were managing their war. But when the US entered it, industrial chiefs convinced the White House to take another tack: turn the military into an extension of industry, consolidating the whole enterprise under one leader. This huge enterprise (the largest to that time and by many measures ever) would be managed by "scientific" means.
Where the Europeans needed many layers of experts, the Americans would develop management technologies. In any case, the Americans didn't have a cadre of trained middle level defense industrial base managers anyway, so they had to invent.
The head of General Motors—the world's largest corporation at the time—was made General in charge. He set up shop in Dayton Ohio, near where the Wright brothers had developed the controllable airplane, another intriguing and similar story in the engineering of phenomenon. Wright Field became both the center for managing the manufacturing of war material and the place where "management science" was to be invented.
What these folks accomplished was nothing short of amazing in terms of the stuff they built: not just weapons like hundreds of thousands of airplanes, but also thousands of airfields and training centers, even hundreds of cities to support this and all the physical infrastructure (roads, sewers, schools, and the like) to go with it. Aluminum plants, even railroads for ore. All managed by task management "software," newly invented by the "manufacturing methods" group.
Thus was spawned modern management science: yes (except for accounting bumpf) most of the stuff that forms the basis of the MBAs earned by all those well-paid folks. If this sounds America-centric to our non-North American readers, sorry but there it is. Until 14 years ago, except for one school in London, no European university even offered a degree in modern management science.
Anyway, in the late 60s as computers came on the scene, that same Manufacturing Methods group extended their "task modeling" methods to the first formal process modeling methodology (IDEF). This is notable in forming the basis for all subsequent process and activity models, including the branch now used for modeling software processes and algorithms. It's a much bigger piece of computer history than anything Microsoft has ever done.
(I've written a comprehensive history on this which, alas, remains classified. In a monumental move, the Deaparment of Defense dismantled the successor to the Dayton modeling group and its counterpart in Washington. More, it forbid any further work along these lines as a matter of political dogma. Consequently, all the interesting work on such modeling is now being done in Europe under the sponsorship of the "Six Framework Programme", which takes such research very seriously as a matter of competitiveness.)
What we've mentioned is task management in the context of enterprises, but desktop task management for individual and small groups is derived from the very same insights and tools.
Basic Components of Task Management
Anyway, what was it that came out of all this? Task management has the following possible components:
Descriptions, usually in text form.
Dependencies of the type that Gantt charts address.
Constraints. Usually, intertask dependencies are captured in the larger category of constraints, those external values that determine whether and how a task occurs.
Resources: the stuff that a task uses or that a task needs. Usually, the "owner" of a task is considered a human resource. But the owner can be a different attribute in some breakdowns.
Metrics are what it means to have completed a task. It could be a simple "done," or something more linked to the result, like "$500 resulted from that task."
Time. Time is not so simple a matter in this world. Some times are absolute: taxes must be sent on such and such a day. Some times are relative: some plants need to be transplanted so many days after starting. Some time is discrete and broken into days or minutes or whatever. Some time is infinitely continuous. And all that's before you get into different representations of time.
Decompositions, which generally means the subtasks that, when all are completed, mean the parent task is.
Using some of these, you may have any number of computed attributes, the most common of which is "priority." Naturally, if a task will produce lots of bucks, or be a bottleneck, or must be done soon, or uses a resource that is going away, then it has a high priority. There can be many such computed attributes, but priority (or balanced priorities) seems to be the one of concern to most desktop users.
A second-order attribute is something that concerns the representation of the task. You might want to know whether your task manager has an imperfect record of what needs to be done. For instance, you might have a task to send a thank you to "that guy who changed your tire," but you don't know his name. So there is an implied task to find out his name. Included are unknowns that may not be known (or "evaluated") until the task is done.
I guess that's a sufficient set of basics for desktop task management. Remember that the tasks could be intermingled with what the tasks are about. For instance, I might have a to-do list of things to do on my novel integrated into the outline of the novel itself.
Outlining for Task Model Representation
I've spend scads of time with process models, from the simple ones like IDEF (which are easy to grasp) to extremely complex ones. Most of them favor some sort of graphical layout, often boxes and circles with arrows. I think astute ATPO readers will agree that outlining is a superior paradigm as a user interface for most of the attributes listed above. I think it is. I'm sure it is for task managers where the user is purely a human.
Tasks and subtasks as children are a no-brainer. As long as the task is to be performed by a human, a text description is best, don't you think? The others are a matter of design.
The designs we'll see are different takes on what we need to do and how. So the purpose of task managers varies according to these different approaches. They can help analyze, structure, and improve your work merely by "putting it down." That's because they force you to analyze things according to the paradigm used.
They can be used to remind of or even trigger tasks. The best ones should be able to help track whatever metrics are involved. If the work involves other desktop applications, you might hope that it integrates in some useful way.
In next month's column, we'll see how our Mac OS X outline designers handle these challenges.
ATPO Tracker
For those new to ATPO, a couple of columns ago we introduced the outliner tracker to keep readers up to date on updates and new product releases in the outliner world. In prior columns, I've noted that the Mac world seems to be the platform for outliners, but I never imaged things would accelerate so quickly.
Because I'm now on an every-other-month schedule, the tracker has accumulated a huge number of items. If there is interest, I'll try to have an ATPO tracker every month even though the "feature" segment of ATPO will likely continue to be every other month.