Review: Stuffit Deluxe 9

Developer: Allume Systems
Price: $80; $30 (upgrade)
Requirements: Mac OS X 10.3
Recommended: G4 processor, Mac OS 9 or Mac OS X
Trial: available for StuffIt Standard
Almost anyone who has used a Mac in the past decade is familiar with StuffIt as a long-standing superior compression format and application. As Macs gradually joined the world of Unix systems and became even friendlier with PCs, Apple added simple Zip compression to the contextual menus in the Finder. Recently, I have found myself using the OS X-included Zip archive tool more frequently, even though the StuffIt formats are superior. I suspect there are many other OS X users that have followed similar practices.
In writing this review, I wanted to find out what StuffIt offers over the free Zip compression that makes it worth the price? Much to my surprise, I found many features in StuffIt Deluxe 9 that make it well worth the purchase, and worth the upgrade from previous versions of StuffIt Deluxe. For those who are unfamiliar with the offerings of previous versions of StuffIt Deluxe, check out the review of version 7.01 in the ATPM Archives.
Things have come a long way since the days when users needed to compress data to fit large files on removable media and save hard drive space, but compression is still very necessary for e-mail, Web sites, and Internet/network file transfers. Combine that with the massive amounts of downloadable content, multimedia, and general data we all accumulate on our hard drives and compression becomes even more necessary to backup onto CDs and DVDs. StuffIt Deluxe has adapted to our changing computer needs to offer new tools for common compression use.
Improvements
There are several significant new features in StuffIt Deluxe 9 that make this a worthy upgrade. The first noteworthy improvements are compression speed and archive size. I tested the built-in OS X Zip archive compression against StuffIt Deluxe 7.03, 8.02, and the new 9.0, using a 119.3 MB folder containing a wide range of file types, including QuickTime movies, text documents, 3D models, databases, and various image formats. Except where noted, the default StuffIt settings were used. The system used for testing was a 1.25 GHz iMac G4.
| | | | |
| --- | --- | --- | --- |
| Application | Format | Time | Size (MB) |
| Mac OS X Finder | .zip | 1:56 | 85.6 |
| Stuffit Deluxe 7.03 | .sit | 5:15 | 83.1 |
| | .sitx | 3:23 | 84.7 |
| Stuffit Deluxe 8.02 | .sit | 5:10 | 83.1 |
| | .sitx | 2:48 | 85.4 |
| Stuffit Deluxe 9 | .sit | 4:18 | 82.9 |
| (default) | .sitx | 3:09 | 79.8 |
| (faster) | .sitx | 1:25 | 84.6 |
Testing indicates an overall improvement in compression times and file sizes with each successive version of the software, with the most remarkable improvement being the .sitx compression time.
It should also be noted that StuffIt Deluxe 9 more accurately represents the time remaining for compression. The estimates in versions 7.03 and 8.02 were often off by several minutes, a problem resolved in 9.0.
StuffIt Deluxe 9 is multiprocessor aware, and should offer worthy speed increases to those with dual-processor Macs. Rudimentary testing indicates approximately 30% faster compression with dual-processor machines.
One new and remarkably useful feature is selective file expansion from archives…using Finder contextual menus! While previous versions offered compression tools within contextual menus, expanding certain files from within an archive required launching the StuffIt Deluxe application. Now all that is needed is to Control-click (or right-click) on an archive file, and a hierarchical list of archive contents appears for immediate expansion of specific files and folders. This timesaving feature is in itself one of the most useful additions to this upgrade.
Another major addition to 9 is the Archive Assistant, which offers automatic scheduled archiving and backup of specified data to either CD, DVD, or your hard drive. This is a useful tool for those using compressed archives for backup purposes.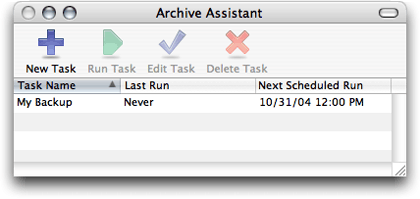 The Archive Assistant interface is a little more difficult to use than expected, differing from several other backup applications that I have used. The software is straightforward after reading the included Help tools, which are definitely recommended for those intending to use the application.
The improved archive segmenting features were tested with a 19.8 GB data folder that was compressed to 10 GB using the .sitx format. This archive was then divided into two 4 GB and one 2 GB segments for DVD backup. The contents of the segments could be easily browsed without rejoining them, another useful improvement.
4 GB is the maximum segment size allowed, but unfortunately this was only discovered from testing. This setting is simply titled "Maximum Allowed" in segmenting options with no indication of the maximum value. It would be nice to have this setting more specifically labeled.
Other improvements worth mentioning are more encoding and security features (including a drag-and-drop Secure Delete application), a set of add-ons to integrate StuffIt with other applications, and a unified drag-and-drop application for all formats instead of the previous separate DropStuff, DropZip, and DropTar applications.
More so than in previous versions, StuffIt Deluxe 9 offers significant features that make it useful for those needing more archiving power than the built-in OS X tools, and the speed and feature improvements also make this a worthwhile upgrade.
For those considering whether to purchase StuffIt Standard or StuffIt Deluxe, the list of additional features (including those covered in this review) separate StuffIt Deluxe 9 from its siblings more so than in previous versions. StuffIt Deluxe 9 offers significant features that make it useful for those needing more archiving power than the built-in OS X tools, and the speed and feature improvements also make this a worthwhile upgrade.