Review: Belkin Media Reader for iPod

Developer: Belkin
Price: $90
Requirements: iPod with dock connector, digital photo card (CompactFlash Type 1 or 2, SmartMedia, Secure Digital, Memory Stick, or MultiMediaCard).
Trial: None.
In short, it works. Just like it's supposed to.
My wife and I were heading to Europe for a couple of weeks in June—11 days in Paris, three in London. Having made the leap to digital photography over a year ago, I was looking forward to freedom from endless rolls of film while on vacation. But as the trip approached, I realized the capacity of the 512 MB CompactFlash card that normally stands me in good stead for any day's worth of events (or even a long weekend's worth) would fall woefully short of meeting my needs. I'd be away from a repository computer for two weeks straight. I take lots of photos on trips as a rule, and Paris, a place we'd never visited, was certain to generate no exception. There was no way the 250 or so 4-megapixel images I can normally fit onto my 512 MB card would possibly be enough, and I didn't want to take our iBook overseas. I had a storage problem on my hands.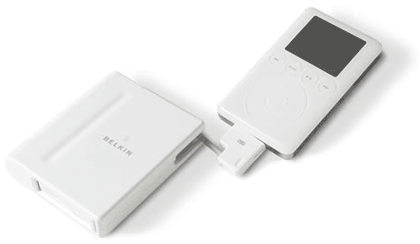 I should note for reference that I use the Canon S400 (purchased in 2003, since replaced by the S410 and S500 models). It's a fantastic intermediate-level camera, and I highly recommend it. By my own criteria, it strikes the best balance between high-end features (primary factors: resolution, image settings, and optical zoom) and ease of use (primary factors: pocket-size portability, simplicity of control interface, and compatibility with my Macintosh system).
As for Paris, my first thought was to simply buy more, higher capacity cards—but I quickly determined that larger cards would not be a cost-effective investment (at least, not until the prices come down). A 1 GB card might hold roughly 500 4-megapixel shots. A 2 GB card might hold as many as 1,000, if I were lucky. But would 1,000 shots be enough for two weeks? Plus, 2 GB cards still cost hundreds of dollars each—and how often would I really have a need for a single card with that much room? Almost never.
I next considered the Image Tank and Digital Wallet devices, which are essentially portable hard drives used by professional journalists, etc., on assignment, to solve precisely this problem. But again, they're hundreds of dollars, for a piece of equipment I'd use maybe once every few years.
I never seriously considered the "Internet café" option of e-mailing photos home to myself each day. Even assuming everything went perfectly, the time involved would be absurd.
The elegant solution? iPod. As most of you already know, Apple reconfigured the iPod software in March to allow the pocket-size device to be used for digital photo storage. So, the real purpose of this article is to let you know that the software, coupled with the Belkin Media Reader, does indeed work as advertised, and works like a charm. I tried it out in the field, gambling my Paris photos on it, and I wasn't disappointed in the slightest. Sure, the 20 GB iPod cost a bit more than a 2 GB card, but hey, it has 10 times the storage capacity. No worries at all about how many photos we could take while we were away—and that, in and of itself, has value. More important, while the iPod still cost a few hundred dollars, it's certainly not a device that will sit in a drawer unused for the rest of the year. We use it almost every day. (The only thing that will conceivably sit unused in a drawer for long periods of time will be the $90 Belkin Media Reader.)
Use of the Belkin Media Reader with the iPod is simple and straightforward. The adapter runs on four AAA batteries, which I never had to replace on the trip, and still haven't had to replace. The batteries are supposed to last for something like 80 download sessions. (Be sure to use Duracell or Energizer, however, rather than the suspect AAAs that come packaged with the adapter—they just don't look dependable.) The adapter unit itself is a flat white plastic box, slightly larger than the iPod. Slide open the card slot door on the Media Reader, insert the photo card you've removed from your camera, attach the cord from the other end of the Media Reader to the dock connector on your iPod (running software version 2.1 or later), and the iPod automatically puts itself into Photo Import mode. (To get there manually, open the iPod's menu item Extras, select Photo Import, then select Import Photos.) Meanwhile, watch the green LED on the Belkin adapter flicker to life. The iPod's screen tells you at this point how many photos are contained on the card, and how much free room you have left on the iPod itself. Armed with this information, you can choose to Import or Cancel. Choose Import and you're done—all you have to do now is wait for the transfer to finish. You can watch a status bar progress across the iPod's screen if you like. Afterwards, you can select either Done or Erase Card, which are self-explanatory.
As a practical matter, I usually set this procedure up on my nightstand as I was getting ready for bed each night, and by the time I'd brushed my teeth and climbed into bed, it was done. (Another thing I did each night was slip a fresh battery into the camera and plug in the one I'd used that day for an overnight recharge. In other words, I took two camera batteries with me and swapped them back and forth each day. The second battery was always in my pocket during the day as a reserve, just in case.)
Each download session from the adapter is stored on the iPod as a sequentially numbered "Roll" of photos. I performed one download each night, so I ended up with "Roll 1" for the first day's set of pictures, "Roll 2" for the second day's set, etc. The number of images contained on each roll is indicated on the iPod display. At the end of the trip I had 14 rolls on the iPod, for a total of 2,354 photos. That's right, an average of almost 170 photos per day. Now, that was a result of my snapping two and three (and sometimes more) photos of almost everything, so that I could edit down and find the "keeper" later. And it also included some simply bad shots. But I figure it doesn't cost me anything (beyond an extra half second) to push the button again, so why not avail myself of the freedom digital photography affords? Note: There's no way to manipulate the contents of rolls (or to combine rolls, etc.) once they're on the iPod. The rolls simply wait there patiently, in the order in which they were created, to be downloaded onto your Mac at some point in the future.
When the trip was over and we got back home, I put the iPod into its dock and loaded all the images straight into iPhoto. Not a single hitch. iPhoto, of course, provides an excellent interface within which to edit and organize your images. The edited subset of photos we're showing to our family and friends came in at a much slimmer 555, which seems pretty reasonable (to me).
The point, however, is that I never even approached the capacity of the iPod. It gave me the freedom to take as many photos as I wanted and a compact place to store them every night in the hotel room. And now that the trip's over, well, I have an iPod, which is incredibly cool in its own right. I'm in the process of loading our CD collection onto it now. (I should mention that using the iPod as a photo storage device didn't have any effect on its ability to play music while we were on our trip. It still worked just the same. The only consideration, of course, would be that if you had the iPod full of music, you'd have to offload some of the music to make room for photos.)
Downloading 2,354 photos onto the iPod did use the iPod's battery to a notable, though not excessive, degree. I had to charge the battery once, in the middle of the second week of the trip. For that, I'd taken along the iPod's normal A/C charger, plugged that into the multi-country A/C adapter/converter unit I'd purchased years ago (from Sharper Image), and in turn plugged that into the French receptacle on the wall. No problems. (But be very sure you have an appropriate A/C voltage converter in the sequence, not just a physical adapter. The device I bought has both in one handy palm-size unit. If you make the plugs fit, but don't ramp down the voltage, you'll fry a small device like an iPod. And yes, I also used the adapter/converter setup to charge my camera battery every night while I slept.)
As new as the Belkin Media Reader is, there's an even newer version I haven't used—the Digital Camera Link for iPod w/ Dock Connector. It appears to be slightly smaller, slightly less expensive, and also housed in white plastic. The main difference between it and the product I purchased is that instead of taking the photo card out of the camera and inserting it into the Belkin unit, you connect the camera itself to the Belkin unit with your camera's USB cord. Two minimal downsides to this other Belkin product would appear to be: one, that the process would drain power from your camera battery, and two, that you'd have another cord to take along on your trip (the USB). But there may be upsides of which I'm not aware (e.g., maybe it minimizes the power drain on the iPod, etc.). Beyond those considerations, I can only assume the process is as straightforward with the Digital Camera Link as with the Media Reader I used. If I get a chance to use the Digital Camera Link, I'll let you know how it performs.
Finally, in case you're interested, to show our vacation photos, I hook our iBook up directly to a television with the Monster iTV Link cable (which also works like a charm, by the way) and use iPhoto's slideshow facility. This process works extremely well in our own home, but it's also easy to take the iBook and cable to a friend's house (assuming the television there has readily accessible RCA jacks, etc.—if not, the photos can just be shown on the iBook). I mention this because although we now know the just-released fourth-generation iPods can't link directly to a television, can't display photos themselves, and have no color screen, it's not too hard to imagine some version of the iPod having these capabilities in the not-too-distant future. It's easy to envision the iPod becoming an increasingly more important device in the digital photo arena, as both a storage device and a player. I can hardly wait.