Review: Jeopardy! 2nd Edition

Developer: MacSoft division of WizardWorks at Infogrames, Inc.
Price: $20 at GameStop.com
Requirements: G3-based Mac with Mac OS 8.6, 49 MB free RAM, thousands of colors at 800x600, 200 MB disk space.
Recommended: Full installation requires 583 MB disk space.
Trial: None.
Jeopardy! 2nd Edition is the sequel to Jeopardy! It provides 4,200 new questions. Like its predecessor, it faithfully reproduces the television game experience on your Macintosh, in which up to three people can play by sharing the keyboard. Network play is not supported, but the game supplies computer opponents if necessary. Jeopardy! 2nd Edition looks and plays almost the same as its predecessor, which you can now purchase for just $10 at GameStop.com.
A CD contains the Jeopardy! installer. Standard installation places the application and some data files on the hard drive you designate. Custom installation lets you install all components except the movies. Full installation is unnecessary unless you have a slow CD-ROM drive. The CD also contains an installer for QuickTime 5.
Game Play
Jeopardy! 2nd Edition offers no improvements over its predecessor. The opening video is grainy and pixellated. The sequences with Alex Trebek are based on mediocre "blue screen" filming techniques.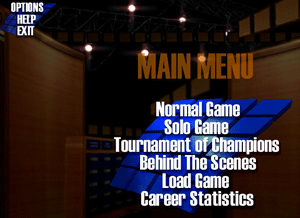 Initial Jeopardy Screen
Game setup is identical to the previous version. Jeopardy! 2nd Edition does not remember your setup options, and you must adjust them each time you launch the game. Failure to do so leaves you with the default settings for spelling tolerance and for computer opponents' abilities. At the hardest computer opponent skill level, the opponents know most of the answers and have extremely short buzz-in times.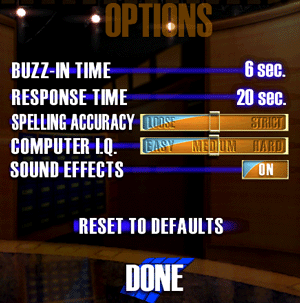 Game Options Menu Screen
Game play options include Normal, Solo, and Tournament. The Normal game is just like the television version. In the Solo game, you have no opponents. You play a single Double Jeopardy board and try to answer all the questions. There is no time limit. You may pass on any question without losing points. The object is to get the highest dollar score for a Solo Game.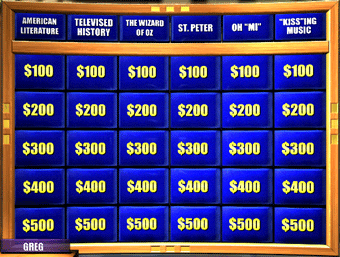 Jeopardy Board at Start of Game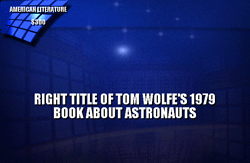 Display of a Single Answer in Jeopardy!
In Tournament mode, you play two games against the same two opponents. The player with the highest two-game dollar total goes on to the "Tournament of Champions" against two advanced level computer opponents. Jeopardy! lets you save a game (between questions) and return to it later.
The game comes with a 32-page manual in the CD jewel case, which adequately describes installation and game play. There is no online help other than the announcer.
Bugs, Omissions, and Annoyances
Jeopardy! 2nd Edition does not have the instability problems that plagued its predecessor. I had no crashes or freezes. I did have a game where a video answer was given and cleared from the board, but the question was asked again at the end of the round (as if it were the only remaining question).
The female computer opponent sometimes hesitates annoyingly while selecting a category and dollar value: "I'll take…'Starts with "M"'…for…two…hundred dollars, Alex." This appears to be a random event that was probably created deliberately to mimic human hesitation or nervousness. Instead, it mimics a stroke patient with partial aphasia.
Jeopardy! 2nd Edition sometimes does not accept correct responses. For example, one answer required the question "Who was Horatio Nelson?" (the British admiral who fought against France). However, "Who was Admiral Nelson?" was scored as an incorrect response. Similar problems affected other responses where minor differences in format or spelling were incorrectly scored. The Second Edition still will not let you override an incorrect decision.
Other minor omissions that were also present in the first edition include the inability to bypass or speed-up the TV-style introduction and the inability to choose different opponents. You can change the overall abilities of the computer opponents, but the two opponents remain the same.
This Macintosh version also does not include the "Pre-Show" audition that evaluates players and adjusts the initial level of play. Since you can adjust the abilities of your computer opponents, this isn't a serious omission.
Verdict
Jeopardy! 2nd Edition almost exactly replicates the "look and feel" and game play of Jeopardy!, although I am disappointed that there were no substantial improvements. I would have liked much better video (distributed on a second CD), the ability to save settings, the ability to choose from a variety of computer opponents with different abilities and playing styles, and the ability to add expansion modules instead of entire new game versions.
For those reasons, I can only give Jeopardy! 2nd Edition an "Okay" rating.