Review: Microsoft Office 2001

Developer: Microsoft Corporation
Price: $499 (list), $430 (street); upgrade from previous versions of Microsoft Office, Excel, Word, or PowerPoint $299 (list), $250 (street).
Requirements: PowerPC-based Mac with Mac OS 8.1, 75 MB of disk space.
Recommended: 120 MHz, Mac OS 8.5, at least 160 MB of disk space.
Trial: None
Introduction
Microsoft Office 2001 for Mac fulfills Microsoft's legal obligation to maintain its application suite on the Macintosh platform. Unfortunately, Microsoft still did not give us parity with Office 2000 for Windows. The major components of Office 2001 are Word, Excel, PowerPoint, and Entourage. Word and Excel 2001 are minor upgrades to the 98 versions. PowerPoint 2001 adds more QuickTime support. Entourage took the free Outlook Express 5 and added personal information manager (PIM) features: calendar, scheduler, and task list. However, Entourage is not equivalent to Outlook 2000 for Windows and cannot interact with its calendar or scheduling module in a cross-platform environment. Microsoft does not offer a professional version of Office 2001 and does not have a Macintosh database application equivalent to or compatible with Access for Windows.
Office 2001 contains other applications and components: MS Organization Chart, Equation Editor, Query, spelling and grammar checkers, a thesaurus, Visual Basic for Applications, and Microsoft Graph. (I do not know why Graph still exists, since Excel offers better charting capabilities and has extra features such as Chart Wizard, drawing tools, and templates.)
Installation
Office 2001 can be installed by dragging a folder from the CD-ROM disk to your hard drive. (This feature was introduced with Office 98.) You can also run the Microsoft Office Installer to customize your installation. Both installations worked for me. However, the main installer cannot install some of the items in the "Value Pack" such as Equation Editor, Query, and alternate "assistants."
The drag and drop installation requires 180 MB of disk space, whereas the installation of all components, including clip art files, requires 480 MB of disk space.
Review
Since Office 2001 has changed little since Office 98, I will primarily discuss changes and additions. You can read reviews of Office 98 at geek.com and Macworld. TidBITs also published reviews of Word 98 and Excel 98.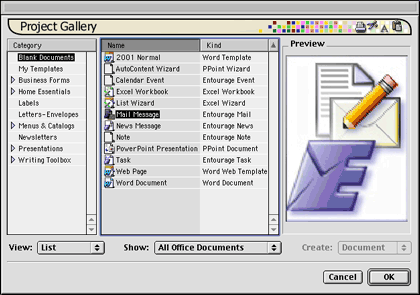 Office Project Gallery
New to the Entire Office Suite
Office 2001 supports Apple's Navigation Services and the Color Picker. The Entourage Address Book works within Word and Excel, too. The Project Gallery option, which gives ready access to a variety of templates and wizards, is available from Excel, PowerPoint, and Word. Excel, PowerPoint, and Word use floating palettes as well as standard toolbars.
No Longer Present in Office
The biggest omission is the manual. Any manual. That's right, the incredibly complex Office 2001 application suite has no printed, disk-based, or online manual. The only documentation is a tiny pamphlet in the clamshell CD case and the Help files.
Office Manager was not included with Office 2001. This utility added a pull-down menu with customizable lists of applications. It also allowed you to switch among open applications with a keystroke (Command-Tab is the default). Microsoft claimed that the omission was due to changes in OS X that would prevent Office Manager from working. This was not true because Office 2001 itself is not "Carbonized" and cannot run in native mode in OS X. Microsoft recently addressed the omission and released Microsoft Office Manager 9.0.
Microsoft included the Query application but omitted ODBC drivers. If you have Microsoft Office 98 or Microsoft Excel 98, you can install the ODBC drivers from their Value Packs. If you want to access another type of database, you must obtain and install a Microsoft Office-compatible ODBC driver from a third-party vendor, such as the manufacturer of the database. Contact the database vendor for installation instructions.
Entourage
This new application closely resembles Outlook Express 5. (Read reviews of Outlook Express 5 at The Mac Observer and of Entourage at TidBITs.) Its e-mail, news reader, and address book are almost identical to OE 5. However, Entourage omits password protection of your e-mail accounts. Entourage includes almost no AppleScripts. Scripts written for Outlook Express will have to be modified. (All instances of "Outlook Express" need to be changed to "Entourage.") Entourage adds a calendar/scheduler module, a task list, and a links feature. The calendar program cannot stand comparison to Now Up-to-Date or Palm Desktop Software for Macintosh (derived from Claris Organizer). Entourage's calendar has many bugs and display errors. The task list lets you set priority flags, due dates, and categories. The links feature lets you connect an e-mail message, scheduled event, or task with any other Entourage information component (existing or new) or with any file on your Macintosh or network. The links feature worked well for me.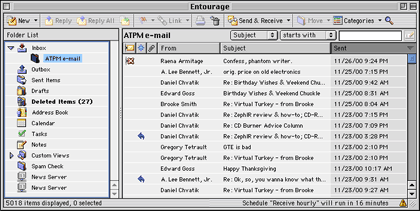 Entourage
Excel
One new "feature" of Excel is the disappearance of common keystroke shortcuts such as Command-B (clear) and Command-I (insert). Microsoft decided to change some (but not all) of the keystroke shortcuts to those used in the Windows version. Unfortunately, the control key equivalents are not documented in Excel's Help file.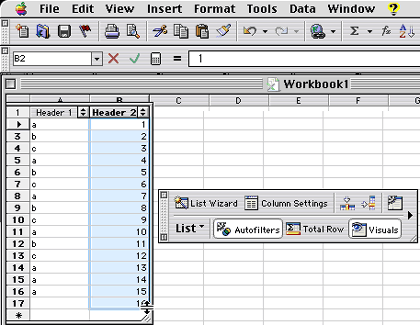 Excel's List Manager
Excel sports a new feature: the List Manager. This supposedly makes it easier to work with "lists" (Microsoft's term for flat-file databases) within Excel. When in List Manager mode, your selected data is surrounded by a special rectangle, and the List Manager floating palette appears. What benefits does List Manager offer? The heading row(s) remain visible no matter how far down you scroll. You can sort your list without worrying about whether you selected all the columns. You can easily specify the type of data within a list's column (text, integer, date, etc.).
I have used Excel since version 1, and to me the List Manager was a hindrance, not a help. You cannot drag a column downward to add more rows to a list; you must extend the list manager rectangle first, then extend your columns. You cannot easily add more columns to the right of your existing list. You must insert columns, then cut and paste to rearrange them. Once you have designated an area of your worksheet as a list, it is difficult to convert it back to normal data. You have to copy the contents of the list, select the list area, use the Clear All command, then paste your data back into the worksheet.

Excel's Custom Header Window
Excel has still not corrected its awkward method of creating headers and footers. You still have to use clumsy nested dialog boxes. There is no equivalent to Word's Page Layout view. Excel has Print Preview, but you cannot work in that view. Excel 2001 does have a method of automatically placing header rows on each page of a multipage spreadsheet. You must use the Sheet tab of the Page Setup dialog box. A section called Print Titles allows you to select or enter the top rows or left-side columns to be repeated on each page.
PowerPoint
Microsoft decided that most Macintosh users are too stupid to figure out that PowerPoint has different viewing options (Hint: They're all listed in the View menu and can be accessed by the little icons on the status bar.). Therefore, PowerPoint 2001 now opens with a Tri-Pane View. Always. There is no way to adjust PowerPoint's preferences to open with a different view.
PowerPoint's Tri-Pane View
PowerPoint 2001 also assumes that you want to keep the formatting palette to the right of your work area. If you close that palette and then click on the zoom box of your document window, nothing happens! The window will not expand to fill the rest of your screen. You must manually resize the window. This flaw also affects Word 2001.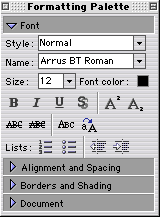 The Non-Resizable Formatting Palette
New features in PowerPoint include: simple table creation, automatic numbering of bullets (finally!), use of graphics as bullets, animated GIFs in slide shows, QuickTime transitions in slide shows, and the ability to export a presentation as a QuickTime movie. The latter is a nice feature that works well with uncomplicated presentations.
Word
New features in Word 2001 include: a Contact Toolbar (containing information from Entourage's address book), live word count, nested tables, "collect and paste" Office Clipboard (that can hold many cut or copied items), graphics as bullets, and improved hyperlinks. Word 2001 also fixed a major bug that caused corruption of complex documents with multiple tables.

The Document Window in Word 2001
The Contact Toolbar seems like a great idea. You can insert a contact's name, address, e-mail, phone, etc., but the poor functioning of the toolbar makes it nearly worthless. You use the Contacts pop-up menu to select a name. It gets inserted at the cursor. Now you want to add a paragraph and insert the contact's address. Oops! The contact isn't highlighted. What you need to do is highlight the contact immediately after it is added to your document by either clicking on it with the mouse or pressing the left arrow key. Now you can click on "Include Address" in the toolbar. Word will insert a return and the address. What if you want two contact items on the same line? You have to edit the contact information after it is all inserted. These awkward procedures negate much of the Contact Toolbar's utility.

Word's Contact Toolbar
Live word count updates the count only when you pause for more than a second in your writing. If you type rapidly, you can add many words without seeing a change in the status bar counter. Word 2001 also counts every item. "1 2 3 4 5" counts as five words, not one. The bullets in a bulleted list also count as words. Hyphenated words count as one word, unless you use an en or em dash. Essentially, Word 2001 counts the number of items between spaces and punctuation marks. For example, if you put a space between two punctuation marks, like this: ! !, Word 2001 would count this as three words.
Nested tables work the way you would expect. I had no problems creating simple nested tables. Users have reported problems with more complex tables, but I didn't evaluate this feature extensively.
The Office Clipboard feature is a nice addition. You access Office Clipboard from the View menu. You can resize the clipboard window to show few or many clips. You can highlight one or more entries for simultaneous pasting. You can paste all entries by clicking the second small clipboard icon at the bottom of the window. The problem I had is that Word 2001 didn't retain the font of pasted text. The text I cut didn't have an assigned style (I changed it from Courier to New York without creating a new style), so Word 2001 pasted it in with the Courier font, even though the Office Clipboard shows the text in New York. However, formatting changes such as bold and italic are retained when pasting.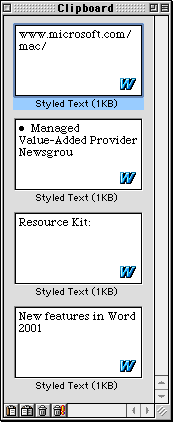 Office Clipboard
Word's Draw module lets you create simple drawings and stylized text inserts. This module has not changed significantly since Word 6. I've never been comfortable with Draw, and have usually pasted drawings that were created in another program.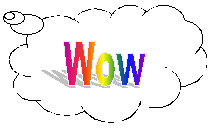 Word Draw Module with Clip Art Balloon and Rainbow Text Effect
Word 2001 fixed a few longstanding major bugs, but it retains some old ones and added many new ones. A particularly annoying bug occurs when you type Command-N (for new blank document). You can read about the many bugs, interface oddities, documentation flaws, and other problems in the Office 2001 reports at Macintouch and MacFixIt.

Word's Response to Typing Command-N
Visual Basic for Applications
VBA is essentially unchanged from the version in Office 98. Intrepid users can delve into VBA to edit macros, create forms, and move data between Office 2001 documents. The VBA tools in Office 2000 for Windows are more advanced and more reliable than those in Office 2001 for Mac.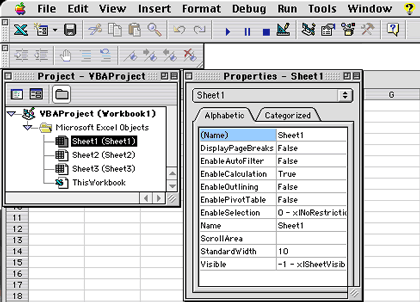 The Visual Basic Environment
Equation Editor
This pseudo-application changed little in Office 2001. (Its version went from 3.0 to 3.1.) Although it allows you to create complex equations for insertion into Word documents, it cannot save equations on its own (hence my "pseudo-application" term).

Equation Editor Window
Organization Chart
This limited application has not changed since Office 98. You use the icons and boxes on top to create or modify organization charts or simple flow charts. You can use the Styles menu to adjust the orientation of the chart. Organization Chart can insert charts into Word, Excel, or PowerPoint documents and can save its own documents. Strangely, double-clicking on an Organization Chart document does not open it. Instead, the application launches and presents you with a Navigation Services dialog box asking you to find a document. What's worse, however, is that the folder shown in the dialog box is the Office folder, not the folder with your saved chart.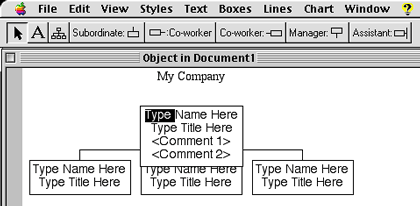 Creating an Organization Chart
Office 2001 Help
Since Office no longer has manuals, printed or electronic, you would expect to find a complete help system. Instead you get the intrusive and disruptive Office Assistant (I recommend disabling it) and an incomplete, error-ridden help document. You can access the help document by selecting Contents and Index from the Help menu, by typing Command-?, or by pressing the Help key. Warning! Do not use Command-W to try to close the help document; it uses a floating palette instead of a window, so it ignores Command-W. Instead, Command-W will close the active document window.
Word's Help Document
Technical Support
Office 2001 has "Assisted Personal Support" by online form and by telephone (425-454-2030 in the US). Purchasers of Office 2001 may also receive (at no charge) two "Professional Support" incidents by Web or telephone (for development assistance or external database connectivity issues).
Microsoft does not have e-mail support for Office 2001, and there's no mechanism for reporting bugs.
Microsoft created a "Resource Kit" Web site with additional information about Office 2001. This misnamed product is not a kit; it's a series of Web pages describing the Office 2001 components and offering some tips (mostly geared towards information technology personnel supporting corporate Office 2001 users). There's no simple way to download or print the "kit." If you want the entire kit, you must print or download each of the 22 sections.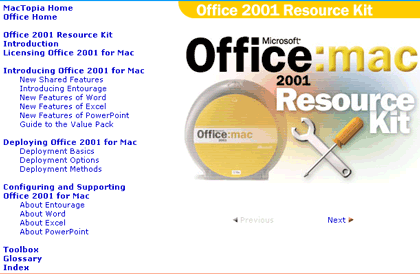 Microsoft's Web-Based Office Resource Kit
Opinion
Microsoft could have created a sensational product with Office 2001. The plethora of known bugs from Office 98 could have been fixed, and Office 2001 could have sported a logical, consistent, pure Macintosh user interface. The suite could have dropped the worthless Graph, added a true drawing application (that could incorporate the features of Word's Draw module and Organization Chart), and given us a version of Outlook fully compatible with the one in Office 2000 for Windows. Finally, Microsoft could have made Office 2001 fully compliant with OS X. Instead, Microsoft served us a mediocre upgrade to Office 98. Numerous bugs were left unfixed, and the interface is more confusing than before. The lack of compatibility with Outlook shows that Microsoft does not want to give Macintosh users the ability to work seamlessly in a mixed platform environment. And, the lack of manuals makes it harder to deal with the flaws in Office 2001.
Recommendations
Users of Office 98 have little reason to upgrade to Office 2001. The upgrade price is very high. Office 2001 will not run in native mode under OS X. Most of the new features are awkward, poorly documented, bug-ridden, or all three. The user interface has most of the same flaws as Office 98 with the added confusion of floating palettes that don't always behave as expected. Office 2001 loads slower, runs slower, and often exhibits long pauses when switching to another application (a problem seen in Office 98, too).
I recommend purchasing Office 2001 only if you need two or more of its components and you can "upgrade" from any qualifying Microsoft application (such as an old copy of Word, Excel, or PowerPoint). No one should pay $499 for this software suite.
Users who expect to migrate to OS X next year should wait and see if Microsoft will release an OS X version of Office 2001. Perhaps "2001 X" will address some of our complaints.