Trivia Challenge
Paranormal Puzzlers
This is the latest in ATPM's series of Trivia Challenges. Answers to this month's Trivia Challenge will be found in the next issue of ATPM. If you have any suggestions for future Trivia Challenges, or wish to comment about almost anything, please e-mail me at egoss@atpm.com.
I'd like to congratulate last month's Trivia Challenge winners: First Place—Brian Ehni, from Tennessee; and Second Place—Jason Chong, from Singapore. Your prizes are on the way!
In conjunction with my review of "The X-Files Trivia Challenge 1.5," I thought I would give you a sample of some of the questions you might encounter. So slip into something mysterious, keep an eye to the sky for aliens, and take part in:
Trivia Challenge 5.01: Paranormal Puzzlers
For what agency of the federal government has Byers worked?

The FDA
The FCC
The NSC

Who was the "invisible" former Green Beret in the episode "Unrequited"?

Jacob Wharton
Leonard Trimble
Nathaniel Teager

What does the UFO poster in Mulder's office say?

Watch The Skies
I Want To Believe
We Are Not Alone

Before the X-Files, for what unit of the FBI did Mulder work?

Behavioral Sciences Unit
Computer Crime Task Force
Anti-Terrorism Unit

What brand of cellular phone does Mulder favor?

Motorola
StarTac
Nokia

What actor plays Alex Krycek, aka "Ratboy"?

Nicholas Lea
Nicholas Roeg
Nicholas Meyer

In the X-Files Pilot, where did Mulder and Scully go to investigate their first case together?

Roswell, New Mexico
Terma, North Dakota
Bellefleur, Oregon

A.D. Skinner served in Viet Nam in what branch of the service?

Army
Navy
Marines

Who was Mulder's informant from the U.N.?

Deep Throat
The Hispanic Man
Marita Covarrubias

Who killed Duane Barry?

Mulder
Alex Krycek
The Hispanic Man

In the episode "Piper Maru", what was the name of the WWII submarine?

Talapus
Zeus Faber
Appolo

Who brought Scully to Skyland Mountain?

Duane Barry
Frank Druce
Alex Krycek

Who originally owned the dog given to Scully by Clyde Bruckman?

The Stupendous Yappi
Madam Zelma
Mrs. Lowe

Where did Mulder and The Lone Gunman first meet?

Richmond
Baltimore
Washington, DC

What rock'n'roll star was Clyde Bruckman's favorite?

Richie Valens
Buddy Holly
The Big Bopper
Each question has only one correct answer. The answers are stored in a hermetically sealed envelope guarded by a fierce Lhasa Apso named "Hammerli" who lives in our house.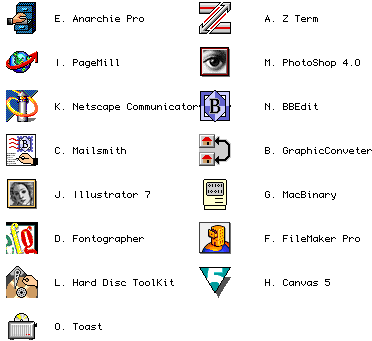 One of the best albums of all time that you've probably never heard—"Amused To Death" by Roger Waters (A must for Pink Floyd fans!)