Software Review
WireTap Anywhere 1.0.8

Function: Virtual audio patchbay.
Developer: Ambrosia Software
Price: $129
Requirements: Mac OS X 10.4.11. Universal.
Trial: Fully-featured (30 days, then adds voiceover to recording)
For all of the Mac's talent with audio input and output, moving sound around inside your system can be a jigsaw puzzle. Each program does its own bit, but might not play well with others. The DVD player shows movies—without letting you pull out and save a favorite quote. Web browsers help you watch free concerts now, but don't always provide audio replays. In each case, sound gets "tied" to a source that's hard to reuse elsewhere.
WireTap Anywhere clears up the input/output hedge maze by letting you combine anything that makes sound—Web browsers, VoIP phones, microphones, and so on—into a custom source device. Your Mac now treats it just like any other input, freeing you to record, edit, or play back what you want, when you want.
First Impression
Once installed and fired up, WireTap Anywhere looks like a shiny fuse box, similar to Apple's own brushed steel software. Every "fuse" in this list now also works as a source of sound for another program on your Mac. Open another program on your Mac and WireTap adds it to this list.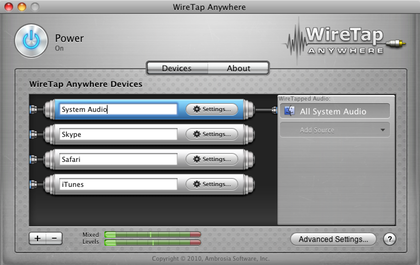 WireTap Anywhere's default list of devices.
To capture audio from a single source, such as an iTunes radio stream or your Web browser, select the right WireTap input from an audio editor and start recording. I use Audacity to record because it's free and straightforward. Ambrosia includes a trial version of their own WireTap Studio editor with the WireTap Anywhere package, if you want something more polished.
I've been using a cumbersome process to record Skype calls, so I tried to simplify things with WireTap. This example shows how to set up a two-sided audio capture.
Wiretap Example: Record Internet Phone Conversations
Folks use Skype and other phone-like software to call friends, hold business meetings, or even perform for a crowd. (Search for "Skype concert" to see that last one.) I'm interviewing friends and relatives to build up an oral family history, so I tried using WireTap to record our conversations with this setup:
Desktop USB mic (for my side)
Skype (for their side)
Audacity (freeware audio recorder)
Skype and the mic start as separate audio devices that we'll combine into one using WireTap. First, open the Audacity preferences pane to check our default recording options. It should be the same list we saw before.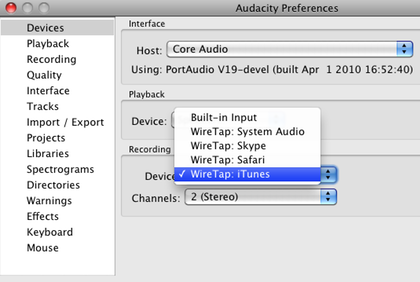 Audacity with the default WireTap devices.
Go back to WireTap and create a new device ("+" button). In the "WireTapped Audio" sidebar, add Skype and the Logitech USB Microphone. This mixes them into a single audio source I named appropriately.
Creating a new WireTap device.
Check the preferences in Audacity to see your new Skype + mic input. Select it and start your call in Skype. At any point, switch back to Audacity and start recording!

Audio captured from a Skype call.
Other Wiretap Anywhere Uses
This review mentions just two ways to use WireTap, rerouting music streams and Skype conversations, and both worked well. See this article by John Hawkins for a more complex podcasting setup that even a pro could use.
If you like how it sounds so far, note that Ambrosia's currently seeking beta testers for WireTap Anywhere 2.0.
WireTap Competitors
Two other applications, Audio Hijack Pro ($32) and Jack OS X (freeware), overlap functionality with WireTap Anywhere. Here's a brief comparison of their dos and don'ts:
Does: Capture audio from any application or hardware source, with a built-in recorder.
Doesn't: Create new audio inputs for other applications (capture only).
Does: Redirect audio between sources, using client and server (see product documentation for details).
Doesn't: Look very easy to use.
If you just want to capture music and sound, Audio Hijack saves a step over my Skype example by creating its own recordings—no Audacity required. WireTap makes audio available to all your applications, so recording's just one color on a larger palette.
WireTap and Jack OS X both move audio between applications, but with very different interfaces. Jack OS X's client-server GUI has a steeper learning curve than WireTap's fuse box, but also costs everyone's favorite price: free.
Is It Worth the Cost?
WireTap Anywhere straddles the fence between amateur and pro users, so it costs more than your typical shareware release. As mentioned above, only recording from applications is a good match for Audio Hijack, but WireTap Anywhere handles more sophisticated input/output work with power and good ease-of-use. I find it really easy to use, and the ability to mix-and-match all this audio is inspiring. That's not meant to be dramatic—it really does spur different creative ideas for complex project applications like GarageBand and iMovie. Even if you don't ultimately use WireTap for audio work, it's worth trying out just to stretch your mind.