Software Review
Inner Quest 1.0

Function: Puzzle game.
Developer: South Winds Games
Price: $6
Requirements: Mac with 1 GHz processor. Mac OS X 10.4.
Trial: Fully-featured (1 hour)
Let me just get this out of the way now: if you have an addictive personality, or you are compelled to finish things you start, don't buy this game. It is way simple but gets trickier as you go, and it got me hooked pretty quickly.
So, yeah, Inner Quest is pretty much another one of those games where you have to get clumps of like-colored/shaped things together. If you don't like those kinds of games, you probably won't like this one.
But if you do like those games, this one's pretty good. The colors and shapes are simple, the backgrounds are relaxing, and the music is not annoying.
Charming is what they were going for, and it worked.
South Winds Games' Web site has a pretty good embedded video showing the game, except that the video is a good bit faster than you play. You can choose a timed or tranquil version, though I never ran out of time in several levels. But start on the peaceful setting and then switch, once you get the hang of it.
Hint 1: You only have to match up icons on squares with shaded thingies on the back of them. Many of the earlier game boards only have the shaded blocks on some of the squares, not all. So don't waste your time on matching things you don't need to.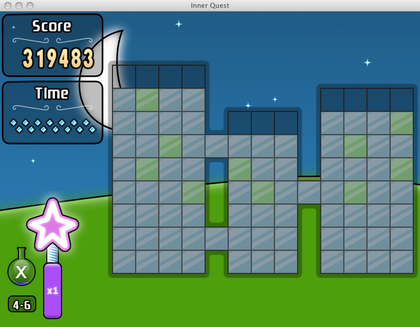 You don't need to match up the icons unless they have shaded areas behind them. So those areas at the top won't need to be cleared.
Hint 2: Some icons must be matched up multiple times before they'll go away. At first you get a visual reminder of this, but later on you just notice that squares don't clear right away.
See those eight squares in the middle? You must match them up one time, and then the little hash marks will go away and you'll match them again like all the others.
Hint 3: Stop often. Pace yourself. The game will save your progress, and you can pick up where you left off.
For $6, I think this is an easy purchase. The developers say it's good for anyone from 7 to 77, and I'd guess that's about right for the lower end of the age range.