Hardware Review
Eye-Fi Explore

Developer: Eye-Fi
Price: $130
Requirements: Digital camera that accepts SD memory cards, Mac OS X 10.4 and Internet connection for setup, access to DHCP-enabled wireless Internet to upload photos from camera. Universal.
Trial: None.
On initial observation, an Eye-Fi card appears to be nothing more than a standard SD format camera memory card. It is the same size and virtually the same weight, and it gives the same in-camera performance as any other SD card. The difference is that engineers have managed to find space for a wireless Internet transceiver within the card's confines. Yes, Eye-Fi squeezed 2 GB of flash memory and a Wi-Fi transceiver in this standard-size SD memory card.
Before Eye-Fi
Historically, when photos were posted to online services such as Flickr, Webshots, Picasa, Shutterfly, Facebook, and more while on the go, it was a pretty sure bet that the photos were taken with cell phone cameras so they could be immediately uploaded. Thanks to the Eye-Fi card, this stunt is no longer limited to cellular network-enabled devices.
After Eye-Fi
Once the card is configured to a free Eye-Fi Manager account, any time a photo is taken while the Eye-Fi card is in use, the card begins uploading the photo to Eye-Fi's server as soon as a usable Wi-Fi signal is detected.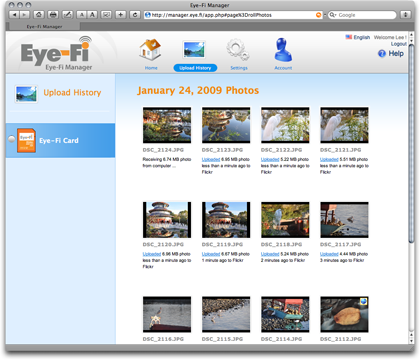 The Eye-Fi Manager interface. Eye-Fi does not retain full-resolution copies of uploaded photos (at least not that I could tell), however there is a record of all photos that are processed.
Once the transfer is complete, the photo is then passed on to whatever destinations are configured to be used. In addition to more than 20 online services such as those named above, a computer can also be designated to receive a copy if it is running the Eye-Fi Manager software. Each time the computer receives a photo, the software briefly displays a Quick Look–style window with a thumbnail, the filename, and a progress indicator. All the photos are saved into a common folder defined in the Eye-Fi Manager. This indicator is displayed while a computer receives a photo from an Eye-Fi card.
Now Featuring Geotagging
This year, Eye-Fi announced a new version of this card. Dubbed the Eye-Fi Explore, photos that are uploaded are optionally geotagged with location data provided by the wireless Internet connection. This means that, when used with services such as Flickr which can automatically read geotagging data in a photo, those who view your photos can not only see them almost immediately after they are taken, but can also see where they were taken.
Camera Support
To make Eye-Fi use even simpler, the company is working with camera manufacturers to improve interaction with the Eye-Fi card. On cameras such as the Nikon D90 that I used to test the Eye-Fi card, Nikon included an option in the camera menu to easily turn automatic uploading on or off.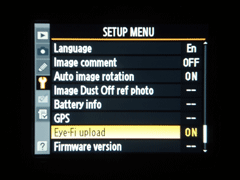 Enabling automatic uploading on a Nikon D90.
For cameras without this new feature, automatic uploading can still be done, but requires a set of steps that differ for each camera. As Eye-Fi continues to work with camera manufacturers, it stands to reason we'll see even more camera models with this feature, and possibly even firmware updates to existing cameras.
Whither Wi-Fi
Don't mistake me—the whole concept of the Eye-Fi card is amazing. But the one challenge it faces is that, as popular as Wi-Fi has become, it is still a long way from being ubiquitously available everywhere. Plus, even where it is available, it is either encrypted or proxied. If the encryption password is unknown, that access point is unusable. If the access point is proxied (that's when a Web connection is redirected to a different page, usually one where a user would log in or purchase Internet time before any other pages can be opened—common at hotels), once again, the access point is unusable.
My tests of the Eye-Fi Explore centered around an evening of photography at Disney's Epcot resort. Sure, there are countless access points in use throughout the Disney property, but every one was locked down, and none of my photos uploaded until I came home and turned on the camera within range of my own wireless router. It probably goes without saying that a popular desire of the Eye-Fi card is likely to auto-upload vacation pictures—especially out in nature. But again, are open access points really common enough? Even at hotels, if the Internet connection is proxied and access is purchased on a computer, the Eye-Fi card—a separate device—is still locked out.
Possibly helpful to many is that Eye-Fi has partnered with Wayport to provide wireless access. Eye-Fi cards are able to upload pictures through a Wayport hotspot, bypassing the login proxy. Of course, this means we may see lots of photos online that are geotagged at various Starbucks, McDonald's, etc. locations instead of the actual photo spot!
Ideal Scenario
There is, however, a type of scenario where I think the Eye-Fi card can shine. For example, I am involved in a quinquennial business meeting where hundreds of workers from around the world converge to the chosen location. Moreover, since the sessions are open, thousands of people who are affiliated, though not necessarily employed, with the organization also arrive at the meeting, which is generally held in a stadium setting of the chosen city for that term's meeting. It is an enormous, week-long event, and there are dozens of photographers who must cover the event. I am fairly sure photographers at the 1995 session (which I did not attend) still used film. The 2000 session was a transition time that saw roughly half film use and half digital. But, in 2005, not only was virtually everyone shooting digital, but photographers also came to the media room after an event to upload their photos to a gallery and add cutlines (captions). Photos were available for viewing by the end of the day.
We're now approaching the 2010 session, and I'm hoping the media team act on my suggestion to assign Eye-Fi cards to all the photographers. Unlike someone roaming around taking vacation pictures, this business session has full access to Wi-Fi within the venue. While the media team may not utilize an online service such as Flickr, I envision a computer in the media room receiving photos as they are shot and photos posted to the session's official gallery within minutes. If this isn't proof of the transition from industrial age to information age, I don't know what is.
What's Really Up With Geotagging
Besides the condition of open access points not being as widely available as Eye-Fi may wish, another important factor to consider pertains to the geotagging feature. Let me be clear: there is not a GPS receiver built into Eye-Fi cards. In other words, a picture shot in the middle of the Amazon rainforest not only isn't going to upload, but also is not going to be geotagged. The geotagging feature relies on Skyhook Wireless, which has undertaken a project to map the coordinates for millions of access points around the world.
The Skyhook project isn't perfect. Most (though not all) of my photos taken at Epcot were geotagged, but they were all tagged with a spot a mile or two east of the park. Thus, the geotagging feature is certainly helpful for giving a ballpark vicinity for the location of a photo, but it won't be exact unless you manually update the geotag (as I did for my Epcot pictures).
Configuring the Eye-Fi
As for the Eye-Fi Manager software itself, there's not a lot to it—and that's a good thing. A menu bar application must be running for a computer to receive uploads. This menu bar application also avails quick access to the Web-based configuration site. From this site, the Eye-Fi card is configured, desired online photo services are defined for receipt of uploaded pictures, and a folder on the local computer is specified for receiving copies of the pictures. Additional options include enabling or disabling geotagging and the ability to set up SMS text message notifications of upload progress. The Eye-Fi Manger is also where thumbnails of past uploads can be browsed.
Caveats
The only quirk I encountered with the Eye-Fi Manager was when a few photos (as in, less than five out of more than 100 total) didn't successfully transfer from the card. It wasn't an enormous problem because the Eye-Fi card tried again soon after and was successful, however it did so after one or two other pictures finished uploading first. Even though the photos did eventually get processed, they were processed out of the order they were originally shot. Again, not a huge program, except that services such as Flickr don't exactly work in terms of rearrangeable albums. Rather, Flickr accepts photos as a stream. The main stream is always reverse chronological to the time they are uploaded.
There are two other possible "gotchas" with the Eye-Fi card. It's only available in SD format. Eye-Fi's forums are full of queries about a Compact Flash version (among other formats), but Eye-Fi seems somewhat tight-lipped about anything other than SD. Another big topic in the forums is the lack of support for the Camera RAW format—only JPEGs can be uploaded. Personally, I can understand not supporting RAW or TIFF format. These files tend to be huge, and trying to transfer them through a Wi-Fi connection just doesn't seem practical. As it is, JPEGs out of a Nikon D90 at full resolution can weigh upwards of 6–8 MB. RAW and TIFF files might be many times that size.
The Eye-Fi Family
There are currently four models of Eye-Fi cards available. Possibly confusing is that the differences between the cards are essentially the services each includes by default. The technology in the cards is, from what I can tell, identical. All four include the ability to wirelessly send photos to a computer. The other differences are as follows:
Final Thoughts
My recommendation: carefully consider the environments that will most commonly be entered before choosing whether to purchase an Eye-Fi card. If uploads are likely to not occur until the card is in range of a home or hotel open access point, the best option may be to stay with a standard card reader to transfer photos to a computer, then upload them to a photo service. But, in situations where availability of an access point is frequent, the Eye-Fi card is certainly a well-priced solution for quickly posting photos online, directly from a camera.
Two Footnotes
The Eye-Fi company easily deserves a prize for one of the coolest packaging designs ever created. To see it in action, check out Cali Lewis' GeekBrief show number 264.

Simply give the tab on the right side a tug to slide it out, and a tray with the Eye-Fi card seemingly magically pops out of the left!

Even though the actual photos I took at Epcot with the Eye-Fi card in my camera are somewhat immaterial to this review, they can be perused in my Flickr set.