Software Review
Imprint Studio 1.0

Developer: Axamblis
Price: 15€ (about $20 US)
Requirements: Mac OS X 10.5. Universal.
Trial: Feature-limited (limited to poster size of 60cm wide or high).
Years ago a friend of mine showed me his family tree as a "poster." He happened to work in a CAD department and had access to a plotter. The tree looked great on one large sheet of plotting paper. Ever since then I have always wanted to be able to produce my own poster-size works. Money is definitely a problem, and living in the average Brooklyn home does not help. However, now with Imprint Studio, a color printer, a scissor, many rolls of transparent tape, and lots of time and patience, I too can make my own posters.
Straightforward Usage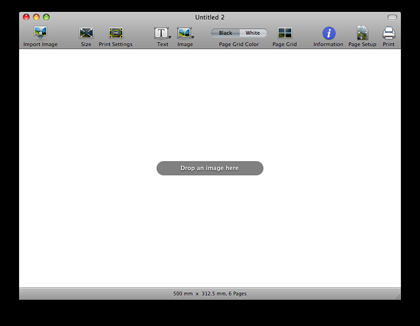 Start by dropping a picture onto Imprint Studio's window.
At startup, Imprint beckons you to drop an image onto it. With an image loaded and the mouse atop it, you see an overlaid grid along with controls for prepping the poster for printing. Using the current printer setting and a default size of 500mm (about 20 inches), Imprint gives you an idea of what the pieces of the poster look like. You can adjust the poster's width and height, with the constraint option to keep the two dimensions proportional or not. You can also add text or a picture to each of the four corners. The texts and pictures can be all different. To help you with the final assembly, Imprint lets you add crop marks and borders. Overlapped printing is another option to get a better poster. Last, you can save the poster with all the settings made.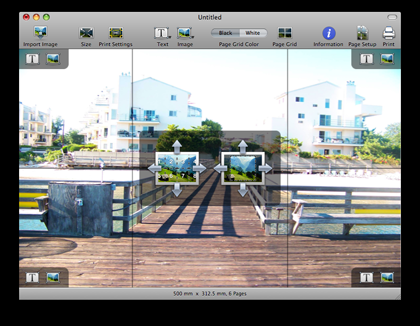 Imprint Studio's overlaid control and preview.
There is not much else to do but to print the poster. Hopefully you have a decent color printer to output to. Your cutting and taping skill will play an important role.
Imprint scales up the photo very well. Using a 4-megapixel photo, jagginess appeared only when I produced a 64-page grid. The resulting poster was 2,000mm by 1,500mm, or about 7′ by 5′, so one would view it from a few feet away, from which distance the jaggies would not be so obvious.
Minor Quibbles
While Imprint is a simple program that does just one thing really well, it can use improvements in some areas. The online help does not offer anything other than how to locate items in the simple menu tree. Whatever help topic you locate by entering text in the Search box will be about Mac OS itself, not Imprint Studio. I find that very annoying. It is true that the various windows and gadgets throughout the application come with their own few lines of help. The online help should at least repeat these if it cannot offer any additional information. I certainly could use some more information on the use of images in the four corners. I automatically thought the text would be used as titles or captions, but did not readily think an image could be a logo.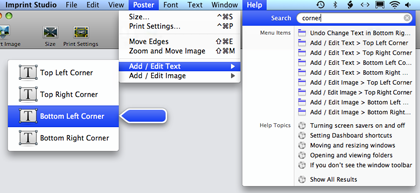 I don't need help locating the menu item to edit text in the corners.
Preferences is another area that can use some tweaking. Right now it only holds information about checking for updates and whether to install them automatically. I think users should be able to set the default size, use of constraint, crop marks, border, and unit of measurement. Even though I love to use more metric measurement, I don't want a piece of software to force me into using mm and cm when my mind still thinks in feet and inches. The unit of measurement can be changed on the fly, even if the menu is hard to see, but it would be nicer to set it once in the preferences.
In the wish list department, I think it would be helpful if Imprint Studio could generate an index of all the pages. When you have to trim the edges of sixty four pages and then tape them together, it is easy to have the pages mixed up. An index page showing a thumbnail view of the individual pages would help greatly with the laborious task.