Software Review
WriteRoom 1.0

There is a lot of hype in the press today about multitasking, and the way that it's stealing our downtime. We're more connected, more available, and we do a lot more with our time.
That may be true. It may or may not be true that this benefits us.
But as a writer, this is the kiss of death.
I procrastinate, and I find silly excuses not to work on whatever I'm writing, from the monthly Bloggable to my (admittedly very long) weblog posts. It's hard enough just to force myself to sit down in front of the computer. Whenever I get there, there's always an e-mail waiting for a reply, or an IM, or something blinking and begging for attention.
And I'll be damned if I can ever get anything written. So, you might say that something that keeps me focused is a good thing. You'd be right.
The answer? Just hit Escape. What's that? When you hit Escape, you hear a "ding"? Sounds like you need to download WriteRoom. Then we can talk.
I've been writing almost my entire life. But the right software has always escaped me (har har har, Wes), ever since I had to switch from WordPerfect 5.1 for DOS to WordPerfect for Windows. I maintain that WP 5.1 was the perfect word processor. Word was and is all wrong, even if it has a hard-to-find option to switch the display to white text on a blue screen, just for converted WP users. None of the other office suites can even touch the need for a clean, clear, isolated writing space. About the best I was ever able to do was when I was a Linux user: I would log out of XWindows and use vim. As a Mac user, this was even more frustrating, because the only way to get this functionality was to hide all my other windows and make my Word window fill the whole screen, a labor-intensive process that is hard to temporarily undo. Then, I found WriteRoom.
What makes this little piece of software, just 1.9 MB, so revolutionary is that it gives you the ability to isolate yourself from your desktop—and only temporarily. Launching the application brings up a small window, with black text on a white background. (I immediately switched this to white on blue. Oh, WordPerfect.) But hit the Esc key, and you're instantly in a cocoon of productivity. Your document will show in a tall, narrow strip in the center of your screen… with nothing but black surrounding it.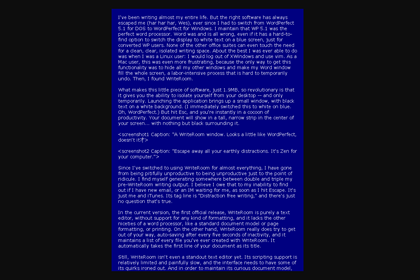 A WriteRoom window. Looks a little like WordPerfect, doesn't it?
Since I've switched to using WriteRoom for almost everything, I have gone from being pitifully unproductive to being unproductive just to the point of ridicule. I find myself generating somewhere between double and triple my pre-WriteRoom writing output. I believe I owe that to my inability to find out if I have new e-mail, or an IM waiting for me, as soon as I hit Escape. It's just me and iTunes. WriteRoom's tag line is "Distraction free writing," and there's no question that's true.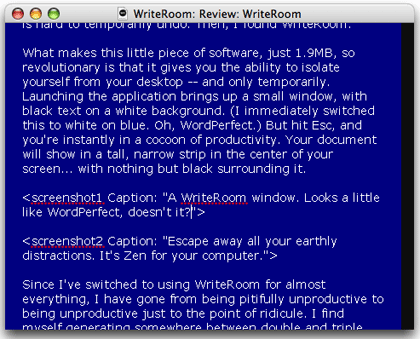 Escape away all your earthly distractions. It's Zen for your computer.
In the current version, the first official release, WriteRoom is purely a text editor, without support for any kind of formatting, and it lacks the other niceties of a word processor, like a standard document model or page formatting, or printing. On the other hand, WriteRoom really does try to get out of your way, auto-saving after every five seconds of inactivity, and it maintains a list of every file you've ever created with WriteRoom. It automatically takes the first line of your document as its title.
Still, WriteRoom isn't even a standout text editor yet. Its scripting support is relatively limited and painfully slow, and the interface needs to have some of its quirks ironed out. And in order to maintain its curious document model, WriteRoom stores all of your text in a proprietary data format in its Application Support folder. If you have preexisting text, you "import" it, and then you have to export the file to get your text back out when you're done. The document will stay in the File menu until such time as you delete the WriteRoom file. (Thankfully, there's also an option in the user interface.) As nice as this is, it would be nice if WriteRoom could treat its documents the way BBEdit and TextWrangler do, and store their user-state data separate from the document data.
Also, there are some distraction problems I'm still having. It would be nice if there were a way for WriteRoom to block Growl notifications and application audio, at least as a preference. It would be helpful if I could toggle an Exposé-like "Show me everything else" mode in a 50% transparency, or something, so I could see what else was going on at a glance without having to break out of dark-screen mode.
Never mind that what I really want is for the Esc key to also keep my TV turned off until I un-Esc, so that I can't just for a teeny weeny second check the score of the Cubs game. That seems to be out of the realm of Mac software, so far.
Now if you'll excuse me, I have to get back to being productive for the first time in years.