Web Application Review
Backpack

Developer: 37 Signals
Price: free to $19/month
Requirements: Safari or Firefox
Trial: Feature-limited (5 pages, 10 reminders)
The idea of a portfolio that you can use as a virtual scratchpad from any location is an appealing one, allowing you to store images, to-do items, e-mails, and collections of text, all in neat little piles that help you track all the scattered bits of your life. It's especially good for those of us with more than one computer and no easy method of synchronization across platforms, VPNs, corporate LANs, and software.
Enter Backpack. From the same people that brought us BaseCamp, a Web-based project management package, comes the product some describe as "project management for your life." Backpack has several versions of varying complexity that are priced from free to $19 per month. The free version gives you five pages (plus your home page) and ten reminders (which work through e-mail and such), and the expensive version gives you 500 pages, 250 MB of storage, and 300 reminders. The features that the free version provides are plenty for the average user, but as you find yourself managing more projects and events, you will outgrow the simple plan and find yourself peering at the costs of $5 a month to add file storage and 15 more pages to your list.
Basic Page Interface
And what are those features? They're deceptively simple: Each page has a section for body text, a section for check-boxed lists, and one for notes, each with a title and a body. Paying users can also use their Backpacks to hold files or pictures in their holding bay. In addition, each individual page in a user's Backpack has a unique address for post-by-e-mail functionality, as well as the ability to be shared for editing with other Backpack users. Pages remain private unless the owner decides to make them publicly viewable (but not editable). The DHTML-based interface makes updates even easier than posting to a wiki, with drag-and-drop reordering of list items and in-line addition of new items.
Checklists
Probably the most immediately obvious usage for Backpack is as a sort of virtual fridge-door for all the stuff you want to remember but can't act on at the moment you think about it. When I'm at work and come up with an idea for a blog post, but can't take the time to draft something just then—I toss the link and a few words up to a Backpack page and work on it later when I have time. If I find a cool online store where I can find a birthday gift for Mom? Brain-dump it to my Backpack and set a reminder to visit it a few weeks before the big day. We've done this with party information, random events around town, and of course it serves well to remind us to get movie tickets when the sales go live.
As you get into Backpack, however, the possibilities suddenly become endless as you think of all the things you can plan with it. Weddings, new business ventures, summer vacations, school and business projects, all suddenly seem much more manageable with Backpack's simple and elegant interface. Use it to hold information about potential clients you'd like to pursue. Working on a dinner party? Set up the grocery list and invite list, and RSVP space, as part of a Backpack page. You can see that this sort of space is limitless in its potential. We've turned our Backpack account into a place to handle group entries for a blog, a place to plan grocery lists and meal schedules, and the e-mail feature makes it possible to e-mail everything to a specific page that you're working on.
E-mails in a Page
The 37signals development people remembered all the little touches designed to build user-evangelists, too. Forums invite users to share their ideas for making Backpack use even easier, such as setting up e-mail aliases for the Backpack e-mail addresses, and even a challenge to be the first person to come up with a usable Backpack widget for the Tiger dashboard, which was met in very short order.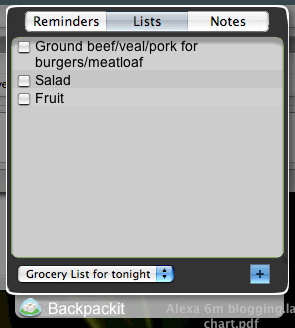 Backpack Widget in Action
If you have to deal with PCs—either at work, or because you're a masochist—you'll be gratified to hear that platform interoperability is fairly flawless. Files, pages, it all Just Works™, making everyone comfortable with the prospect of leaving their Macs and not losing all their information. For those of us who have to live a dual-platform existence, this part makes coming home to the Mac at night all the more sweet.
The ability to use the Web to manage one's information, the free-account option, and the reasonable price-points for added functionality rank Backpack right up there with Flickr in terms of usability-per-dollar. We heartily recommend Backpack to all those folks looking to Get Things Done just a little bit more quickly, or just to have a larger online portfolio for their stuff.