Review: MicFlex

Developer: MacMice
Price: $50
Requirements: USB port
Trial: None
A few months back, Lee Bennett reviewed the iFlex and SightFlex, which, as you might guess from the similar name, are similar products. The MicFlex, instead of working with Apple's iSight camera, contains its own built-in microphone on the end of a metal gooseneck stalk. At the other end is a male USB plug, which can plug directly into a laptop's USB port for travel use, or into a heavily weighted hemispherical base for desktop use.
The sound quality of the MicFlex is far superior to that of the built-in mic on a 15" Titanium PowerBook G4, as it should be. It is also, however, superior to my previous digeridoo "recording studio" setup, a fairly decent unpowered mic run through a stereo system into the mic jack on the back of said TiBook. Regrettably, we are unable to provide audio samples, though I believe the samples on MacMice's MicFlex product page are representative of what the average user can expect to hear.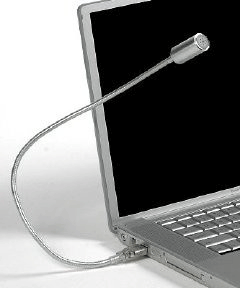 The weighted base comes with a six-foot cord, plenty long enough to position the MicFlex for optimal pickup with nearly any possible CPU/monitor/keyboard configuration. While this is a strength—and a welcome one, after many readers took MacMice to task for the objectionably short cord on The Mouse—the base is also the source of two complaints with the product. First, the painted finish on the base is very delicate; despite careful packaging, the review model arrived with several scuffs in the paint, showing the plastic outer shell of the base through the scuffs. The second issue I have with the base segues into my final complaint with the product: for $50, there should be an unpowered, two- or three-port USB hub in this base. Simply put, $50 is just too much for a computer-quality microphone. An all-metal base would also mitigate the high price.
Fortunately—or unfortunately—MacMice has a very compelling product on its hands here. It's certainly unique in the market, and in a very good way. When the price comes down to $30, it'll be flying off the shelves.