Review: iTalk

Developer: Griffin Technology
Price: $40
Requirements: 3rd-generation iPod with dock connector. (iPod Minis currently have no recording capabilities.)
Trial: None
After dissing Griffin Technology's SightLight last month, a few colleagues of mine got the mistaken impression that I don't like any of the company's products. Nothing could be further from the truth. I own a PowerMate and love it. I've also tried out the iFire and iMic, and would certainly purchase them if I really were in the market for them.
The iTalk is yet another addition to the list of awesome Griffin products.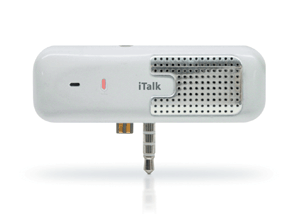 The Ideal iTalk Customer
As a worker in the field of communication, on occasion I need to take information from someone to use in a story. I'm not exactly a journalist, but I pretend to be one once in a while. My ability to scribble notes quickly is sorely lacking. Sometimes, I remember to carry my department's micro-cassette recorder with me, but usually not. Instead, I now keep an iTalk in the center console of my car—and, of course, my iPod is rarely very far away!
To be clear, the iTalk is not something people should run out and purchase an iPod for. Rather, the iTalk is an extremely useful device for specific categories of people who already own a third-generation iPod. Those people mainly include journalists who are frequently taking interviews, students who like to record lectures, bosses whose secretaries are tech-savvy enough to work with the WAV files for dictation, and any geek who likes to record voice reminders. (For what it's worth, dedicated digital voice recorders that hold more than just a couple minutes of audio don't cost much, if any, less than the iTalk.)
Using the iTalk
The iTalk couldn't be simpler to use. Just attach it to the top of your iPod and you are immediately presented with the screen to begin a recording.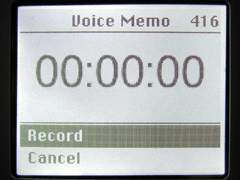 Access the recording screen either by attaching the iTalk or via the Extras>Voice Memos>Record Now menu.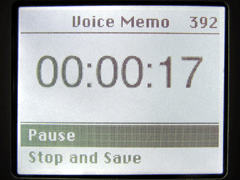 A large-print timer is displayed during recording, along with menu options to pause or to stop and save your memo.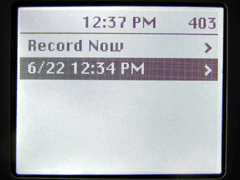 Each recording appears chronologically in the Extras>Voice Memos menu. Selecting a recording offers the choice to play it or delete it.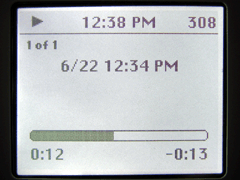 Memo playback is functionally identical to song playback.
Wish List
Admittedly, I wavered several times between rating the iTalk as Excellent or Very Nice. If ATPM rating scale were numerical, 5 being Excellent, I'd have given the iTalk a 4.8. Thus, Excellent is the closest rating. There are three ever-so-minor points for improvement.
First, while Griffin conveniently added a headphone pass-through jack on the top of the iTalk, which doubles as an auto-switching mono microphone input, the iPod remote jack is not duplicated. If your conditions permit you to just leave the iTalk attached at all times, you won't be able to use Apple's iPod remote control. (The iTalk also covers the hold switch with no way to access it without removing the iTalk.)
The second gripe may just be inherent with how the iPod operates. When you click the option to begin recording, about two seconds elapse before recording actually begins. This is not readily apparent to the user at the time recording is started. Apparently, this is the time needed for the hard drive to spin up. Since there is really no confirmation between when you initiate recording and when you actually are recording, my advice is to always wait until you see the counter display one second elapsed before speaking.
Third, Griffin's product page states that the "built-in speaker is amazingly loud for its size." This is true—I once let 3-4 friends listen to a new song using the speaker and everyone had no problem hearing once I turned the volume up to somewhere around 90-95 percent. However, quality and volume are two entirely different things—a differentiation Griffin's iTalk product page doesn't seem to make. Sure, the speaker is great for listening to a reminder you previously recorded or for other brief playback needs. Its quality is exactly what I'd expect for something so small. Perhaps even a bit better. But I really wouldn't enjoy listening to an entire lecture or a playlist of songs from it.
Audio Quality
Conversely, the recording quality is quite stunning when heard through headphones or decent computer speakers. The files it produces are 8-kilohertz, 16-bit, mono WAV files. These specs are dictated by Apple, not Griffin—indeed, its actually the iPod that performs the recording, not the iTalk. It only manages the recordings. This level of sound quality creates audio files that are roughly a megabyte per minute, give or take. So even if you have less than a GB free on your iPod, you probably have room for several hours of recording. It's a safe bet you'll run out of battery before you run out of space.
To test the quality of the recording specs, I held the iPod/iTalk at a typical distance that I would hold it for navigating the menus—around 8 inches from my mouth—and recorded a few seconds of talking. When I played back the file through my computer's attached speakers, even though there was a slight hiss that is to be expected from an 8-kilohertz recording, the clarity was perfect. Even at a point when I raised my voice a bit, there was no distortion. Thus, for interviews, the iTalk passes with flying colors.
normal.wav: A typical iTalk WAV file, recorded from 6-8 inches.
close.wav: Resist the temptation to use the iTalk an inch or two away from your mouth, like a phone. Note, be sure your computer speakers are not set too high when playing this file. The distortion is in the recording—not your system.
To simulate a classroom/lecture setting, I took my iPod and iTalk into my weekly office staff meeting, which is held in a room that seats around 100. There were probably about 35 people in the room at the time. I sat about 3/4 the way to the back—maybe 20-25 feet from the person talking up front—and recorded for a few minutes. During the recording, two different people spoke. One was rather quiet and the other had one of those voices that really carry. In spite of obvious ambient noise in the recording, the second person's voice came through loud and clear. The first person was noticeably quieter in the recording, but raising my laptop's volume setting all the way (my external Yamaha powered speakers generally always remain set at about half power) enabled me to hear every word.
far.wav: An iTalk recording from about 15-20 feet.
So, if you're in a good-sized lecture hall and sitting more than 4-5 rows from the speaker, you may need to either move closer, or ask permission to set your iPod on the lecturer's table.
Conceivable Feature
If there was only one thing I really wished were a feature of the iTalk, it would be for it to accept a stereo line-level input and record 44-kilohertz stereo WAVs or AIFFs. As I previously mentioned, the 8-kilohertz spec is dictated by Apple, so Griffin has no way to incorporate a better quality setting, even at the expense of using more space on the iPod. I occasionally record seminars (with the presenter's permission) sponsored by my office and make audio tapes available for sale. Many have inquired if we're going to start doing CDs instead of tapes. I'm liable to purchase an iMic soon and digitally record the seminars directly to my computer. But, recording CD-quality through an iTalk to an iPod, connected to the room's sound system, would be far more convenient if this were possible. The recordings would sync into iTunes, from where I could easily start burning CDs.
Interaction With iTunes
Speaking of moving the recordings to and from your computer, there is a small caveat to keep in mind. Recordings initially are accessed in the Extras>Voice Memos menu. When you sync your iPod, they show up in iTunes as a playlist named Voice Memos. The "gotcha" is that, after synchronization, all prior recordings no longer show up under the Extras menu. They now appear in your iPod, as you have probably guessed, as a regular playlist named Voice Memos.
The Verdict
Don't expect the iTalk to make worthwhile recordings at concerts or large outdoor events. But, if close-proximity recordings could easily become a part of your normal routine, the iTalk is small enough, cheap enough, and convenient enough to possibly be the best digital voice recorder you can buy.